Guardians of the Galaxy cast with renowned protectors namely Peter Quill, Gamora, Baby Groot, Rocket Raccoon and Drax the Destroyer. Having evil mind Rocket steal some of the batteries at the time when the Guardians release Gamora's sister Nebula from the prison of the leader of Sovereign race Ayesha. She ordered to attack the Guardian's ship for being guilty of stealing the batteries which was destroyed by Ego of the Planet, and the so called father of the Star Lord. Ego invite Drax, Gamora and Peter to his planet and left Groot, Rocket and Nebula to repair the destroyed ship.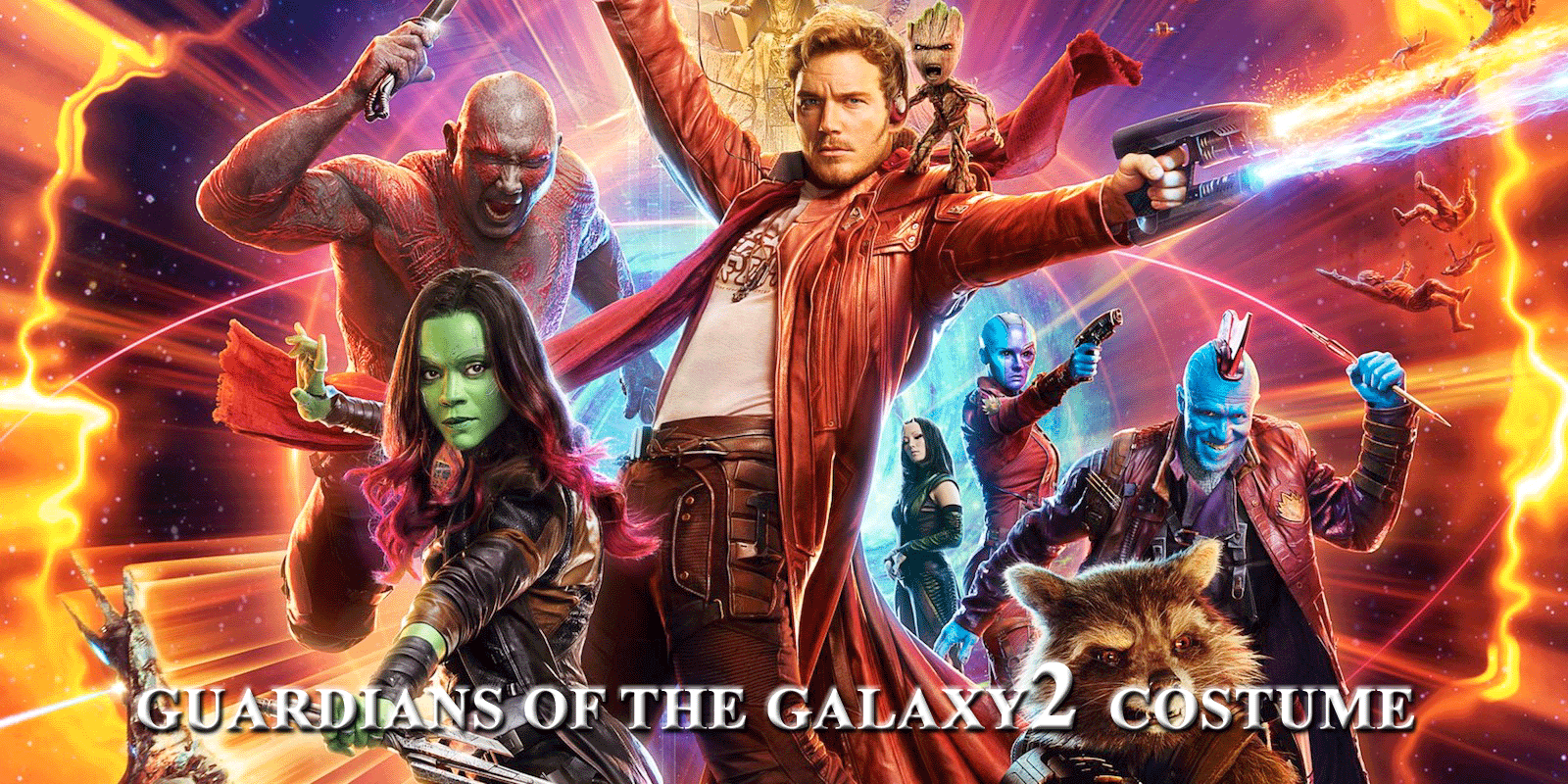 Findurfuture, after success in 23 Steven Universe costume guide, tried to make this guide that contain almost every important character of this movie "Guardians of the galaxy Vol. 2". Like Doctor Strange, Spiderman, Deadpool and Ant Man, Marvel put great effort to entertain the fan and make new character for them to attract and cosplay at Halloween.
8. STAR LORD COSTUME:- (see costume)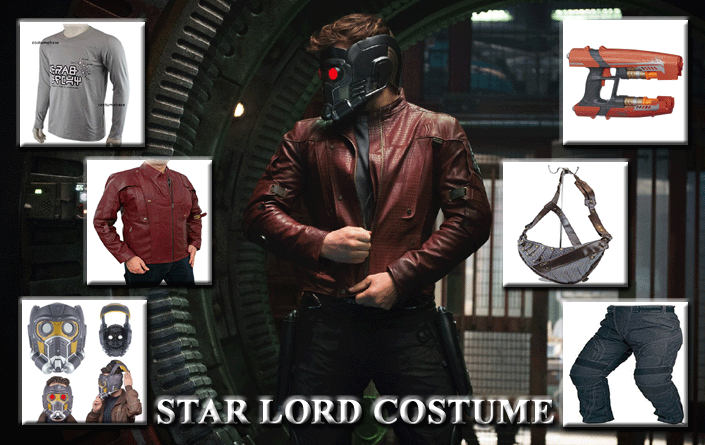 Peter Quill (Star Lord), a interplanetary Policeman and assume to be the mantie of Star-Lord. With the amazing skills he have he become the leader of the team called as Guardians of the Galaxy. Being the coolest person of the Galaxy, he did many adventures with his crew of the galaxy. From the family of the guardians this character this be the best suit to adult and mature follower to cosplay at Halloween.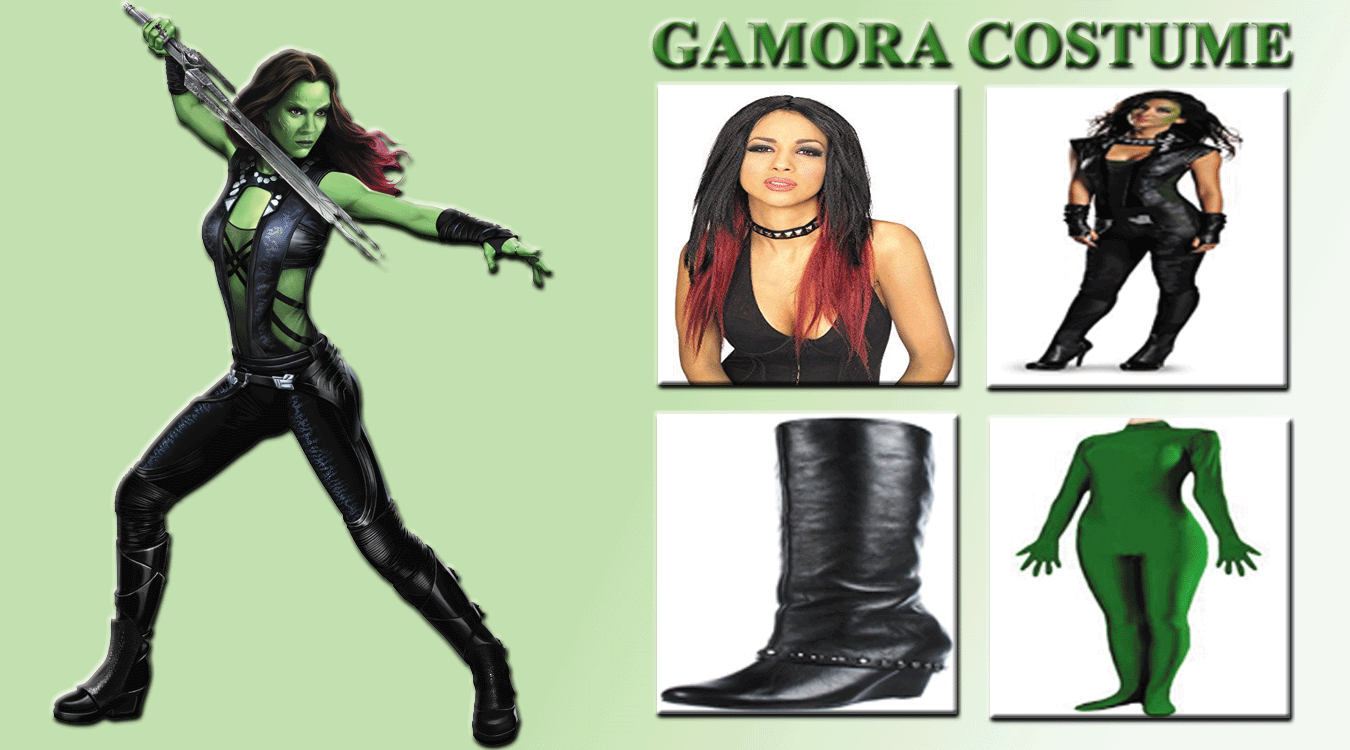 Gamora (Zoe Saldana), is the last of her species and the adopted daughter of Thanos. She has skill of combat and superhuman with an accelerated healing factor that make her best against her opponent in the Galaxy. "The deadliest woman in the whole galaxy" was also trained by Thanos to kill the Magus who is an evil alternate of the Adam Warlock. Looking gorgeous and superwoman like Gamora is the dream of the cosplayer to build bondage with the character you love a lot.
6. NEBULA COSTUMES:-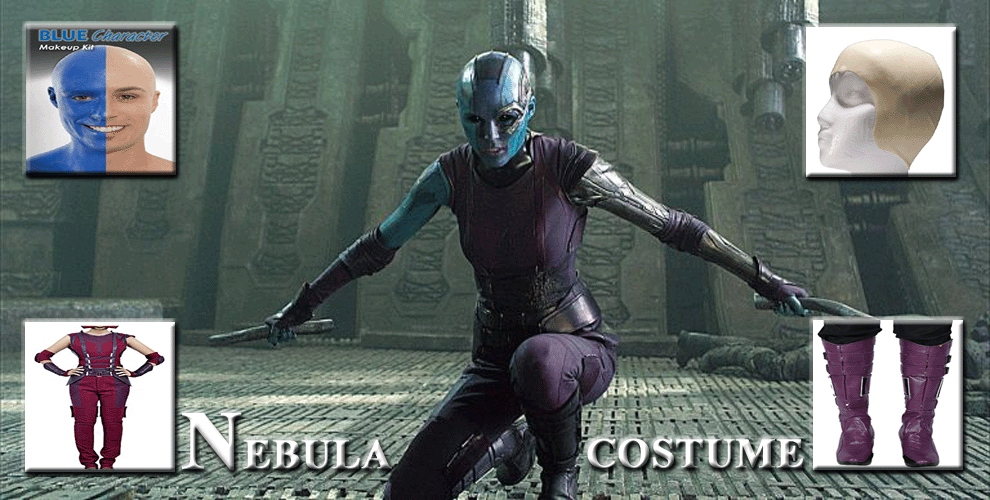 Nubula (Karen Gillan) has a gifted intellect with brilliant battle strategies. Being athletic woman she is excellent in unarmed and armed combatant. Doctor Mandibus created her like cyborg by giving her artificial left eye, left arm and left shoulder. Her upper left part of head and right hip are also sheathed in metal which was rewarded her as a punishment after losing every battle with her sister. This create misunderstanding between the sisters against each other. Becoming Nebula this Halloween give courage to the woman and girls to perform their task without distracting by any means.
5. Drax the Destroyer Costume:- (see costume)
Drax the Destroyer (Dave Bautista), having a superhuman, strength with stamina to resistance the physical injury and ability to project from his hands with the concussive blast of the cosmic energy. Having power of telepathy he can engage with the Thanos and traveled at high speed in space without air, food and water. He became Drax due to relationship with his family who were killed by the Supervillain Thanos.
4. MANTIS COSTUME:-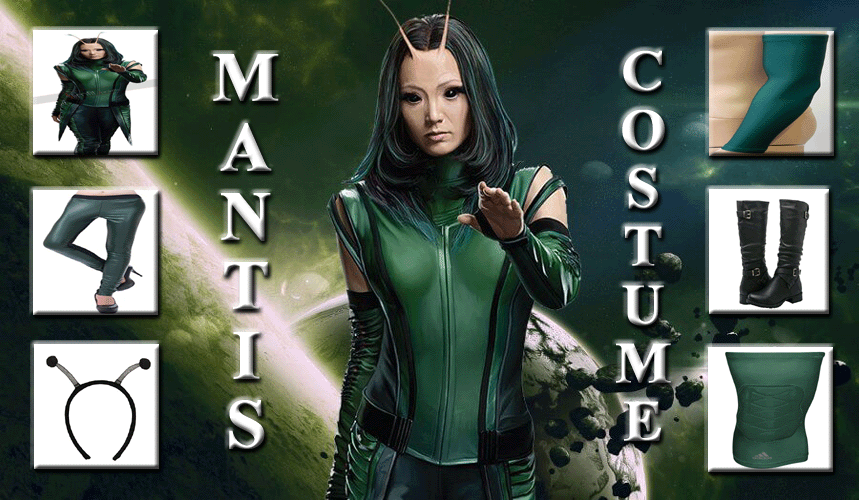 Mantis (Pom Klementieff) have skill to sense weak point of her opponent. She is capable to defeat her opponent like Captain America and knock out like a powerful thunder god Thor. Meditational discipline give her control over her body and sense the emotion of others. Her character was ranked 99th in "100 Sexiest Women in Comic". Beauties who are looking to cosplay this character this Halloween need little calmness and faith on yourself which allow you to enter into the character from the bottom of the heart. Following are the costume guide of Mantis:-
3. ROCKET RACCOON COSTUME:- (see costume)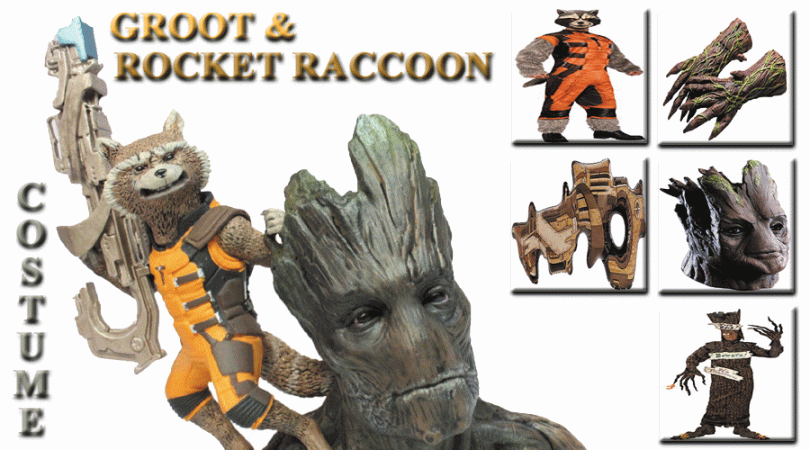 Rocket Raccon (Bradley Cooper) master as a military tactician and leadership skill that allow him to take charge of the ship in the absence of the Star-Lord. He possesses normal element of the Earth raccoon with acute sense to touch, smell, hearing and sight. He is truly accomplished as a starship pilot having expertise to carry heavy weapon and two laser pistol at a same time.
2. BABY GROOT COSTUME:-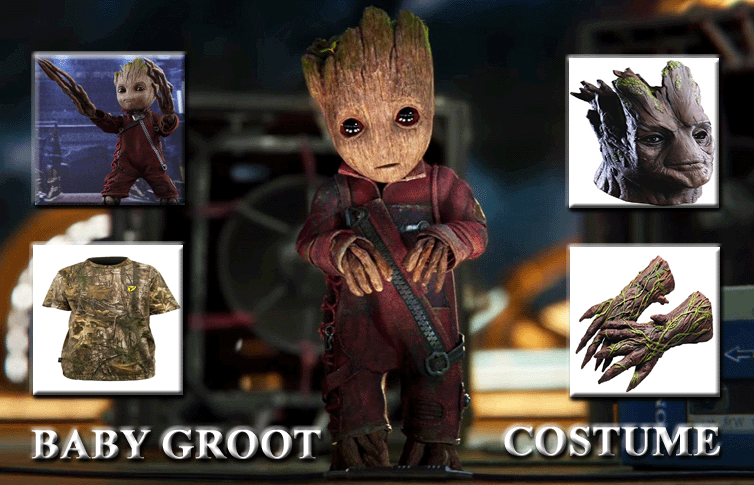 Baby Groot (Vin Diesel) is human like tree character which was regenerated from the small twig and grow again. Looking identical with the giant Groot who become the famous and internet meme with his repeated word "I am Groot". Scary character is the main theme of the Halloween so Groot is the best idea for them who always look for the creepy character for this main event. Following are the costume guide of Baby Groot to cosplay at Halloween.
1. YONDU COSTUMES:-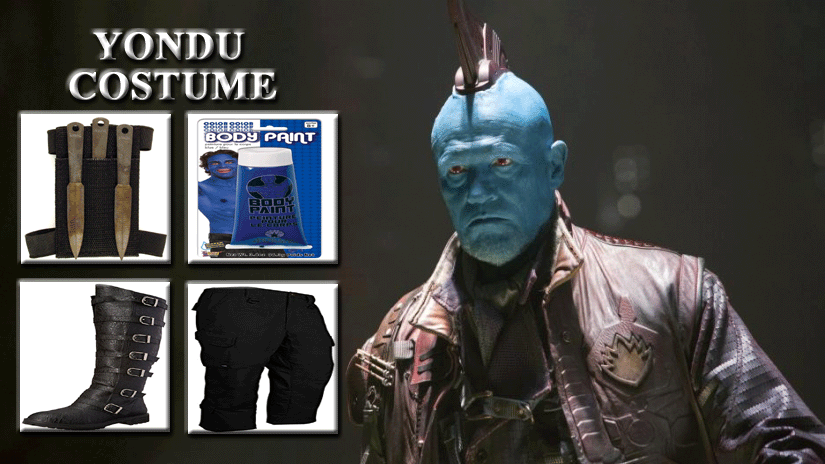 Yondu Udonta (Michael Rooker) has no superhuman skills but he has sixth sense that permit him to make limited relationship with other lifeforms. He is very sensitive to mystical beings and forces that make him able to detect their presence and activities without any effort. He is above in his race and expert in the use of bow and arrow. Being a hunter he is excellent in hand to hand combatant. He is so called the guardian of the Star-Lord who has misunderstanding that Yondu left him alive to perform space pirate job under his supervision. Following are the costume guide of the Yondu:-
BECOME MORE STYLISH WITH THESE MERCHANDISE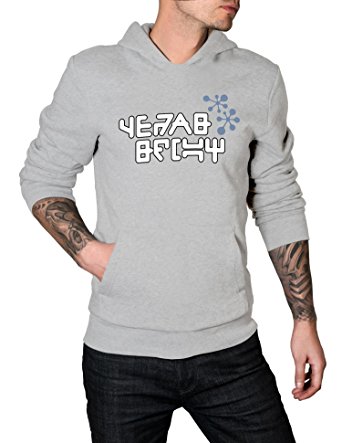 Star Lord Hoodie (Product Page)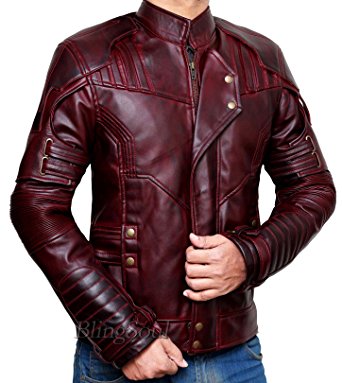 Star Lord Leather Jacket (Product Page)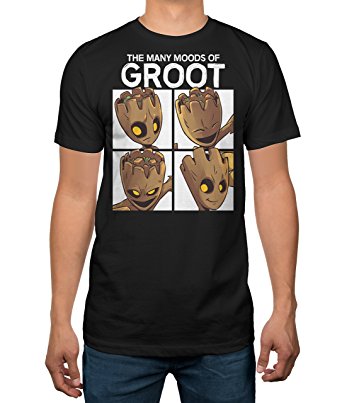 Baby Groot Moods Mens Black T-shirt (Product Page)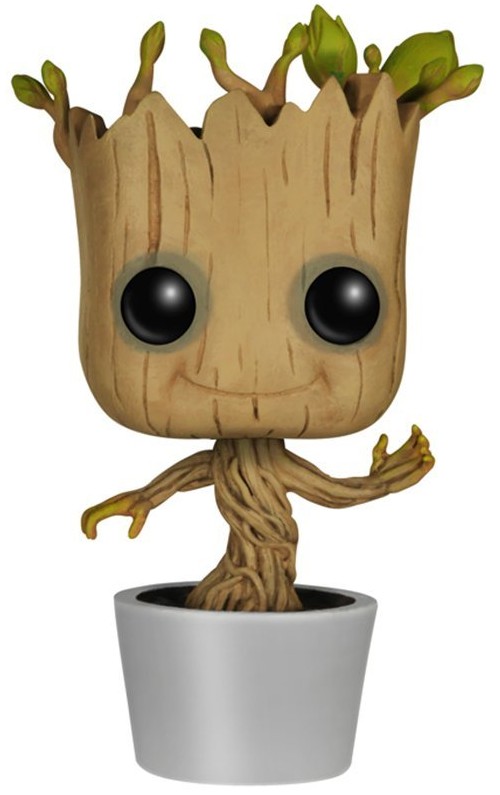 Dancing Groot Bobble Action Figure (Product Page)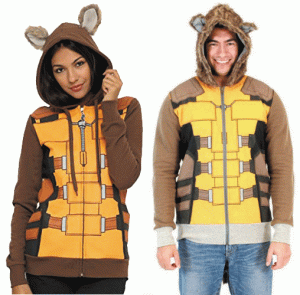 Rocket Raccoon Hoodie Female / Male
This guide is not ended yet you can check our entire Guardians of the Galaxy merchandise for selecting best gift for your friends and family. We suggest every single reader to become healthy you need to exercise which also give you hot and dashing look all the time including cosplaying at Halloween. To check costume guide of other Marvel superheroes and heroines click here.