DC Comics Bombshells originally created as a series of statuettes after inspired by the pinup art and dieselpunk in 1940s, where female superheroes guard the homefront during the World War II. The story lines in the series in which DC Comics Characters are actively perform their role to accumulate the fan fiction and comixology. Findurfuture, put an effort to provide you most accurate DC Comics Bombshell Costume to cosplay something unique at Halloween.
As we all are well aware that DC Comic Heroes are at the height of popularity with millions and trillions of followers including several DC legends which are still the part of DC Comics and DC Cinematic Universe, let's try some thing different to show our dedication towards the superheroes. Following are the costume guide of the DC Comic superstars for DC Cosplayer.
28. BOMBSHELL POISON IVY COSTUME:-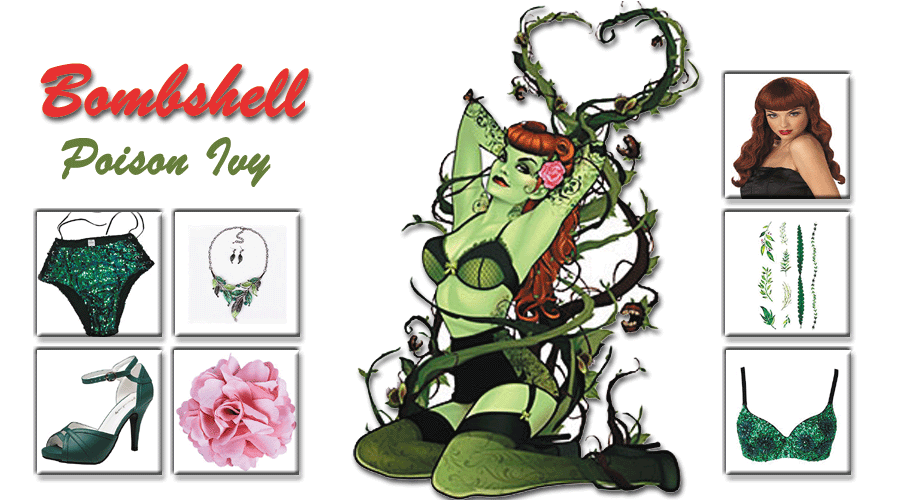 Poison Ivy DC Bombshell (Pamela Isley) fights for the world where she uses her botanist skills to grow plant in winter to feed the Russians during WWII. Later with the skills and control over plant life, intelligence, immunity of toxin, pheromone usage and secretes deadly toxin, she created a perfume to defeat the Nazis but as a result her skin turned green. In this portrayal she is complete with victory roll in her hair and modeled after 1940s pinup. Her costume is the Ivy ascent, need creative makeup with temporary tattoos or floral ivy to have identical look.
27. BOMBSHELL SUPERGIRL COSTUME:-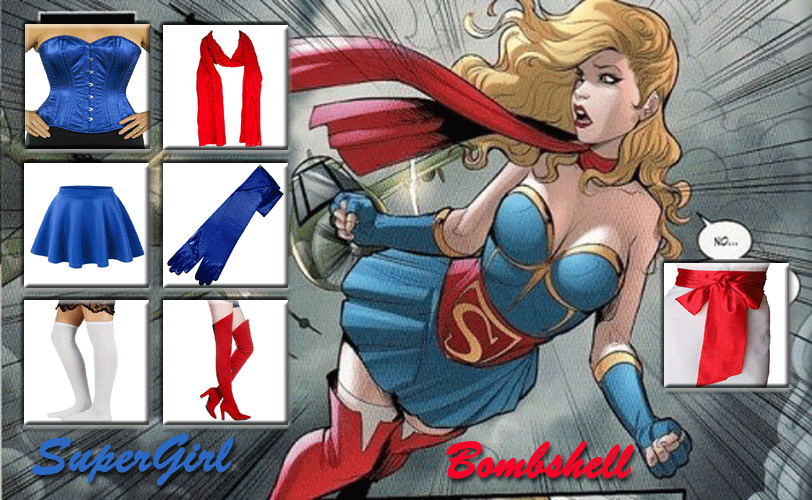 Supergirl in DC Bombshells is used as misinformation for Soviet Russian after enlisting in their flight program. After inspired her look by WWII pinup, she captured her look with victory roll or glamour waves hairstyles along with classic pinup makeup. Superman patch can be added to recreate the Supergirl logo and red satin belt are used to tie the corset and skirt.
26. BOMBSHELL ZATANNA COSTUME:-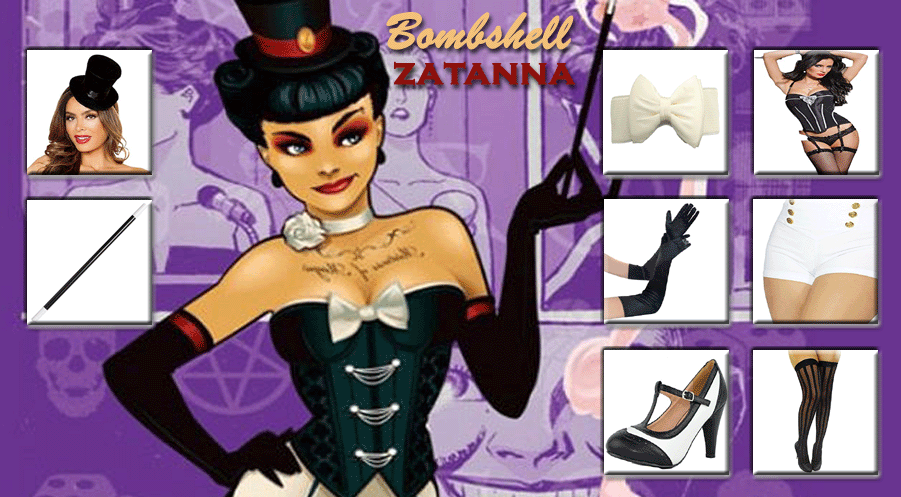 Zatanna DC is the daughter of the Romani father and Jewish woman. Before raided by the Nazis and prior to this series she ran an underground network through the Astrolager Speakeasy. Later she imprisoned by the Joker's Daughter and forces to perform magic to act as a powerful source of her scheme. We all aware that DC Bombshells is an alternate reality in which Zatanna Smallville is magician after modeled the classic pinups of 1940s.
25. BOMBSHELL HARLEY QUINN COSTUME:-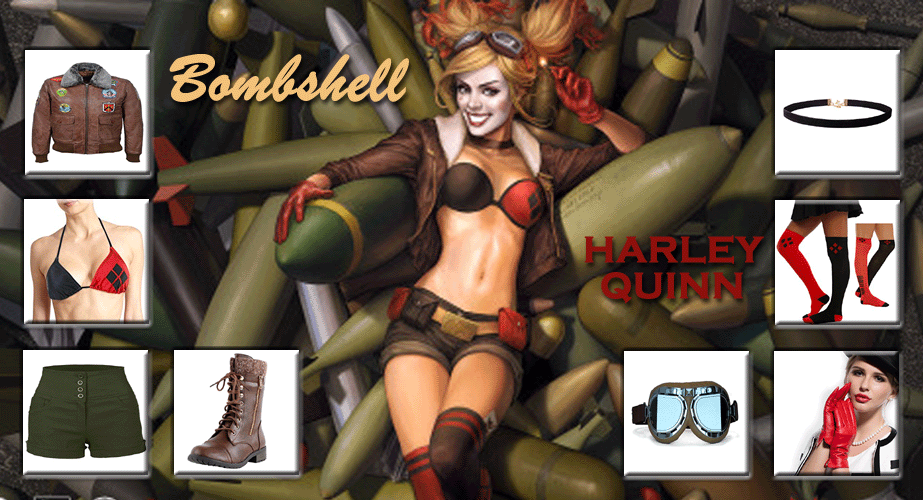 Bombshell Harley Quinn is most demanding female superheroes who guard the homefront during World War II. DC Harley Quinn is bomber pilot after modeled in the classic pinups of the 1940s. Fans and followers are crazy about sexy Harley Quinn costume to cosplay at Halloween. Being the most popular super star of the DC Comics Harley Quinn merchandise are outstanding highly demanding among devotes as many of them are cosplay 24/7, even at work.
24. DC BOMBSHELL KILLER FROST COSTUME:-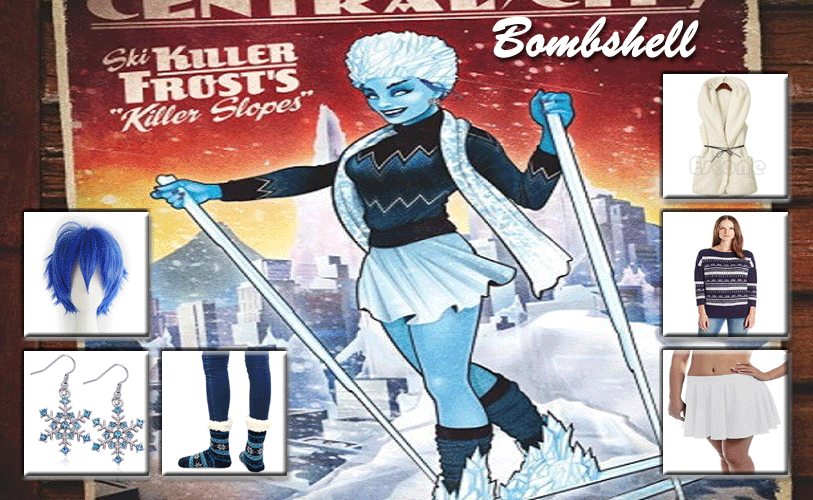 Bombshells Killer Frost (Caitlin Snow) after gaining the ability to absorb heat from the living beings and to protect the ice and cold, she emerged a changed woman and become the villain Killer Frost. DC Bombshells is an alternate reality that depicts female characters during WWII. In this reality, Killer Frost works for Hugo Strange and Nazi Germany. She is modeled after "ski bunny" pinups.
23. BOMBSHELL BATGIRL COSTUME:-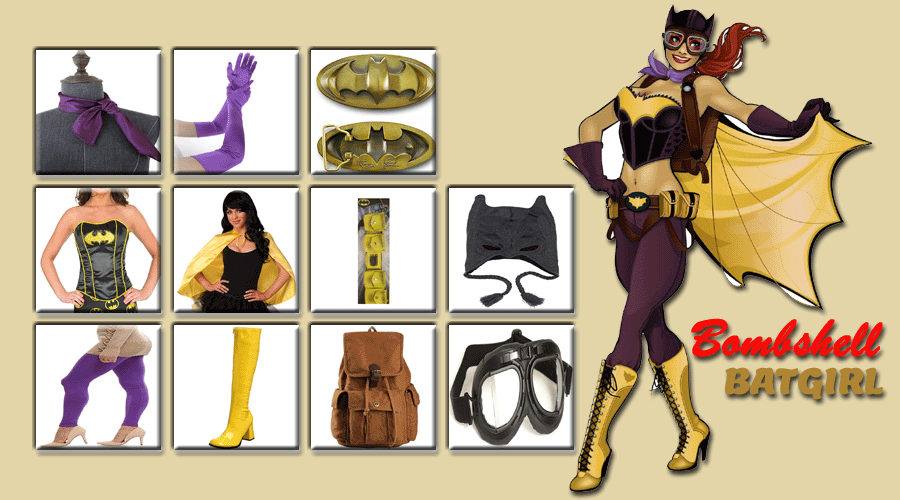 DC Bombshells is an alternate reality where female superheroes guard the home front during WWII. In this reality, Batgirl is an ace pilot for the French Air Force.
22. BOMBSHELL BATMAN COSTUME:-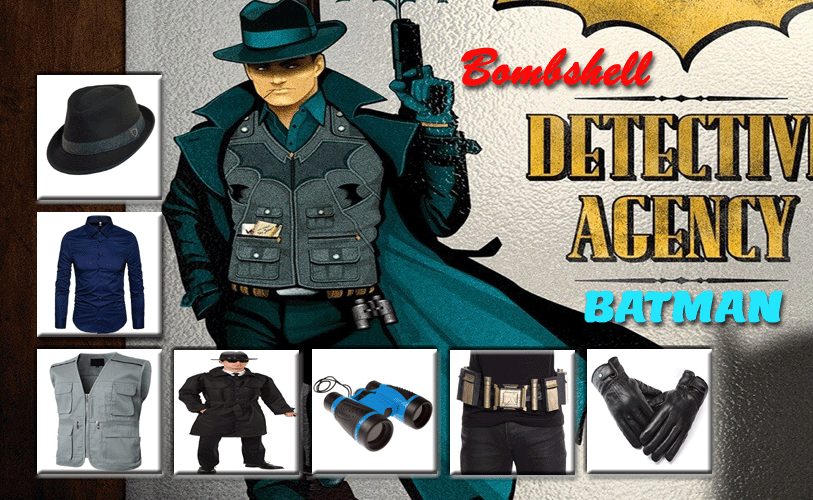 Drawing from the 1940's detective/film noir archetype, Batman is a hard-boiled private eye in the universe and that was popular at the time. Just put the patch on the vest and you are good to go!
21. DC BOMBSHELL BLACK CANARY COSTUME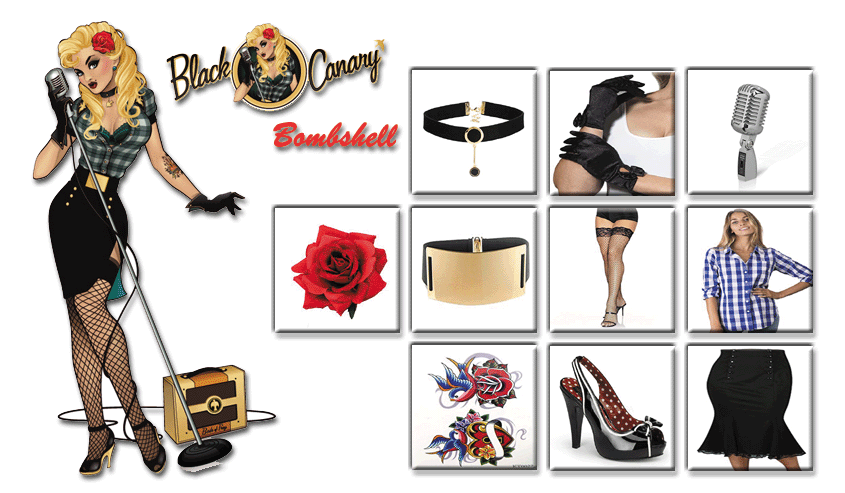 Black Canary (Dinah Drake) is the DC Comics super-heroine who participates in crime-fighting activities with her husband (Larry Lance) in the Gotham City. Initially she has no super-power but later she become the world-class martial artist along with the superpower "Canary Cry" which is high-power sonic scream to any object and incapacitate enemies. She has romantic and professional par with the Green Arrow. She is club singer modeled after the pinups of the 1940s. DC Bombshells is an alternate reality where the female superheroes guard the homefront during WWII.
20. BOMBSHELL ARISIA COSTUME:-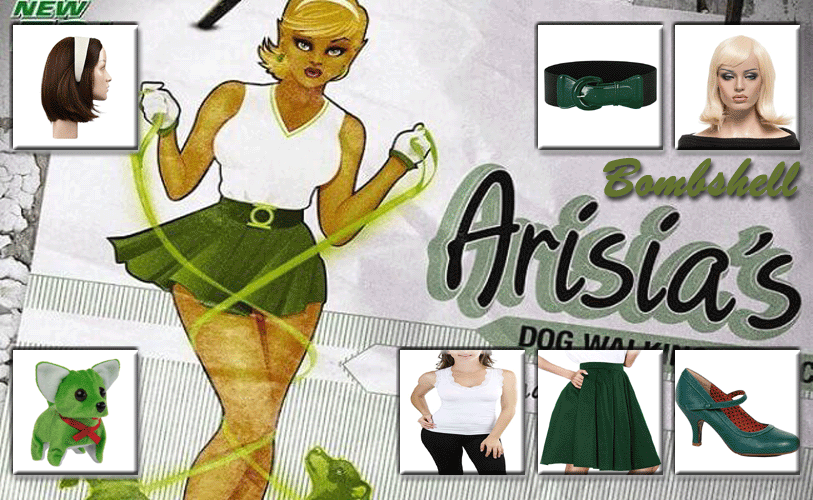 In DC Bombshells, Arisia is a member of the Green Lantern Corps. She is modeled after the pinups of the 1940's, as seen in this dog walker flyer. Her look is relatively simple, but the small Green Lantern details give a nod to the character history.
19. BOMBSHELL AQUAMAN COSTUME:-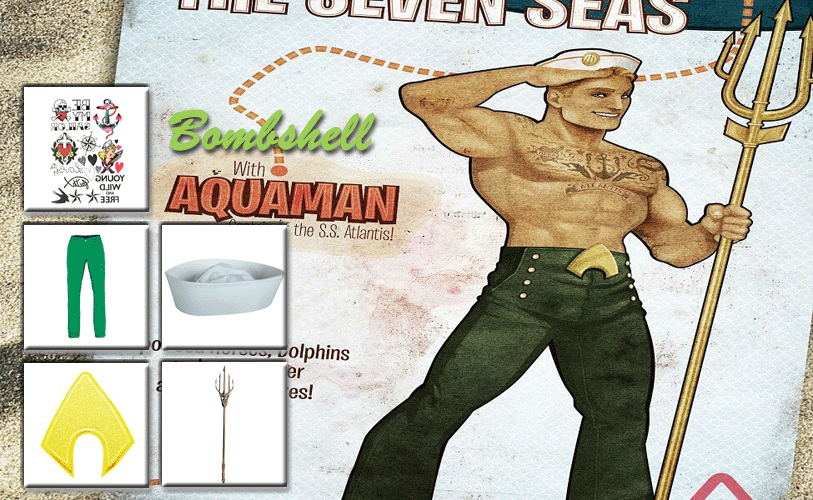 Bombshells Aquaman (Arthur Curry) was the founding member of the Justice League at Silver age. Aquaman Justice League is the telepathic ruler of the Atlantis and the Earth's Ocean. His unique physiology allows him to survive on land and at the ocean's greatest depths of pressure and temperature. DC Bombshells is an alternate reality that takes place during WWII. As one of the few male superheroes in this universe, Aquaman aids Mera and is modeled after 1940's sailors.
18. BOMBSHELL CHEETAH COSTUME:-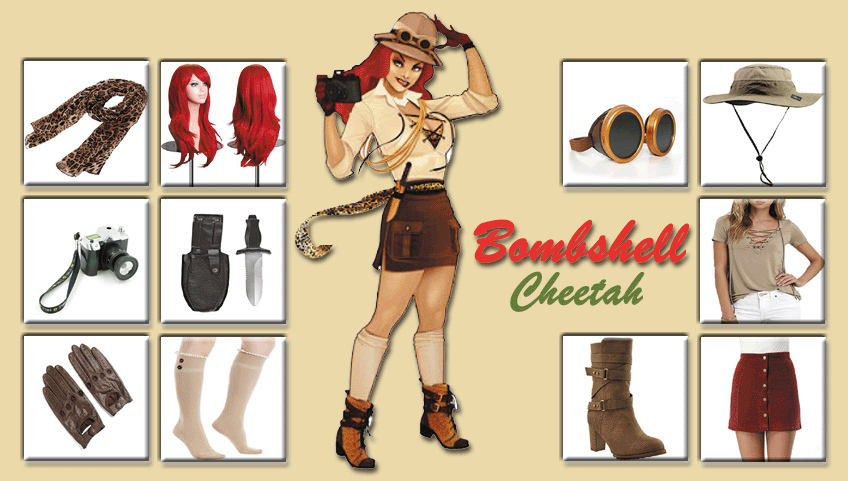 Bombshell Cheetah DC Comics (Barbara Ann Minerva) was sending to live with another family after her parent died where she was abused by their son. Later she run away from their custody and became a skilled hunter, adventure and recruited by the German Army. DC Cheetah is an alternate reality where female superheroes guard the homefront during World War II.
17. BOMBSHELL HAWKGIRL COSTUME:-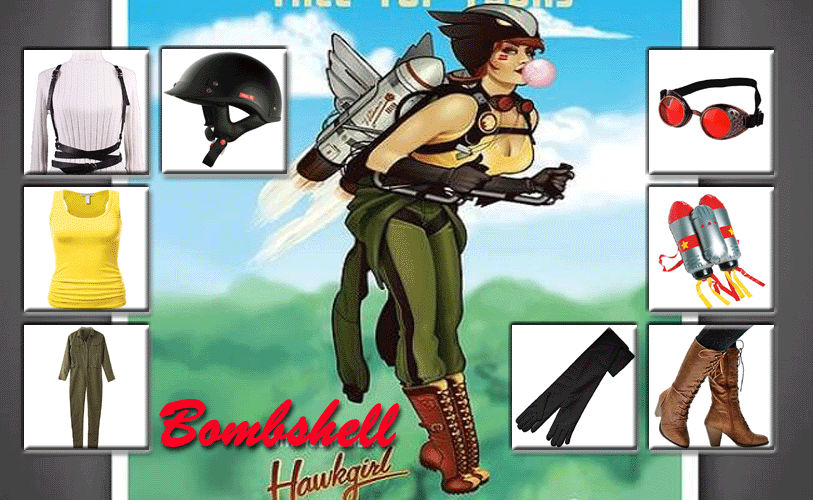 DC Bombshell Hawkgirl (Shiera Sander) is the female counterpart of the Hawkman, she uses Nth metal technology to fly. However, DC Bombshells is an alternate reality where female superheroes guard the homefront during WWII. In this reality, Hawkgirl is a mechanical engineer for the German army.
16. BOMBSHELL HUNTRESS COSTUME:-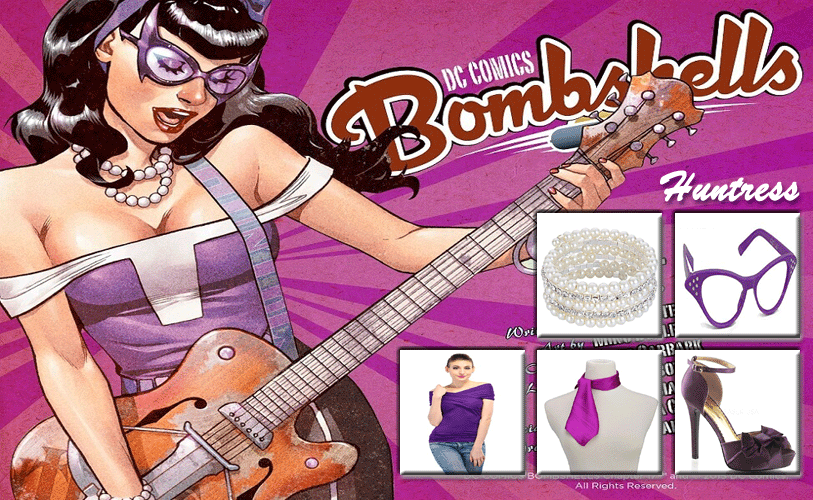 DC Bombshell Huntress (Helena) is a secret identity but in reality she is a singer and guitarist in a 1950's band known as "Bird of Prey". However, DC Bombshells is an alternate reality where female superheroes guard the homefront during WWII.
15. BOMBSHELL LOIS LANE COSTUME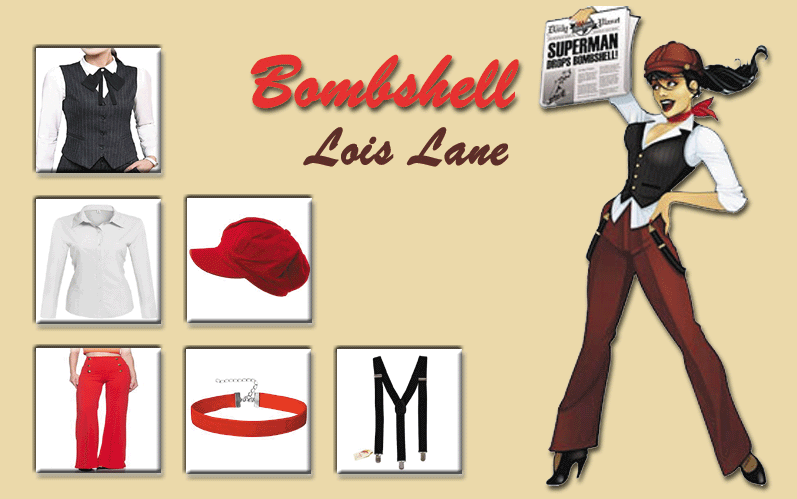 In Metropolis at Daily Planet, Lois Lane is an investigative reporter and superman lover. Clark Kent, Jimmy Olsen and Perry White are her closest co-workers; she is capable to handle worst situations. She is in love with Clerk Kent and superman for a long time, unaware that both are same person and later become superman's wife. In this universe, Lois Lane Bombshell is reinterpreted as a reporter in the 1940's. Just add a newspaper!
14. BOMBSHELL SUPERMAN COSTUME:-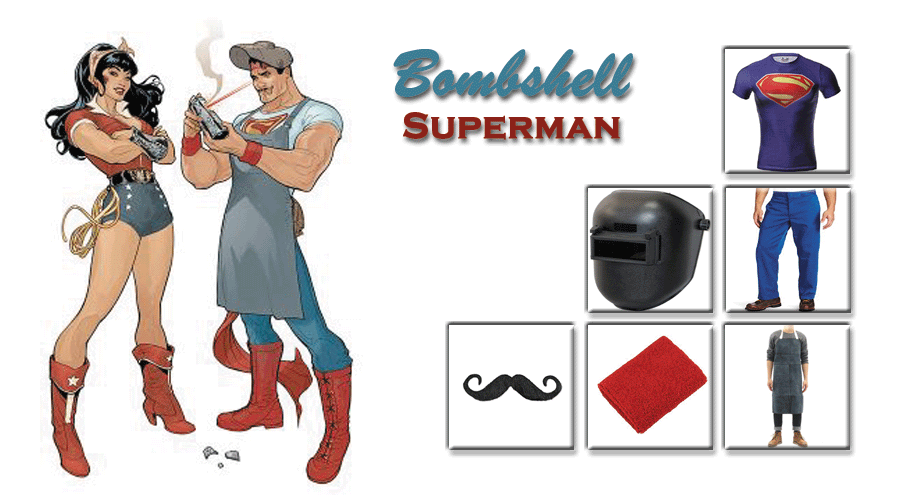 DC Collectibles Superman (Clark Kent) was born Kal-El on the planet Krypton who later discovered and adopt by a farm couple from Kansas. He has imbued strong moral compass and in early childhood he shows various Superman abilities which upon reaching maturity he used for the welfare of the humanity under the identity of Superman suit. In DC Bombshells, the female superheroes guard the homefront during WWII. In this reality, Superman uses his laser vision to help the Bombshells out with welding.
13. BOMBSHELL JESSE QUICK COSTUME:-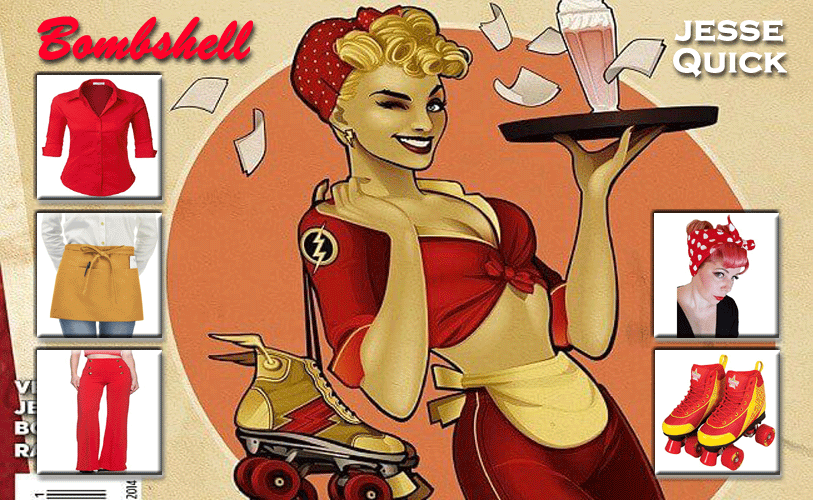 DC Bombshell Jesse Quick is the daughter of Liberty Belle and the Flash (Johnny Quick). She is a carhop at malt shop. She being a waitress become classic Americana in 1940's women replaced men as carhop. Her look is simple, and small tweaks like tying the blouse into a crop top and including the Flash patch are enough to bring it to life.
12. BOMBSHELL ENCHANTRESS COSTUME:-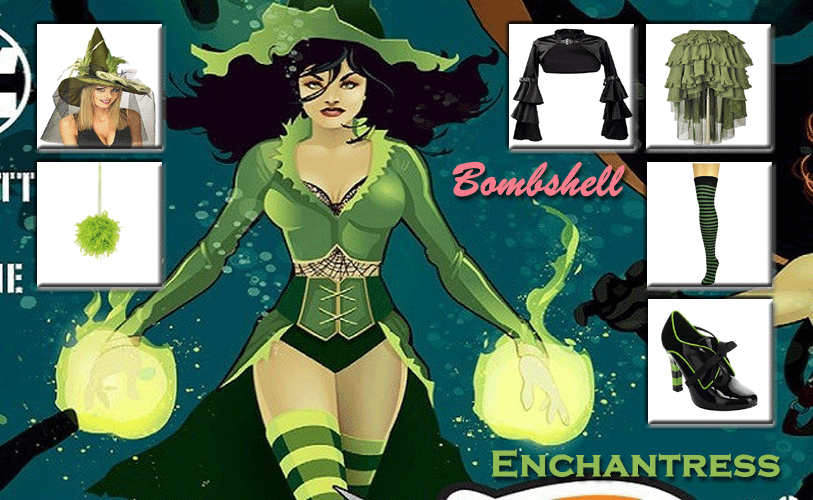 DC Bombshell Enchantress is a part of the Suicide Squad during World War II. Although her abilities and powers are still revolve around her magic, In the 1940's her look is reminiscent of the witch archetype which become very popular. Her costume is the combination of Victorian fashion and classic witch element. The feather pom poms are a good substitute for energy projection, though green wired ribbon or green crystals will also work well.
11. BOMBSHELL WONDER WOMAN COSTUME:-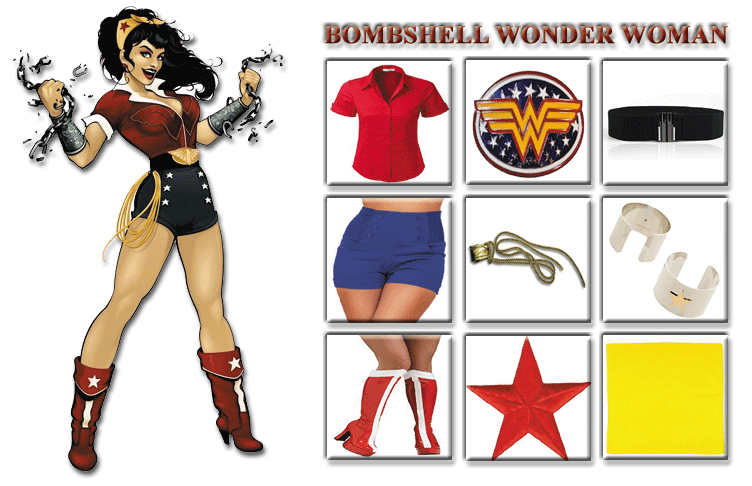 DC Bombshells with born adventure and heroic spirit guard the home front during WWII. She is an alternate reality of female superhero who inspired by the history and classic pinups of 1940's decide to join US Army Air Corps after a raid near Themyscira.
10. BOMBSHELL MERA COSTUME:-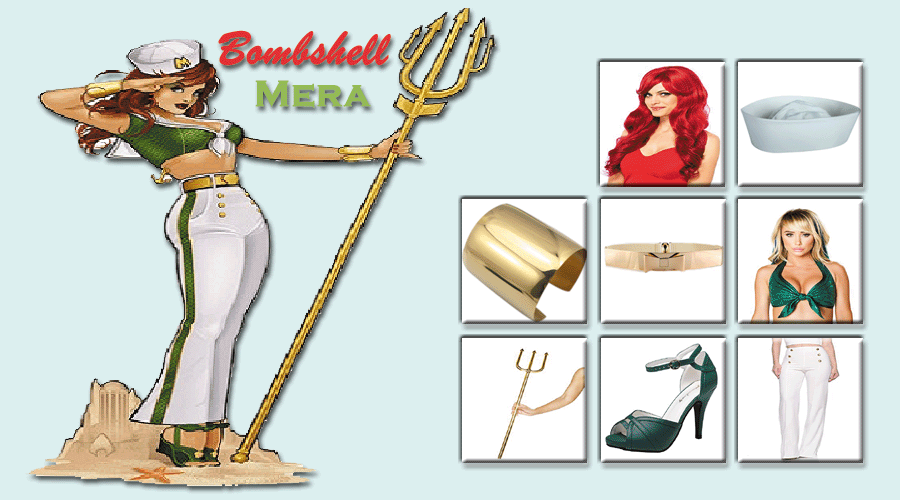 Queen Mera is the wife of the DC Comics superhero Aquaman and also known as the former Queen of Dimension Aqua (Xebel), Queen of Atlantis. She has a twin sister named Hila. However DC Bombshells is an alternate reality where female superheroes guard the homefront during WWII and in this reality, Mera aides the British Navy. She is modeled after the sailor pinups of the 1940's.
09. BOMBSHELL VIXEN COSTUME:-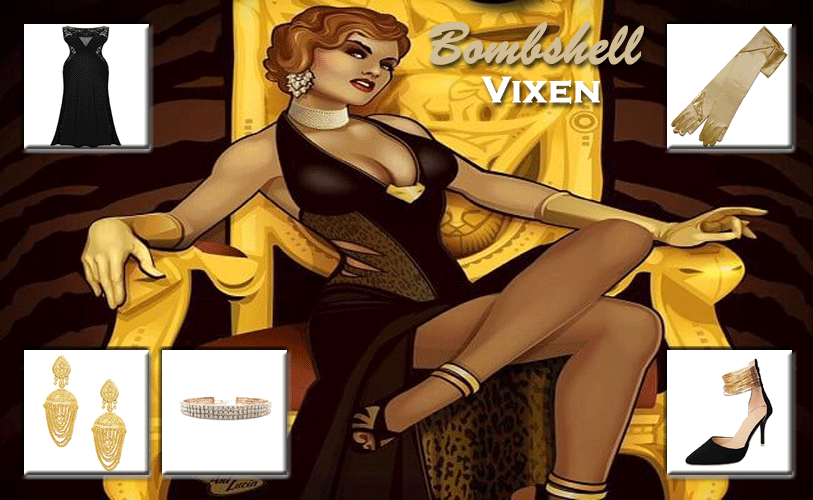 The ancient Ghana asked Anansi the spider to create totem that would give the immense power to its wearer of the animal kingdom on the condition that he/she uses such power to protect the innocent. Tantu used the totem and become the first legendary hero, which was later passed to his descendants until it reacehes Mari McCabe to become the costumed superhero Vixen. In the alternate realty of DC Bombshell Vixen is reimagined as Jazzy lounge singer.
08. BOMBSHELL STARFIRE COSTUME:-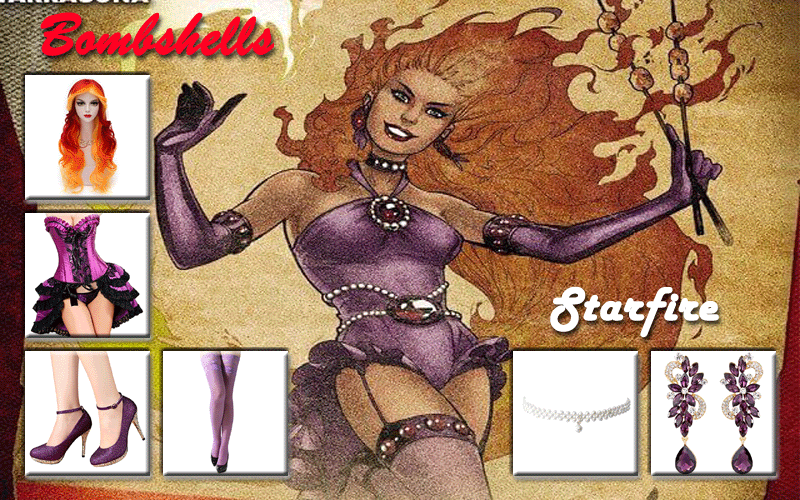 Koriand'r (Starfire) is Princess and the ruler of fictional planet earth in the Vegan system. Chole's older sister developed a bitter rivalry with her during illness in infancy. She robbed her ability to harness solar energy and right of throne but later her siblings help her to defeat her sister and swore vengeance. Starfire is a burlesque dancer, fire dancer, and member of Red Hood and the Outlaws in the DC Bombshells universe. She performs in the circus and her costume is reminiscent of the burlesque dancers of the 1940's.
07. BOMBSHELL KATANA COSTUME:-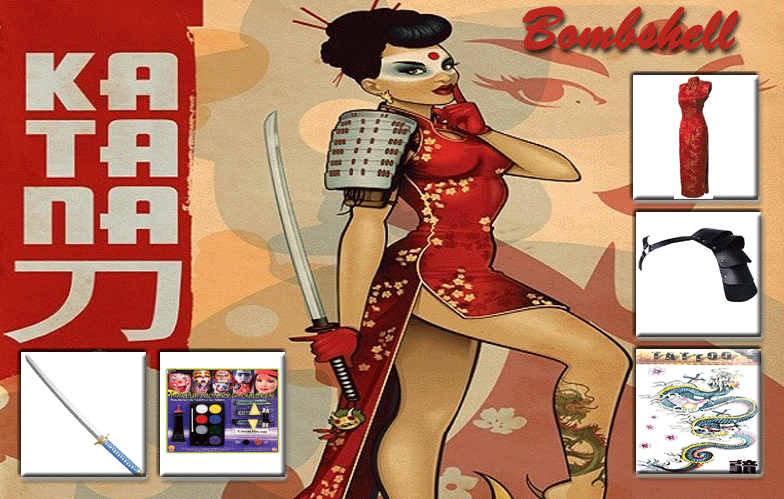 Tatsu Yamashiro was an average Japanese girl, martial art expert and a sword woman. She wield the mystical Soultaker blade that probably capable of trapping the souls of her victims. But in DC Bombshell Katana's look is inspired by the British "Hammer Horror" films of the 1950's. For more authenticity, the armor can be spray painted silver and the front of the dress can be hemmed.
06. BOMBSHELL RAVEN COSTUME:-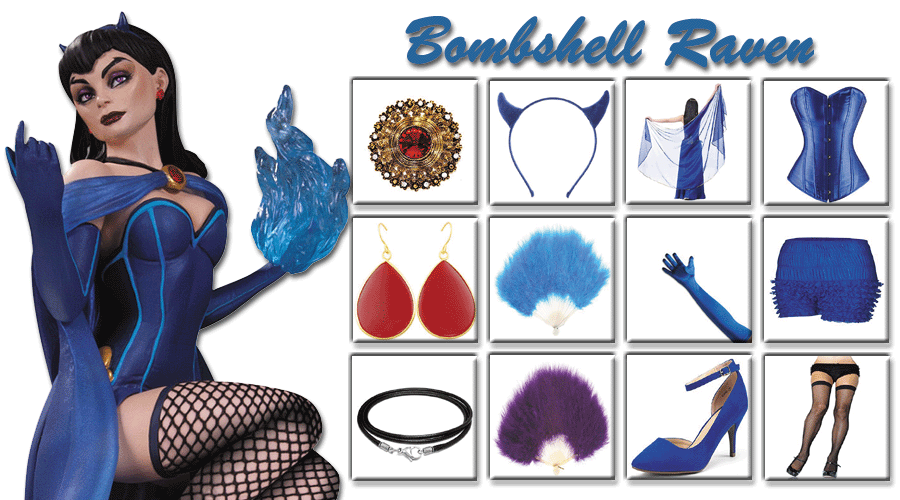 DC Bombshell Raven is the half demon/half human daughter of the Gotham City Angela Roth (Arella) and Interdimensional demon Trigon. She grew up in an alternate dimension (Azarath) with pacifistic inhabitants under the supervision of spiritual leader Mystic Azar (Pagon). As regards to the DC Bombshell reality she is used as a weapon by Nazi Germany. Her costume is inspired by 1940's burlesque dancers. In that spirit, the marabou fans act as the smoke from each hand. The cape was hard to come by, so the shawl can be attached to the cord necklace by the brooch to create a similar effect.
05. BOMBSHELL BATWOMAN COSTUME:-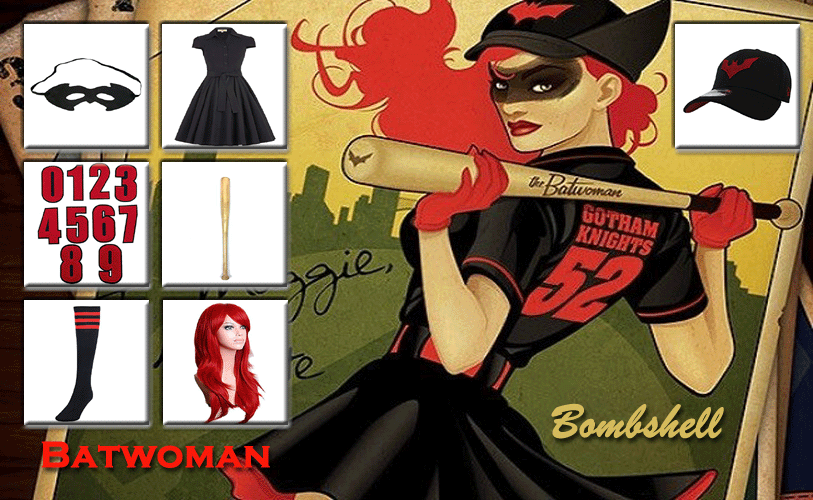 DC Bombshells Batwoman (Katherine Kane) is a wealthy heiress who become inspired with DC Comic legend and put her wealth and resources towards fighting crime in Gotham City. In DC Bombshells, Batwoman (real name Kate Kane) is a vigilante who earned her name by fighting crime with a bat and her baseball uniform. Her costume is inspired by the women's baseball uniforms in the 1940's. For authenticity, use the iron-on patch and numbers to recreate her team logo and number, 52. She also has "batwoman" written on her bat, which can be easily added to the prop bat.
04. BOMBSHELL RAVAGER COSTUME:-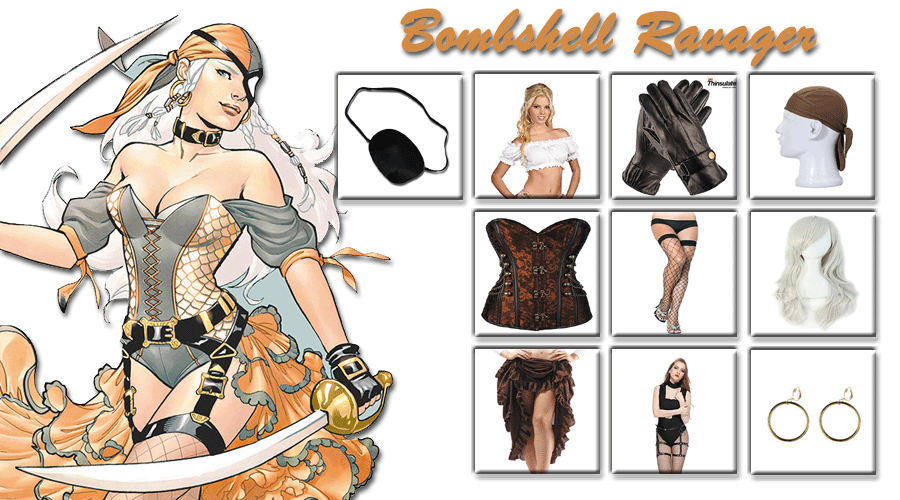 Ravager is a prophetic pirate who joins the other members of the Suicide Squad at Belle Reeve Manor in DC Bombshells, . Her look is inspired by pirate pinups, and though the exact color scheme is difficult to find, the essence of the character is easily captured with steampunk fashion and accessories.
03. BOMBSHELL STARGIRL COSTUME:-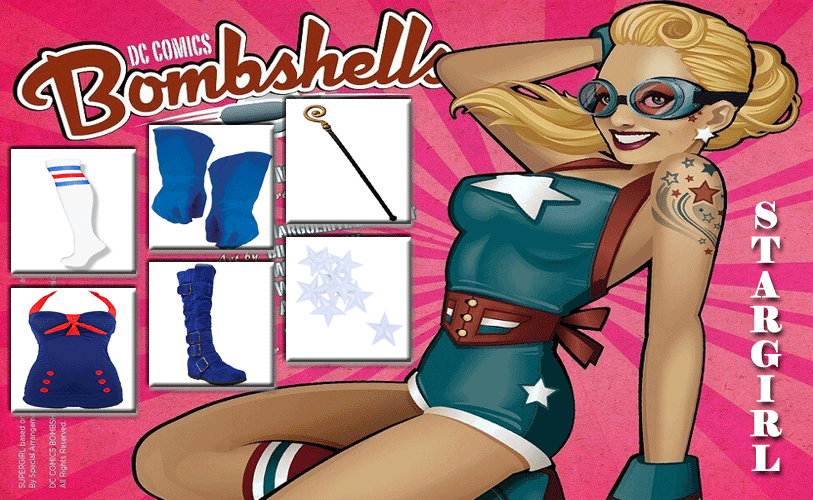 Stargirl is Courtney Whitemore and a teenage girl living in Blue Valley. When Courtney began as the second Star-Spangled Kid, she discovered the retired superhero Sylvester Pemberton. Courtney has given Comic staff by Jack Knight, she took the name Stargirl to honor the Starman legacy. In DC Bombshells, Stargirl enlists with the Night Witches, a Russian Flying Squadron. She is used as propaganda by the Russians, but she is given a cosmic staff that allows her to fly. Eventually, she is recruited by Mera to join the Allied forces. She is inspired by 1940's pinups, which includes a victory roll hairstyle and pinup makeup.
02. BOMBSHELL CATWOMAN COSTUME:-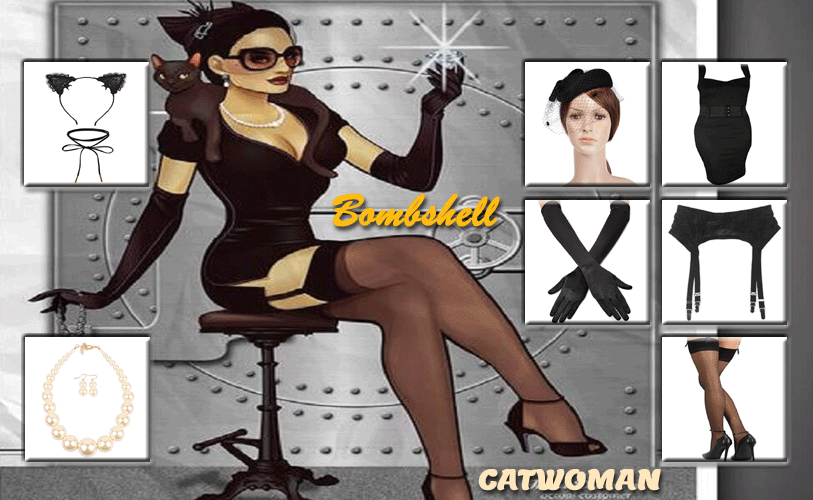 DC Bombshells is an alternate reality where female superheroes guard the homefront during WWII. In this universe, Catwoman is still a jewel thief, but her style is inspired by the pinups of the 1940's.
01. BOMBSHELL TALIA AL GHUL COSTUME:-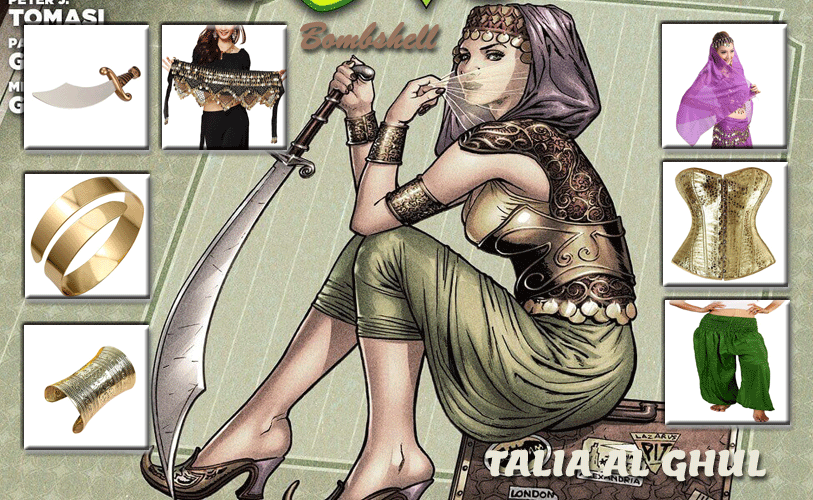 Bombshells Talia al Ghul is the daughter of the supervillian, Ra's al Ghul, who trained Batman. Talia is depicted as a beautiful, but deadly, harem girl in DC Bombshells, which was a popular pinup theme in the 1940's. This look is enhanced by bellydance accessories, bright colors, and ornate jewelry.
We hope you will have maximum benefit through the Bombshells DC Comic Statues guide and cosplay as a wonderful comic star of the DC universe. Check out our other collection of Halloween costume at costume shop.