Nintendo create fantasy platform games as Super Mario Bros which follows all Mario's Adventure in the fictional Mashroom Kingdom also known as Super Mario World. To make Mario on, he sometimes joined his brother Luigi and other Mario cast. Super Mario runs and jumps across the platform and rescuing the kidnapped Princess Peach from the Browser. Since 1985, there are several updates found in the Super Mario Bros games therefore you also have several option in Mario Kart to cosplay the character you like a lot. So get ready to scroll and select Super Mario Costumes along with other characters of the Super Mario Bros Nintendo.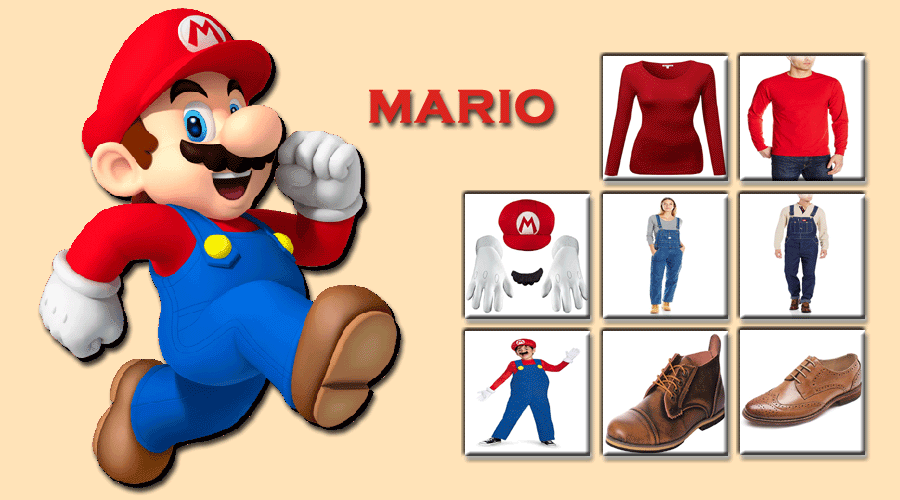 When we were just kids we spend most of our time in Playing video games of Super Mario Bross and still we remember every thing regarding Super Mario games in our memories. Supermario is the part of the greater Mario franchise which includes video games, films, television, print media and merchandise. Mario store had made record breaking sales of all Mario games all around the world. Click Here to visit DIY Super Mario Costume.
17. DR. MARIO COSTUME:-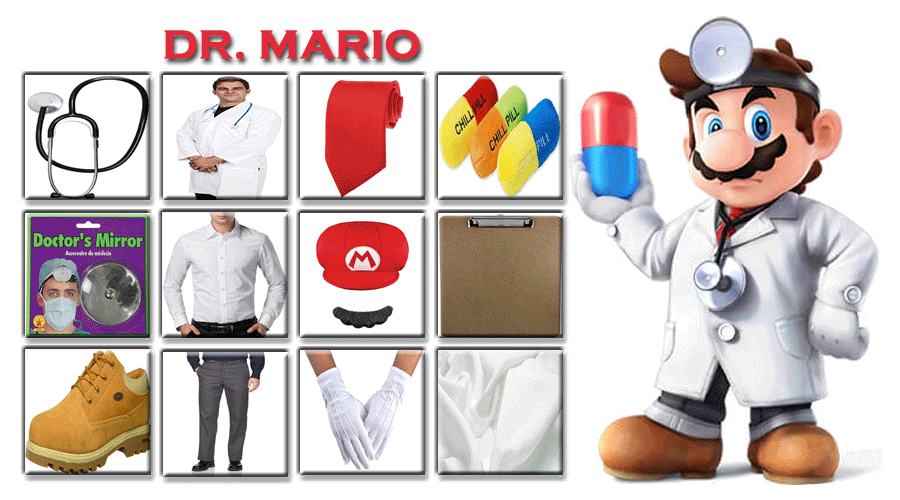 In addition in the Mariogames Nintendo, Play Store has created a variation in the Old Mario as Dr. Mario. He is the character appears in the Dr. Mario puzzle games as well as the playable character in the Super Smash Bros Melee and Super Smash Bros for Wii U and 3DS. You may also make more accurate version of ionic pills weapon with the help of this guide. White cloth is optional for his Smash Bros Cape attack.
16. T-REX MARIO COSTUME:-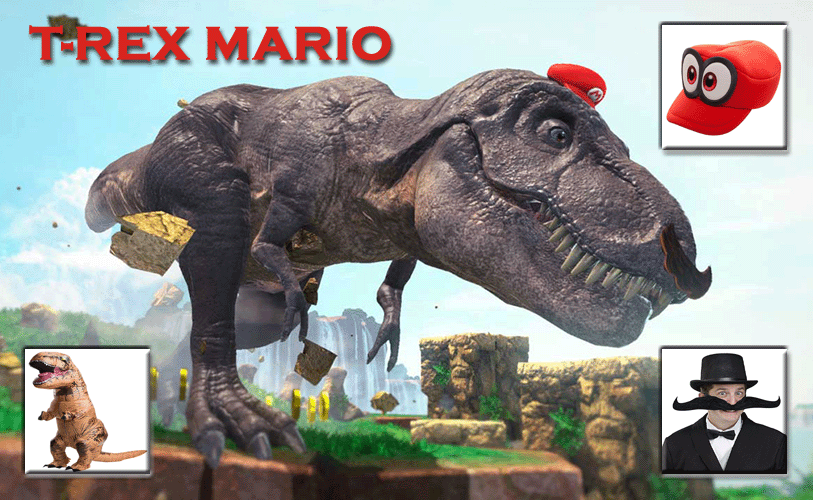 In Super Mario Odyssey, Mario can transform into a dinosaur by throwing his hat Cappy onto a dozing tyrannosaurus rex. As huge and powerful as the dino is, Cappy must exert all his energy to control him for as long as possible.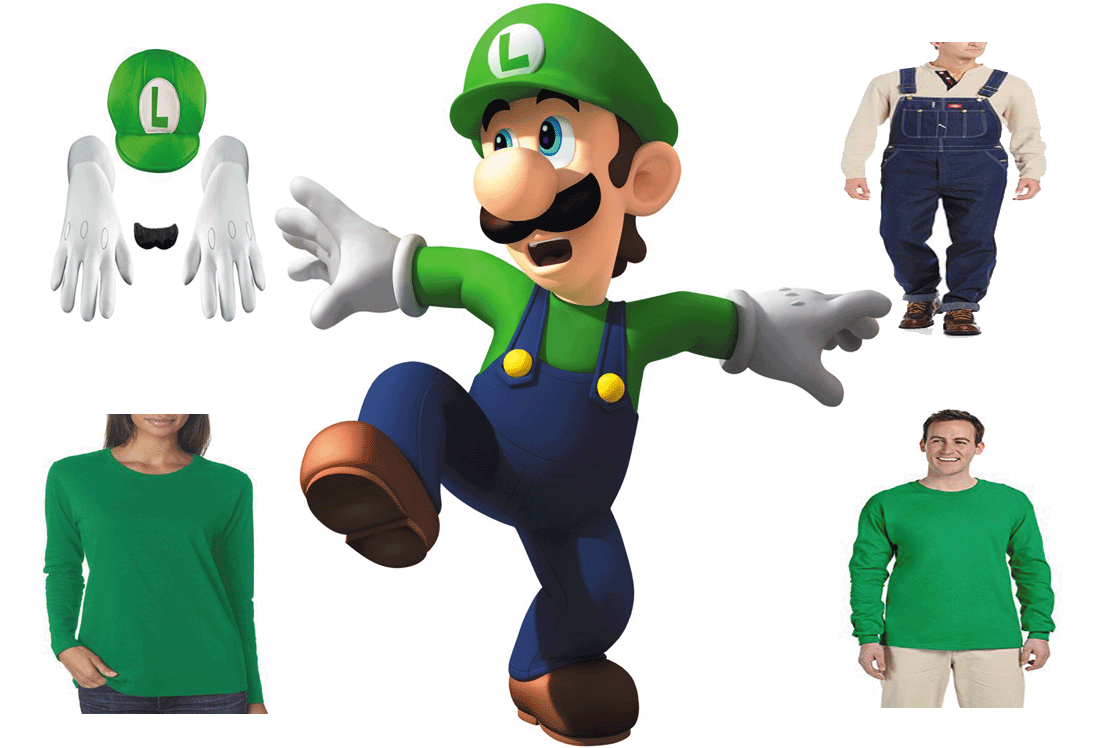 Mario and Luigi are the twin brothers; however Luigi possesses identically exact skill as Mario and can also become taller and thinner. In the Super Mario Gameplay, younger brother face the situation after the appearance of elder brother in the game. Unlike Mario Luigi costume based on green shirt with dark blue over all. Click here to grab Luigi Halloween costumes for entire family.
14. BOWSETTE COSTUME:-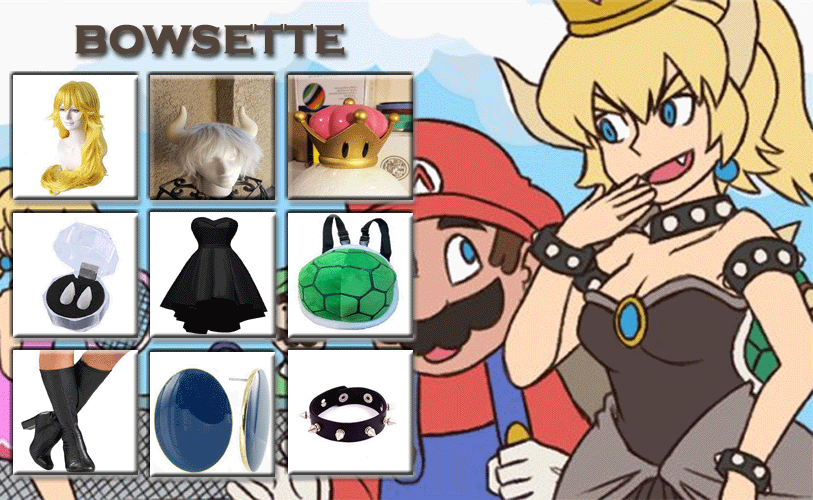 Bowsette (Koopa Hime in Japan) is gender-bent and fan created version of the game Mario character of Browser. It happen when both Browser and Mario are rejected by the Princess Peach towards the end of Super Mario Odyssey, Bowser transforms to find happiness with Mario instead. Bowsette become very popular around the globe typically portrayed as a light-skinned blonde woman with horns, fangs, and a spiked collar with matching armbands.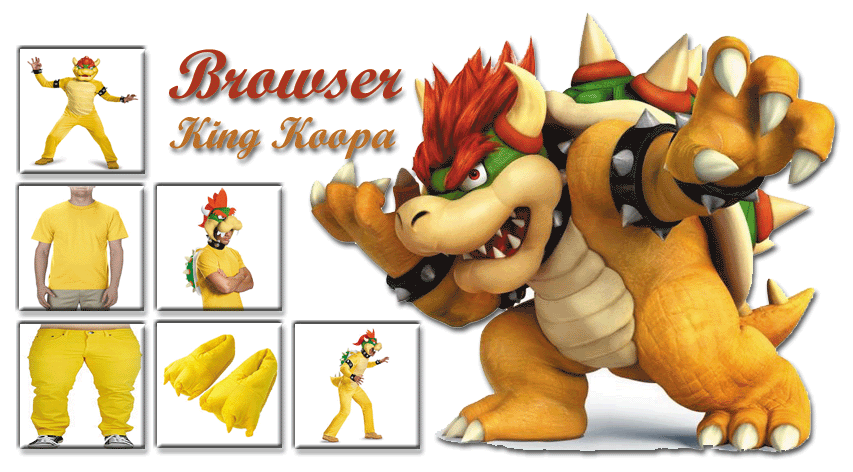 Bowser, King of the Koopas also known as Daimao (Great Demon King) is Mario's enemy since first Mario game. Bowser jr, koopa is the leader and most powerful turtle of the bowser's kingdom. King bowser voice and portrayed by the Dennis Hopper in Super Mario Bros. Mario King is characterized by a large, spiked turtle shell, horns, a draconic muzzle, razor-sharp fangs, taloned fingers, three clawed toes on each foot, and a shock of red hair. For accurate Bowser Cosplay, Click Here to visit Bowser Costume DIY.
12. WARIO COSTUME:-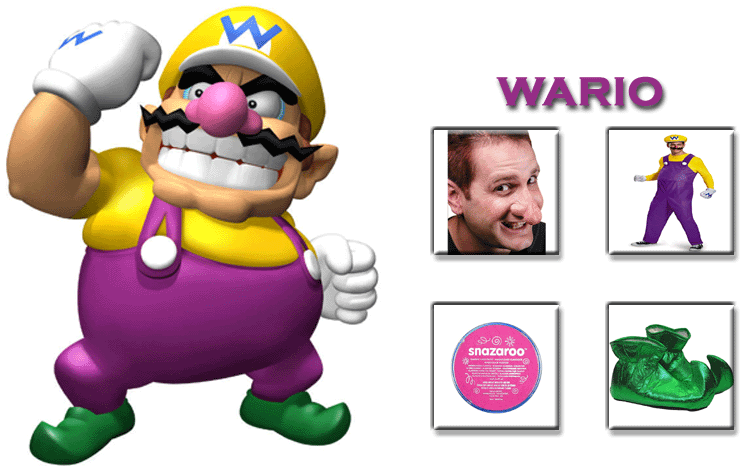 Wario (Arch-rival of Mario) first appeared in the Super Mario Land 2: 6 Golden Coins are the main antagonist and the final Boss. Later he has become protagonist and antihero of the Wario Land and WarioWare series. Wario Amiibo is an exaggerated and more malicious appearing version of Mario. Even his name is derived from a combination of Mario's name and the Japanese word for bad, warui. His outfit is also very similar to Mario's but just in a different color combination.
11. SHY GUY COSTUME:-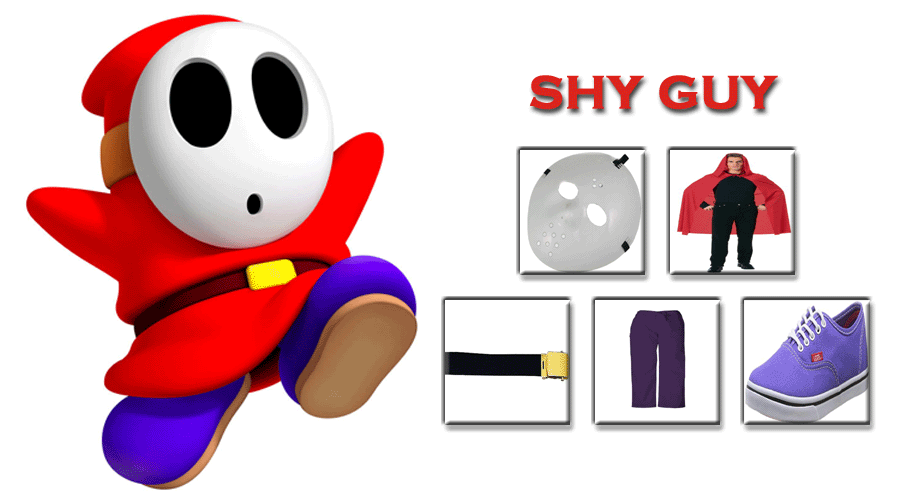 Shy Guys are the masked enemies in the Super Mario series who never shows their face to anyone. They like to change up their appearance by wearing different colored robes. They wear plenty of colors suits such as red, blue, green, yellow and white. Over each suit is a white mask that covers their face.
10. WALUIGI COSTUME:-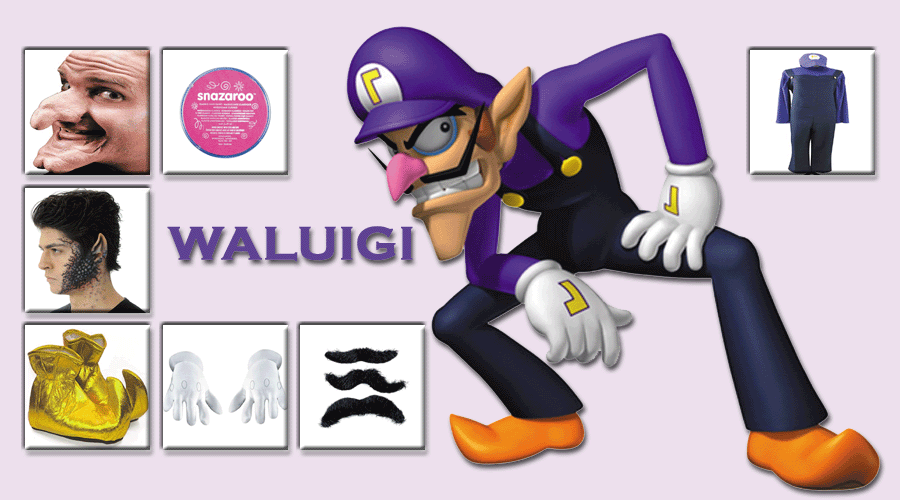 Waluigi first made his appearance in Mario Tennis along with counterpart Wario, both of them are trying to make things difficult to the Mario. Waluigi Amiibo is a more devilish version of the Luigi and he is also described as someone who has a lot of self-pity and would "cheat to win."
09. TANOOKI MARIO COSTUME:-
Mario will allow all the powers of the Raccoon Mario after wearing Tanooki Suit, including flight, tail whip, and gliding. However additionally, the Mario Raccoon Suit allows him to take the form of a stone statue and become invulnerable. Introduced in Super Mario Bros 3, it is one of the most coveted power-ups. He gains a raccoon suit with heavy brown fur and a bushy, dark-striped tail as given below.
08. ROSALINA COSTUME:-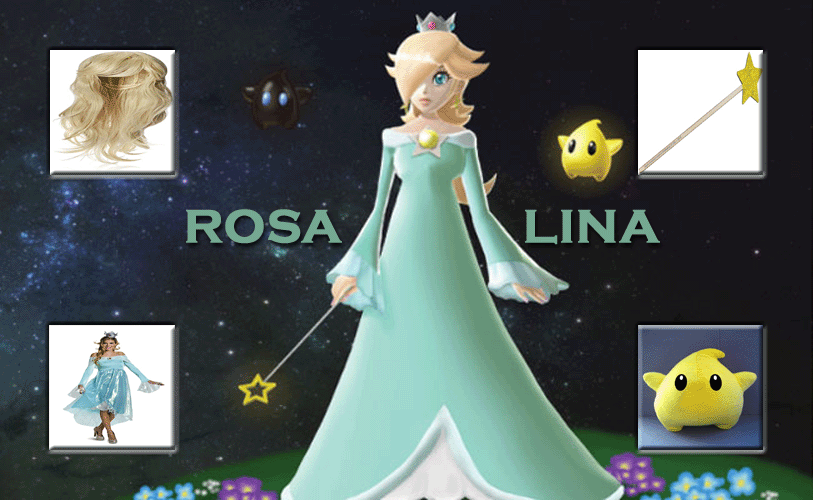 Rosalina (Rosetta) is the curator of the spacebound Comet Observatory and adopted mother of the race of Lumas. She first appears in Super Mario Galaxy, where she aids Mario on his quest and agrees to help Mario to rescue Princess Peach who was under the custody of the Bowser.
07. PAULINE COSTUME:-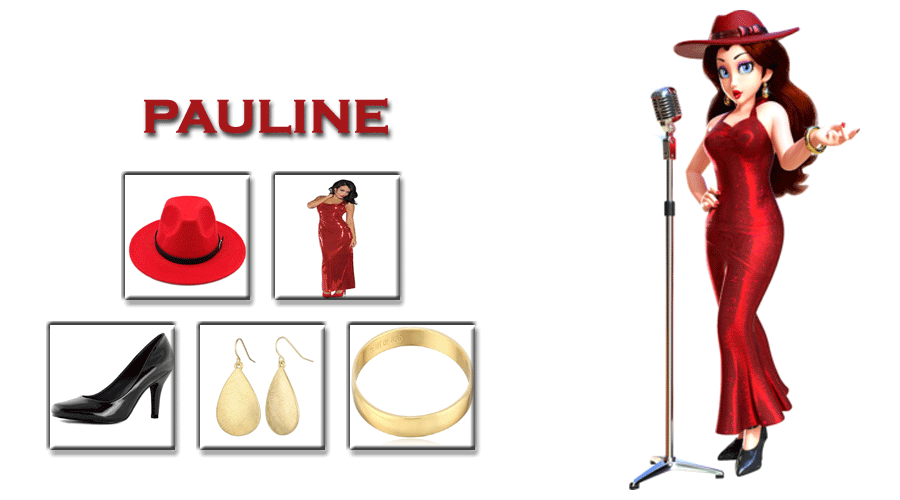 Before Princess Peach was introduced, Pauline (Lady) was the Mario Original love interest. She is the damsel-in-distress in the arcade game Donkey Kong. She returns in the 2017 game Super Mario Odyssey, now as the mayor of New Donk City.
06. KOOPA TROOPA COSTUME:-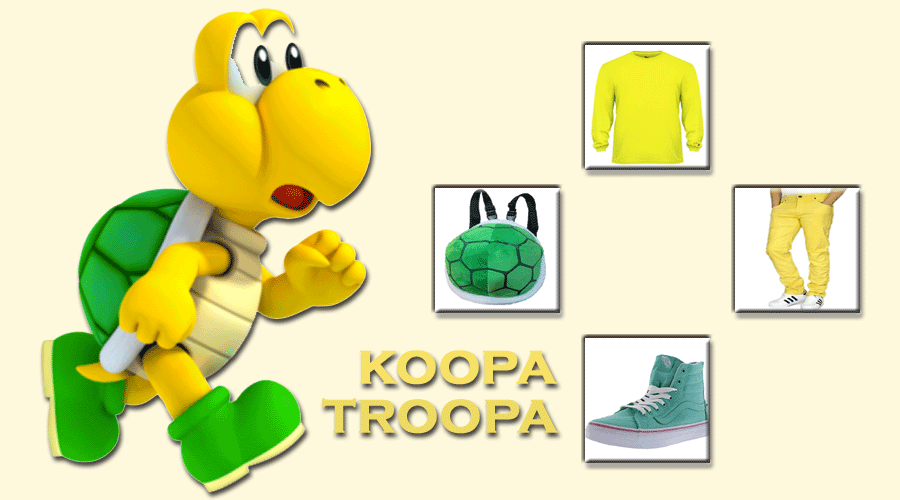 Koopa Troopas (Nokonoko) is a minion Bowser in the Mario franchise. They're most often seen with red or green shells, and are one of the most common enemies that a gamer might find in-game. They're easily disposed of by simply jumping up and bopping them on the head.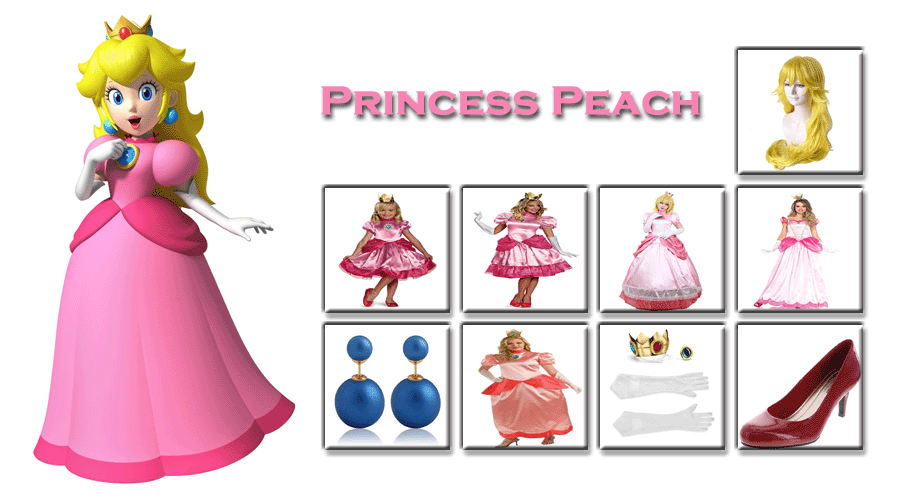 In Super Mario Galaxy, Princes Peach has been rescued by the Mario every time when she was kidnapped by the Bowser. Mario Princess Peach is sweet and simple; hence she becomes very famous in her pink dress which looks the color signature of her costume. Click here to collection all the accessories of Princess Peach Costume including a pink prom dress and long white gloves. Top the look off with a tiara and you are sure to attract your own Italian plumber in no time.
04. PRINCESS DAISY COSTUME:-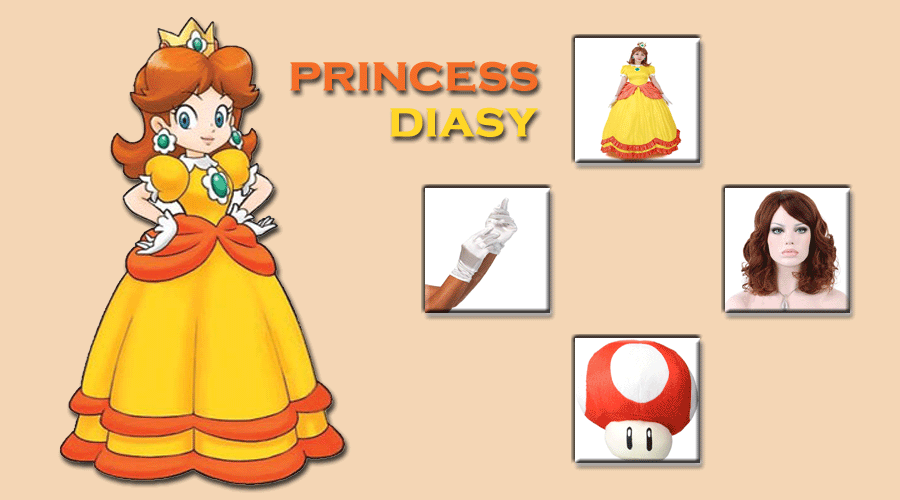 Princess Daisy is the Princess of the Sarasaland and a tomboy. She has identical name of the flower and rumored to be the love interest of Luigi. She is one of the Mushroom Kingdom gang and participates with them regularly in sports and go-karting.
03. PEACH AND DAISY FROM MARIO SPORT MIX COSTUME:-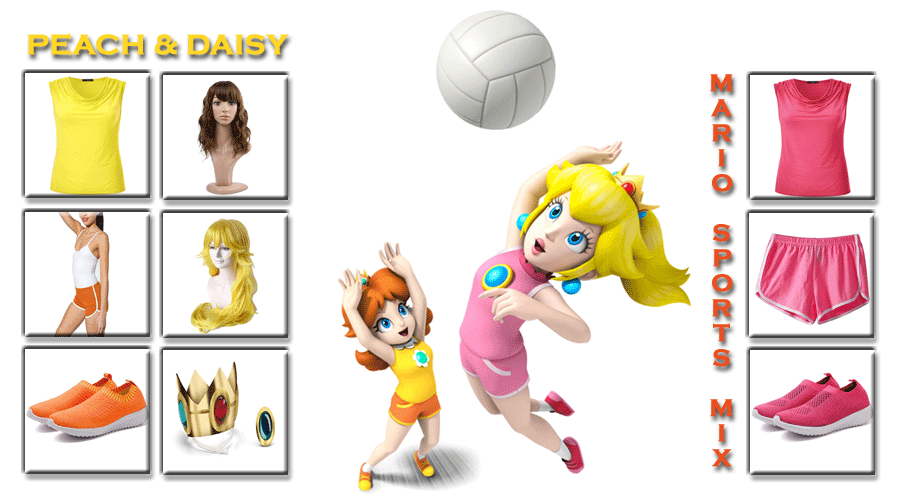 While Princess Peach is instantly recognizable as Mushroom Kingdom's damsel in distress in many of the Mario franchise's games, Princess Daisy as her counterpart is also a frequently appearing character in Mario spinoffs. In most titles, Daisy wears a variation of Peach's dress with slightly different details and in a sunny orange and yellow color scheme. In the various Mario sports games, Peach and Daisy keep their respective palettes, but in athletic wear.
02. PRINCESS PEACH FROM NEW DONK CITY COSTUME:-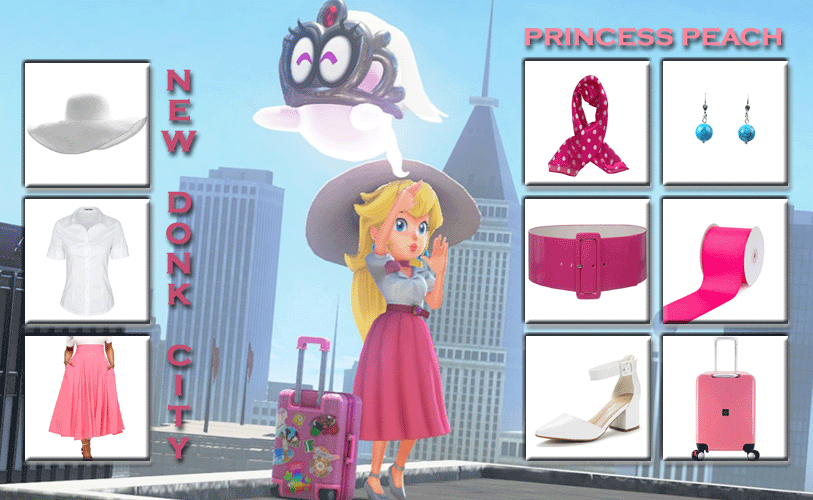 In Super Mario Odyssey, Princess Peach finally decides that she'd rather travel the world than wait in Mushroom Kingdom, dressed in a princess gown, for Bowser to kidnap her and Mario to save her. Here is the outfit she wears while visiting New Donk City, a modern metropolis mayored by Pauline.
01. 7 GRAND DAD COSTUME:-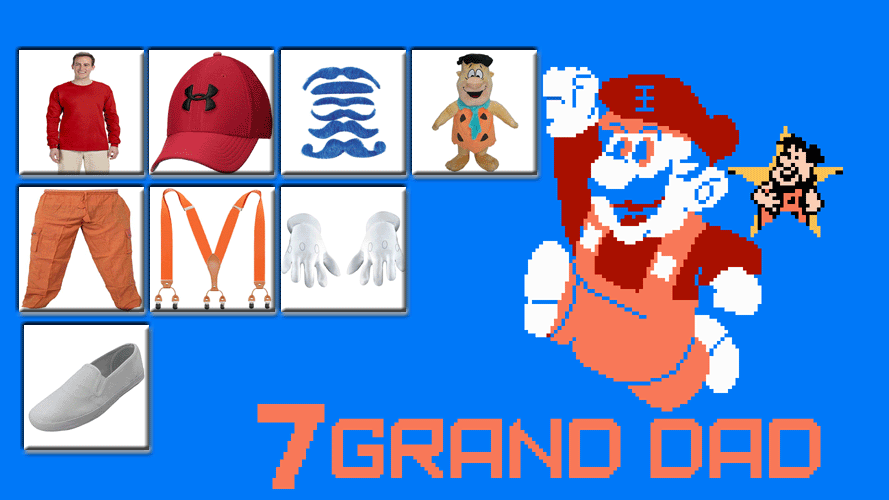 7 Grand Dad is marketed in Russia in the name as Super Mario 7 which is the pirated version of the Flintstones: The Rescue of Dino and Hoppy. Due to the absurd nature of the game, it became a running joke on Vinesauce Joel streams, and later SiIvaGunner videos. Primitive Mario VII is the modifies the title by changing the logo and the head of the Fred Flintstone's sprites was replaced with the Mario, however at some graphics remains the same.
Now you have several choices for Super Mario Cosplay at Halloween along with other lovely character from the Mario franchise. Further we also invite you to visit and check other gaming costume for more Halloween ideas.