,shThe Pokemon Company in Japan introduced Pokemon (Pocket Master) is the fictional character as trainers who catch and train each other for battle. Pokemon universe set it slogan as "Gotta Catch 'Em All". The Pokemon franchise began with Pokemon Red and Green which becomes second best-selling video game behind Mario franchise. In this article we are sharing the DIY costume of Pokemon game characters. So why are you waiting for, scroll down to have your own Pokemon Halloween costume.
31. ASH KETCHUM COSTUME:-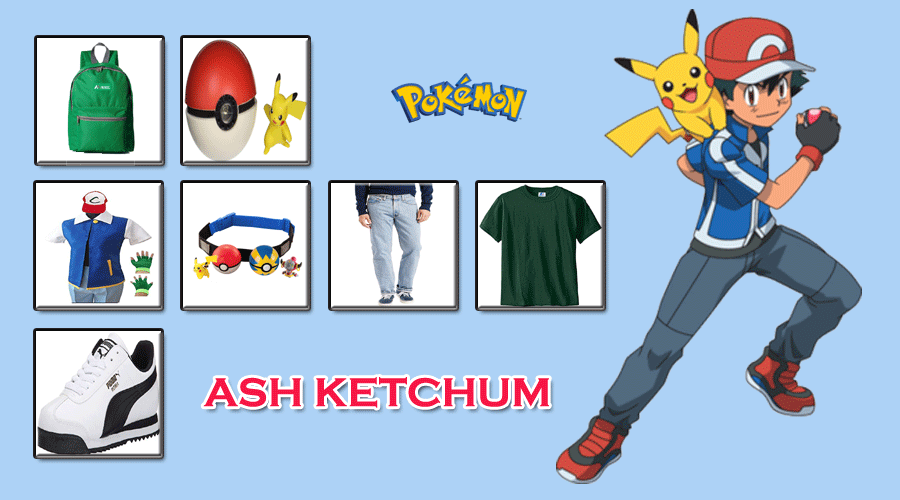 Ash Pokemon is  10 year old trainer who always want to become the best among other trainers. Ash trainer is more creative and vigilant as Pokemon game characters. We all know that Ashe and Ash costumes are very popular among fans and lover therefore collect all the accessories of the Ash costume for cosplay at Halloween.
It is very easy to dress-up with Ash Ketchum outfit when you are going to Comic Con, cosplay convention or any Halloween party. You may collect all the accessories including Ash Ketchum hat, gloves and Ash ketchum vest etc from the items as displayed above.
30. MISTY COSTUME:-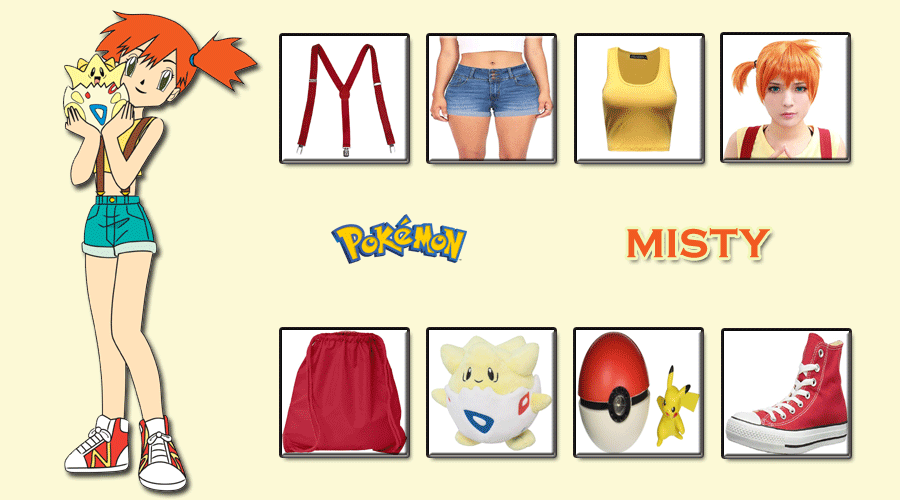 In Japan, Kasumi (voiced by Mayumi Iizuka) works as a Pokemon trainer alongside Brock and Ash. She was initially appeared as the Gym Leader in several Pokemon video games. Misty anime showed her tender side time to time however she is known to be stubborn and short tempered. For comfort Misty outfit contains cropped tank top and high-cut jeans shorts.
Misty Pokemon outfit may also counted as sexy Halloween costume to make cosplayer stunning among other. Therefore, become the part of the Pokemon Pokedex, scroll down to check other Pokemon characters costumes as well.
29. ROSA COSTUME:-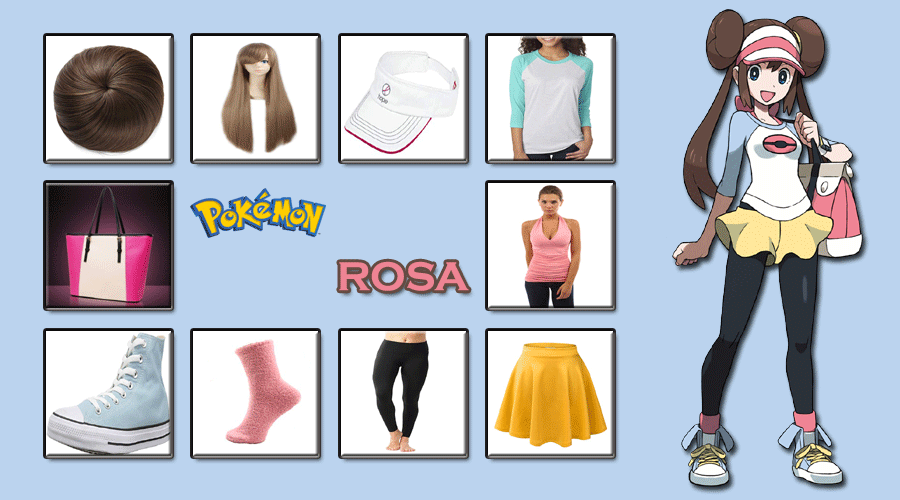 Rosa (Mei in Japan) is the female protagonist and trainer from Aspertia City in Pokemon Black 2 and White 2. Taking journey across the Unova region Trainer Rosa set off with her friend Nate to collect Pokemon. Rosa Mei is tall and slim young girl with long dark brown hairs. Scroll down to grab the all the accessories of Black and White Rosa costume.
In Pokemon black and white, Rosa is a dedicated player, she is seen confident and powerful trainer in Pokemon anime while struggle to hide her strength in Pokemon Manga.
28. PIKACHU COSTUME:-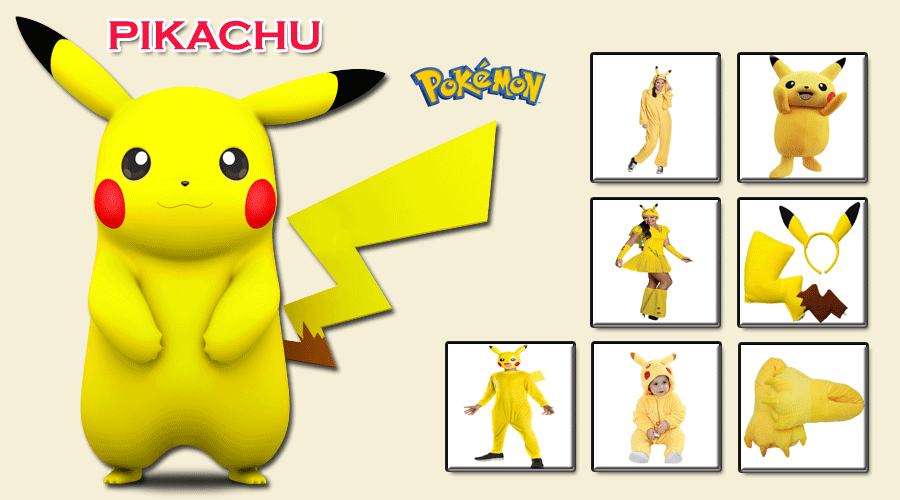 A species of Pokemon, Pikachu is a yellow rodent-like creatures with powerful electric abilities. Pikachu from Pokemon is the most popular character, loyal and never leaving Ash Ketchum's side. This pika-like creatures has a thunderbolt tail and can emit sparks of electricity from its cute red cheeks.
The costume shown above doesn't need Pikachu hat for cosplay and Halloween. All of us well known that Pikachu Pikachu charages itself while sleeping and release such energy through its tail.
27. HILDA COSTUME:-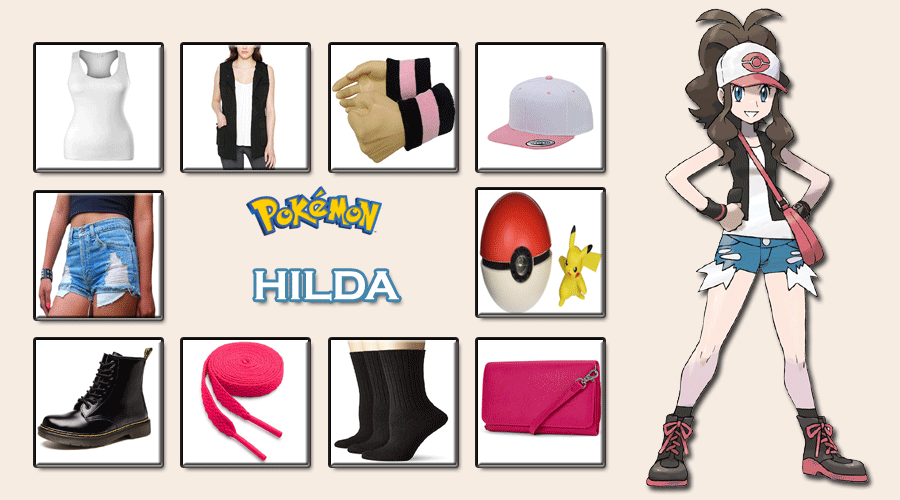 Hilda (Touko) from Nuvema Town is the Pokemon trainer in Pokemon Black and White. Cheren and Bianca are being her childhood companions started to collect Pokimons during their journey. During her journey she met with N who wishes a separate World for human and Pokemon.
She is tall with beautiful blue eyes and dark brown long hairs. All the other costume accessories she used to wear as player at Pokemon app.
26. SERENA COSTUME:-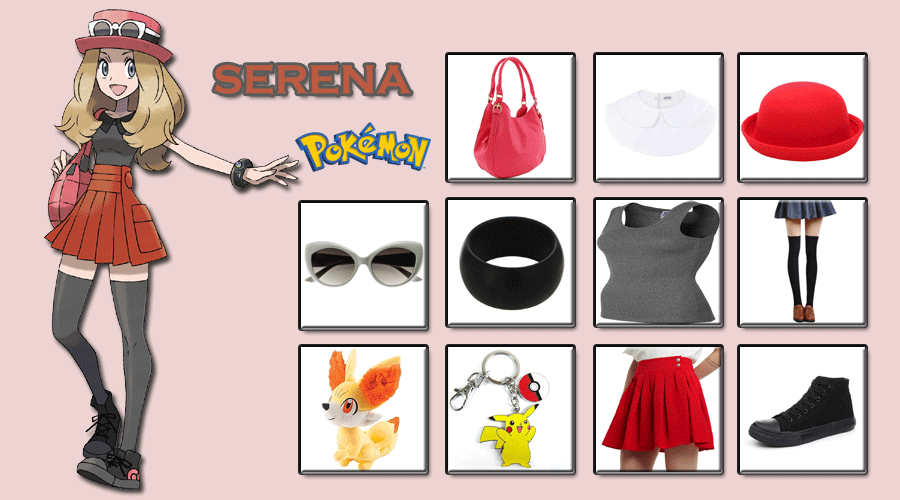 Serena in Pokemon X and Y, is a Pokemon trainer and a kind girl but rebels her mother openly. Ash Serena is the foremost rival of the character, selecting the starter Pokemon and also teaches players how to catch Pokemon & Bunnelby with the use of her fletching. Scroll down grab more in DIY Pokemon Serena costume.
Pokemon Serena outfit is very simple and easy to collect from the Halloween shop. Some variations are found in the Pokemon Serena skirt as, some cosplayer want the simple one while other love to have button down short skirt for cosplay.
25. PROFESSOR WILLOW COSTUME:-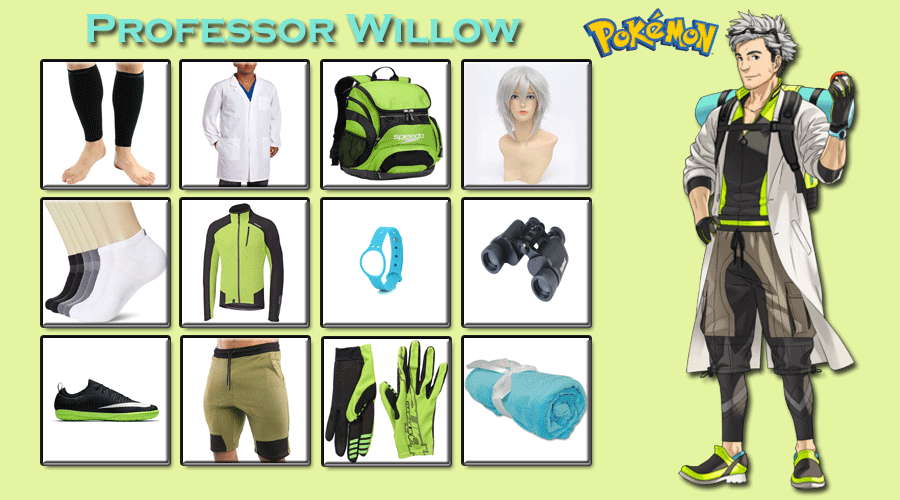 Professor Willow in Pokemon Go help new trainer to learn basic and assist experienced trainer with research task. He  introduced the mechanics at the beginning of the game. Pokemon trainers are inspired with his silver fox look, toned physique and happy to follow Professor Willow's order.
How to play pokemon go Professor Willow who has white hairs with dark eyes is an honor for players. Professor trainer clothes are mostly dark with some lime-green details in it. He is wearing big blue rucksack at his back and a white lab coat.
24. GUZMA COSTUME:-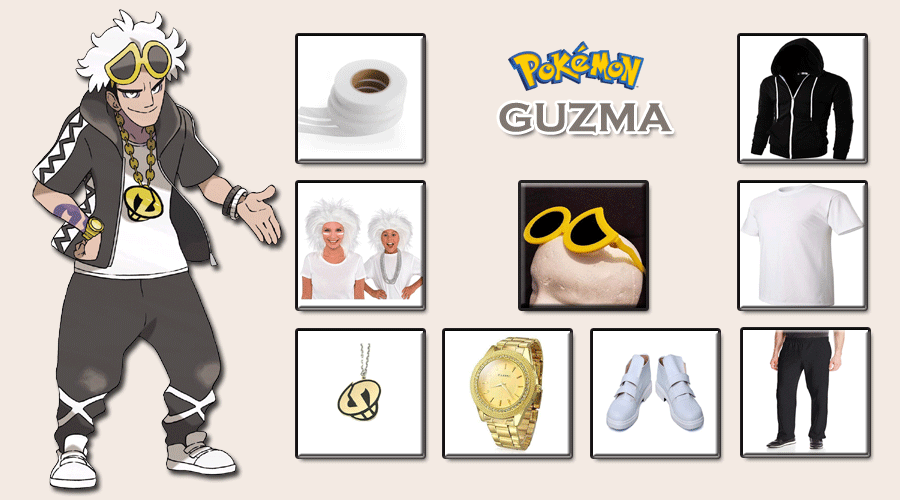 Guzma (The Hated Boss) is the leader of Team Skull which is villainous organization in the Pokemon Sun and Moon. He is secondary antagonist and specialized in bug type pokemon. Pokemon Guzma costume is quite simple to DIY, just you need white electric tape for stripes on his clothes.
No matter you are from Pokemon Sun Team or Pokemon Moon team, Guzma Pokemon cosplay is very simple to adopt. Now, you have to show the hated boss ability during cosplay.
23. JAMES COSTUME:-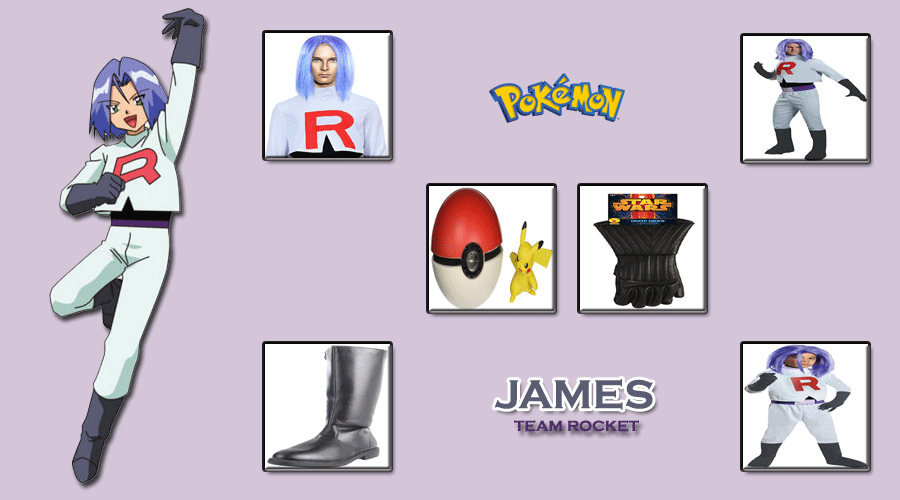 James is the member of the team rocket in Pokemon who is from the evil side and trying to steal Pikachu of Ash Ketchum. It is a matter of fact that if you see James, his mates Meawth and Jessie are not usually far behind. Given below is the DIY of James costume for team rocket cosplay.
Being top rated member of Team Rocket in Pokemon list, James found initially as the calm and serious person. People who are interested in, team rocket girl costume will also grab identical items for cosplay and Halloween.
22. JIGGLYPUFF COSTUME:-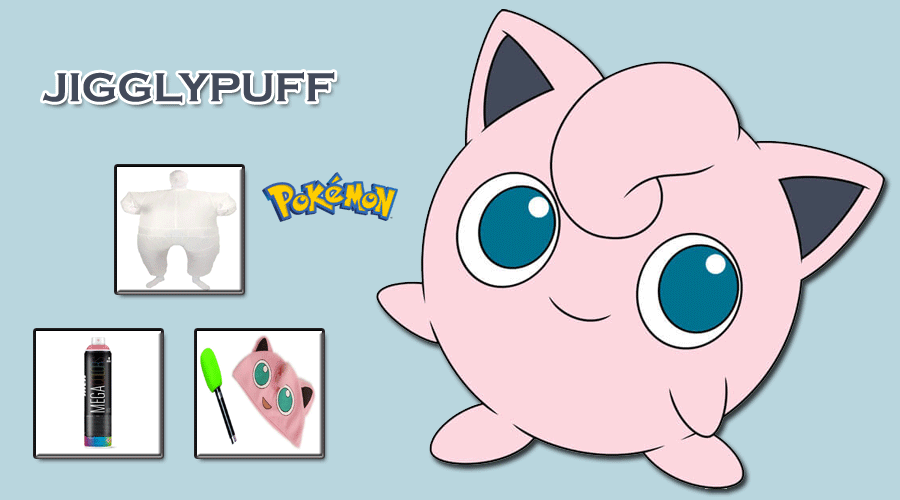 Jigglypuff is the rubbery and stretchy balloon character in Pokemon. With unique ability of singing melodic lullabytes this game freak pokemon can sleep anyone.
It is mentioned in the Pokemon center that Jigglypuff evolution is from igglybuff and wigglytuff. Further, you may find varieties of Jigglypuff t shirt at Pokemon Shop.
21. OLIVIA COSTUME:-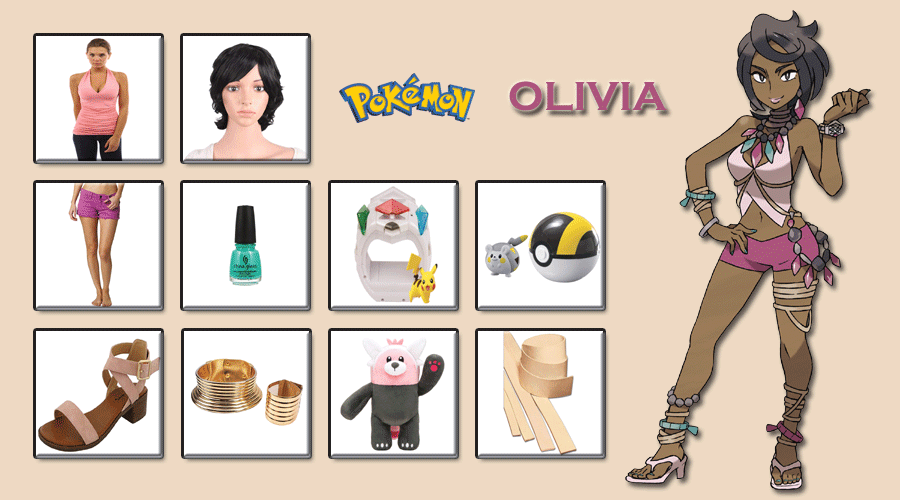 Olivia in Pokemon Sun and Moon is the kahuna of Akala Island and owner of the jewelry shop. Pokemon Sun and Moon Olivia being in love with Pokemon treat him affectionately. Scroll more to grab Olivia costume.
She is specialized in rock type Pokemon, who dock the player in Kahuna battle and later become an elite four member.
20. GYM LEADER LIEUTENANT SURGE COSTUME:-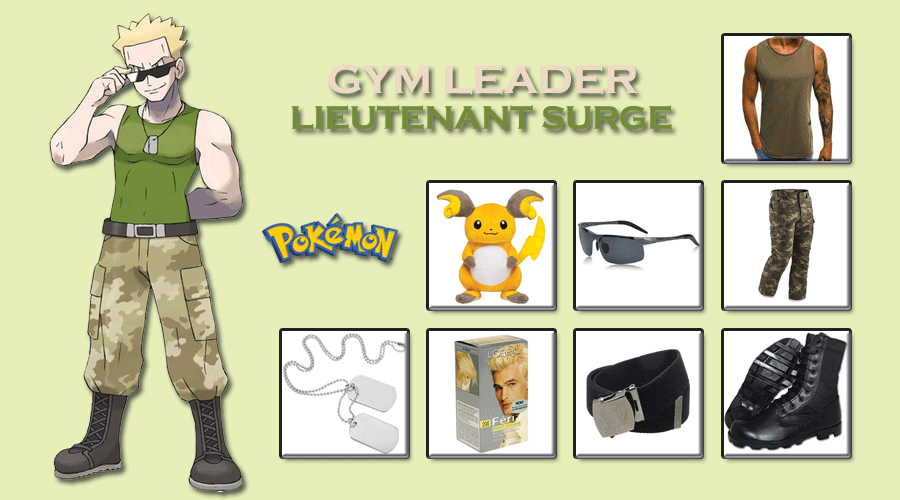 The Lightning American (Fumihiko Tachiki / Maddie Blaustein) aka Lieutenant Surge is the gym leader of Vermilion City Gym. Pokemon Lieutenant Surge is specialized in Electic-Type Pokemon and hold thunder badge to the trainer who get victory against him.
No need to search gym guide or switch to gym leader during use of Pokemon Go app or Lieutenant Surge cosplay at Halloween.
19. NATURAL HARMONIA GROPIUS COSTUME:-
N (Natural Harmonia Gropius) is the leader of team plasma in Pokemon Black and white. He is an ability to understand and communicate with the Pokemon. Being a leader he is serious by nature and very protective to his followers.
Sooner or later he realize his mistakes and tries his level best to improve the relationship between the Pokemon and the humans.
18. BROCK COSTUME:-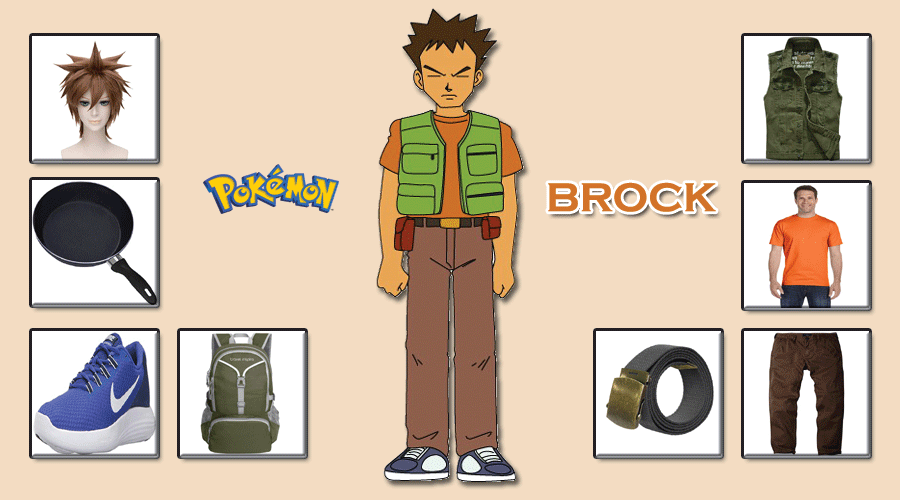 Brock is the Gym Leader of Pewter City Gym and he has dream to become the greatest Pokemon breeder. He travels to country side along with Ash and Misty to achieve his goal. This is the reason why Brock Pokemon eyes never fall in love with any girl.
Ash Misty Brock have their separate identities and skills in the Pokemon Go Play Store, but the Brock is matured, wise and more intelligent character among all of them.
17. POKEMON TRAINER COSTUME FROM SUPER SMASH BROS UNLIMITED:-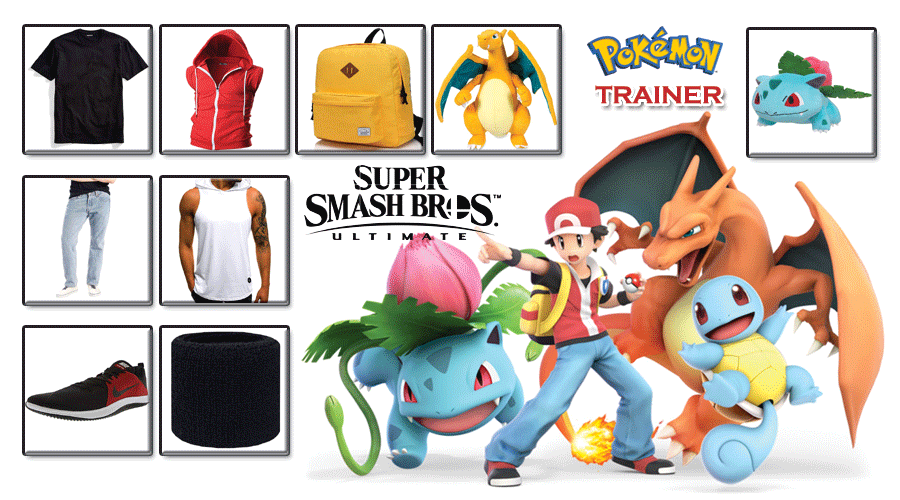 In Super Smash Bros. Unlimited, Pokemon trainer has closely resemblance with the Ash Ketchum. He can battle interchangeably with his three Pokemon Squirtle fighter # 33, Ivysaur fighter # 34, and Charizard fighter # 35.
Pokemon information reveals that there are several online platforms where Pokemon cheats are easily available for gamer but you can't find any of them while cosplaying this character at Halloween.
16. GYM LEADER WHITNEY COSTUME:-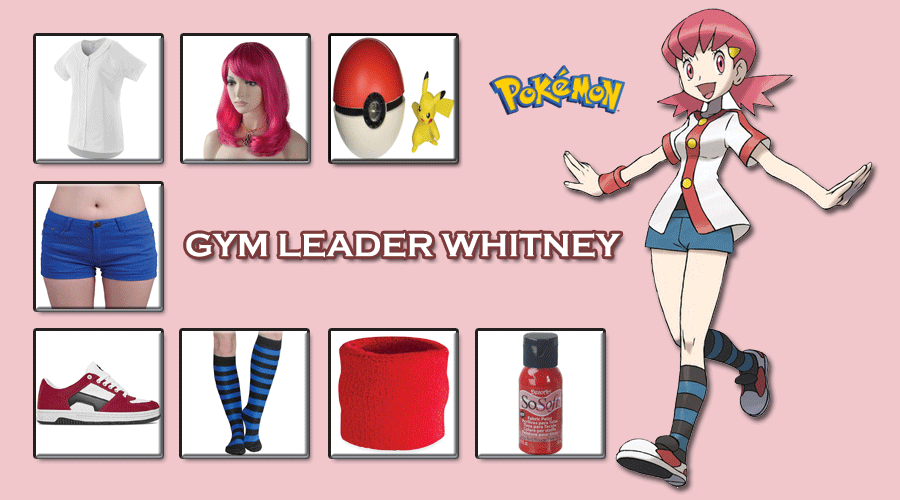 Whitney (Yuko Miyamura / Megan Hollingshead) is the Goldenrod City Gym Leader. She is energetic and kind but sometimes very loud and arrogant, she also show her weakness when defeated by any trainer and started crying. She always give badge to a winner in respect of battle and a good gym leader.
Mostly gamer search what's the newest Pokemon game, therefore we always keep our focus on the costume wore by each character in the game to provide you quick and accurate Pokemon Go guide of those players. For now enjoy your tour to select the best costume from the Pokemon franchise for Halloween and cosplay.
15. GARY OAK COSTUME:-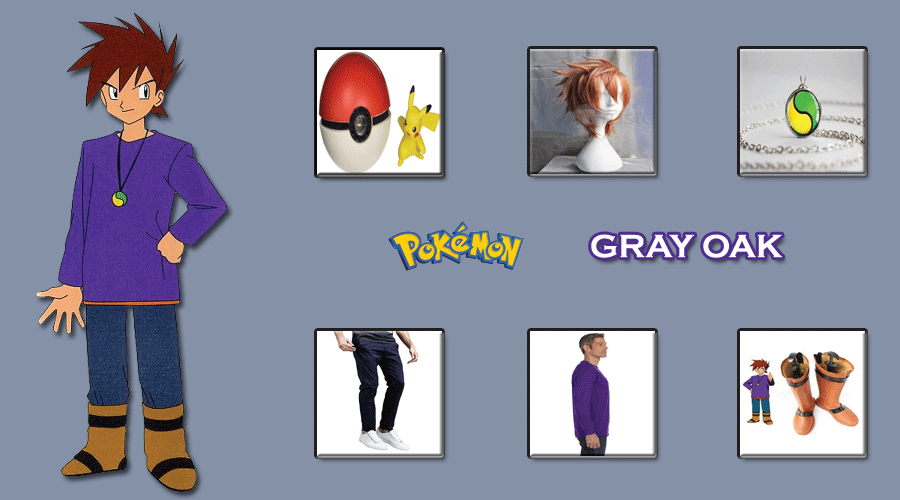 Gary Pokemon is the rival to Ash Ketchum in all Gary Battle and the grandson of Professor Oak. Dr Gary Oaks always taunting Ash in his journey and takes a great pleasure in collecting powerful Pokemon whenever possible.
Gary Oak Pokemon mostly appear in aubum hair, long sleeves purple shirt, dark blue pant, brown shoes and black necklace with a gold bead.
14. MELOETTA COSTUME:-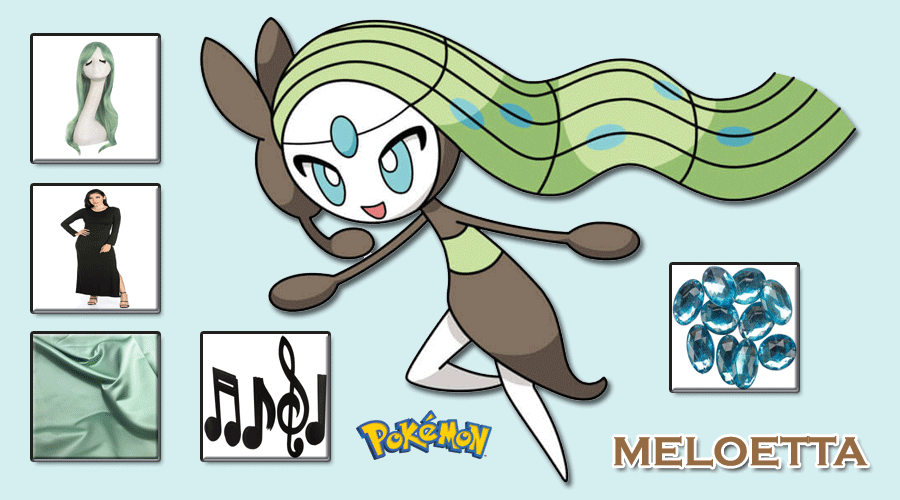 Meloetta Pokemon x is a fairy-like Pokemon with musical bar steaks in her hairs. She emerges her power to create Pokemon by the melodies sung by her. Pokemon Meloetta ex is introduce as the Normal/Psychic Mythical Pokémon in its Pirouette Forme.
By using the move Relic Song in battle Meloetta has a second Forme activated other than her original Forme. Aria Forme, will now become the Normal/Fighting-type Pirouette Forme.
13. GYM LEADER FLANNERY COSTUME:-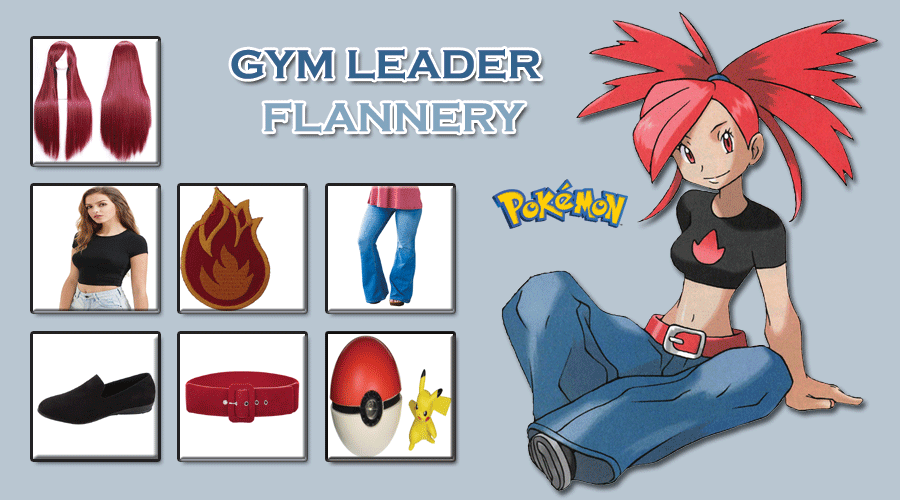 Flannery (voiced by Lisa Ortiz in the anime) specialized in the Fire-type Pokemon and the resident gym leader of Lavaridge Town. She awards the trainers the hoenn gym badges or heat badge and Overheat TM50 if they defeat her.
She is spontaneous and strong-willed but she isn't the most experienced trainer of her type. Her biggest drop back in her practice is that she makes up with charisma and ambition.
12. GYM LEADER SABRINA COSTUME:-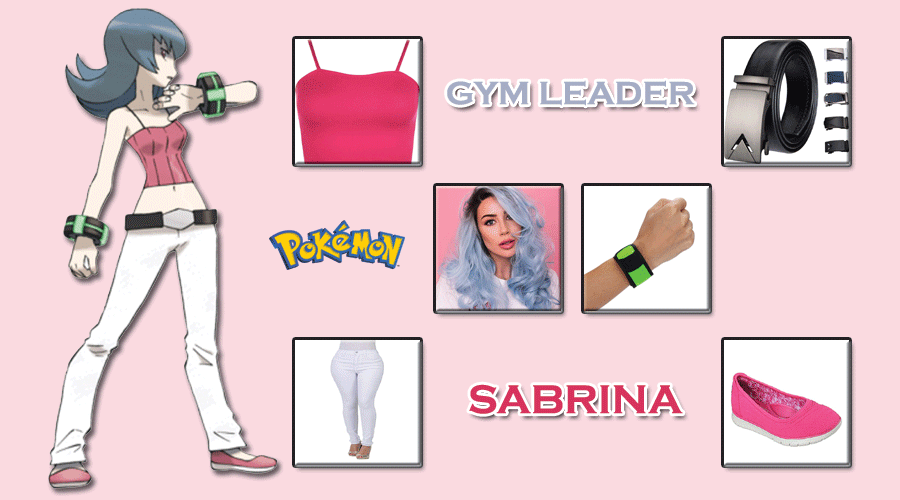 Sabrina, in Pokemon HeartGold and SoulSilver is a skilled user of the psychic Pokemon and the Saffron City Gym Leader. She honored March Badge to the trainer who defeats her in Pokemon DS games. Whatever appearance changes in Pokemon SilverSoul her hair colors will never change.
With these Pokemon costume ideas you will poke poke poke this Halloween and highlighted in the headlines of Pokemon go news.
11. POKÉMON TRAINER (LEAF VARIANT) COSTUME:-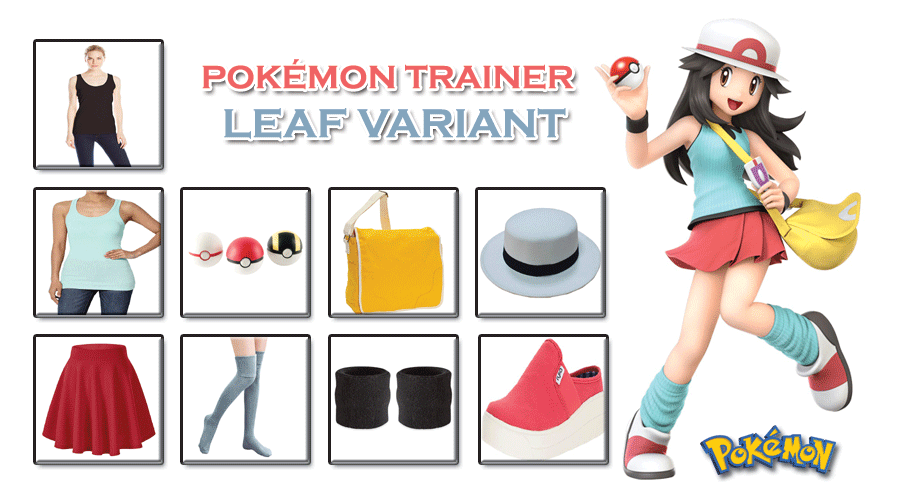 The leaf variant from the Super Smash Bros. Unlimited is girl trainer whose appearance is based on the Pokemon FireRed and LeafGreen. The white and red colors in her hat are inverted and she carry a yellow messenger bag instead of backpack.
Being Pokemon Fire Red and Pokemon Leaf Green like appearance, she fights with Charmeleon instead of Charizard and Wartortle instead of Squirtle.
10. PROFESSOR ROWAN COSTUME:-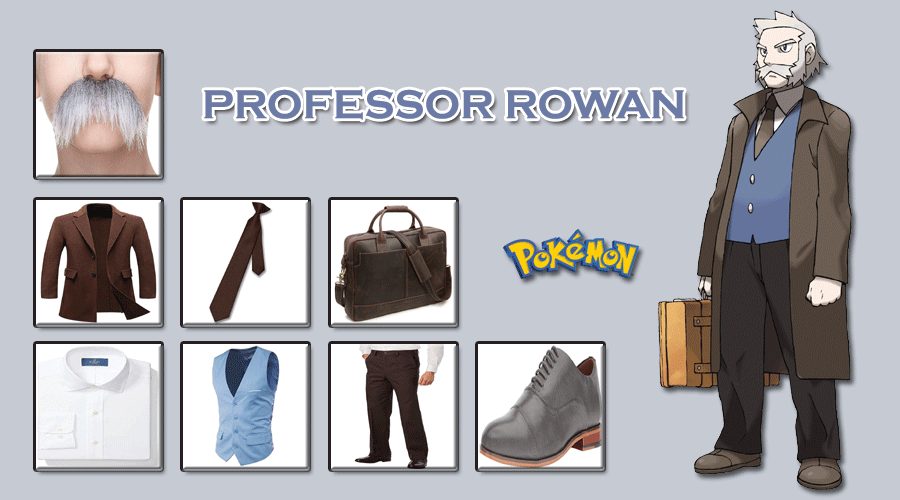 Professor Rowan is the leading professor of the Sinnoh region. He is the character who appeared in the Generation IV of Pokemon Diamon and Pearl. Pokemon Porfessor Rowan was renown by the Professor Oak, besides Dr Rowand serious and harsh behavior he is very helpful and cares greatly to the trainer.
Professor Rowan outfit was difficult to grab from Halloween costume store therefore, we tried our level best to make it very simple in this article for you.
09. PROFESSOR OAK COSTUME:-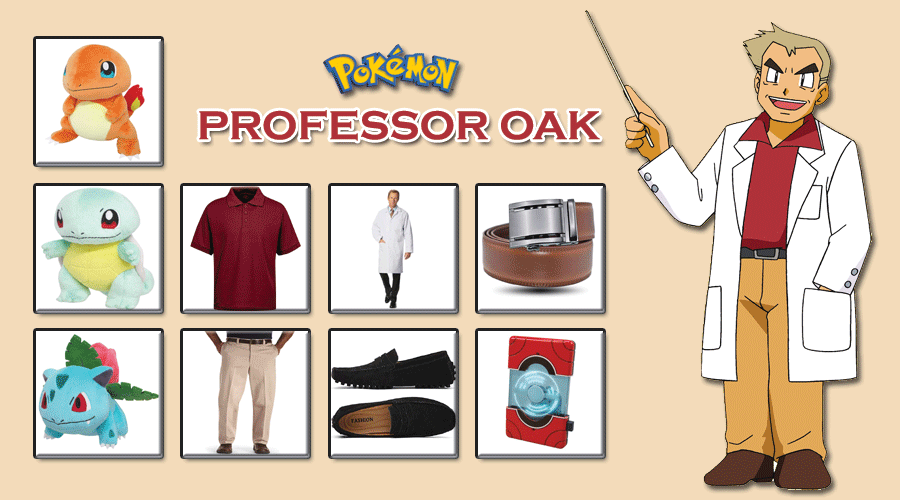 Professor Samuel Oak was a competitive trainer before retirement while he is a Pokemon researcher now. Professor Oak codes were open the road for Delia Ketchum and her son.
Professor Oak meme is a tough job but with inspiration and courage you will be look alike the Pokemon character.
08. PROFESSOR KUKUI COSTUME:-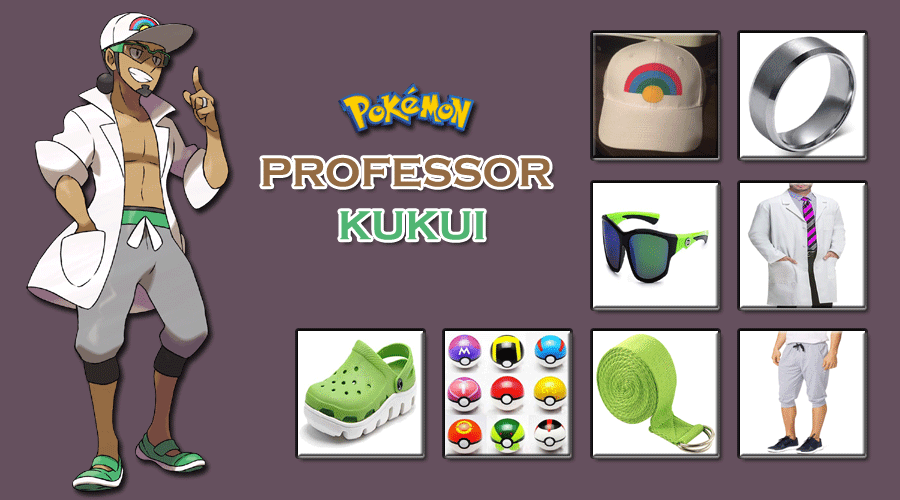 Pokemon Sun and Moon Professor Kukui is the founder of Alola's Pokémon League. Kukui Pokemon professors encourages all his trainers and help them throughout the adventure. He is married to Professor Burnet.
Now the questions about what is Pokemon or where is Pokemon is meaningless after going through the ultimate guide of the Pokemon Go costume. Accessories given above are identical with the character wore in the game except white cap which should be print with rainbow decoration.
07. NURSE JOY COSTUME:-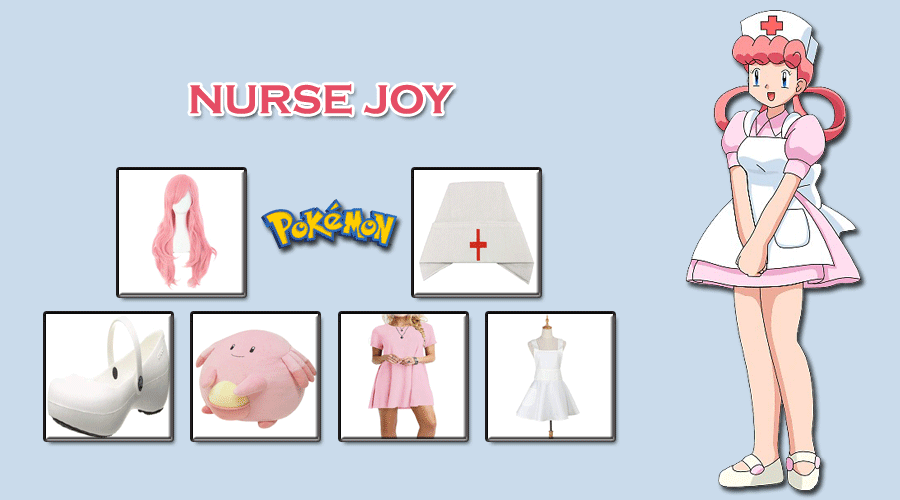 Pokemon Nurse Joy (original name Pokemon Center Lady) is a minor character in the Pokemon game and with her complete care any Pokemon can restore back to perfect health. She appears in a kind of nursing dresses who are recruited in the game to take care of the Pokemon.
Nurse Joy outfit is simple as mentioned above just you have to chose identical color. Nurse Joy Pokemon is the character appear in the series since beginning of the Generation I.
06. MAY (HARUKA) COSTUME:-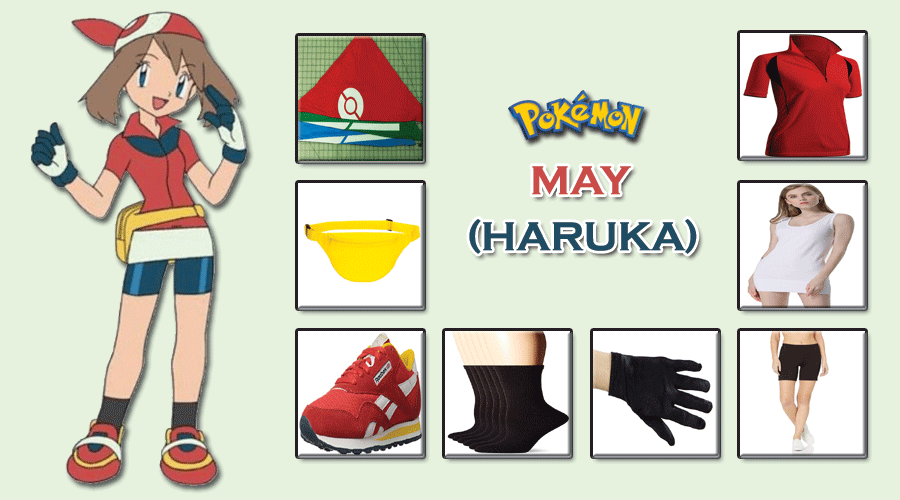 To complete Pokemon contest (May Haruka) travelling through various regions. She is energetic, adorable and popular Pokemon coordinator.  She appears in several episodes of Diamond and Pearl: Battle Dimension along with Sinnoh to complete her travel in the Wallace Cup.
Besides costumes, Pokemon toys and Pokemon action figures are in identical demand as compared to the fake pokemon unlicensed products selling around the globe.
05. HILBERT COSTUME:-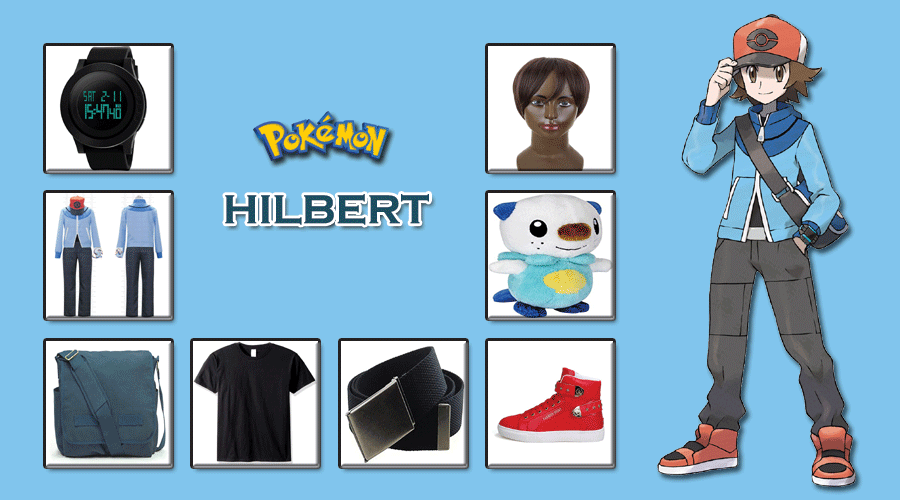 In Pokemon Black and White, Hilbert is the male protagonist and the counterpart of Hilda. He lives in Nuvema Town as a Pokemon trainer. Like other trainer he wants to become the most powerful Pokemon master.
Hilbert is the thin tall boy with brown hairs and brown eyes. He normally wear black tee inside his costume jacket and always carry blue messenger bag, almost identical one you will find in this guide.
04. SCOTTISH FEMALE TRAINER COSTUME FROM POKEMON SWORD AND SHIELD:-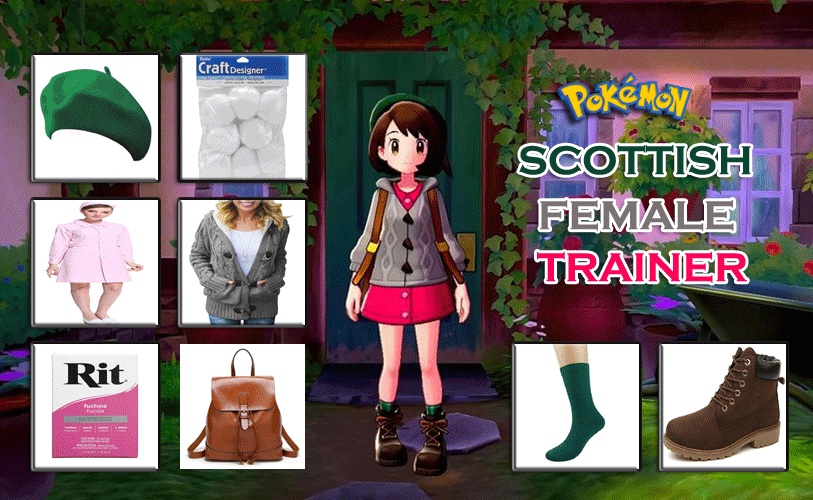 Scottish Pokemon Trainer in Pokemon Sword and Shield refers to style of female player character with a heavy Scottish accent. Fans memed the trainer of Scottish decent with heavy drinking and hard swearing.
Scottish female trainers are generally wear green french beret and pink dress with grey cardigans. You will find similar style pokemon backpack it the link shown above.
03. MALE TRAINER COSTUME FROM POKEMON SWORD AND SHIELD:-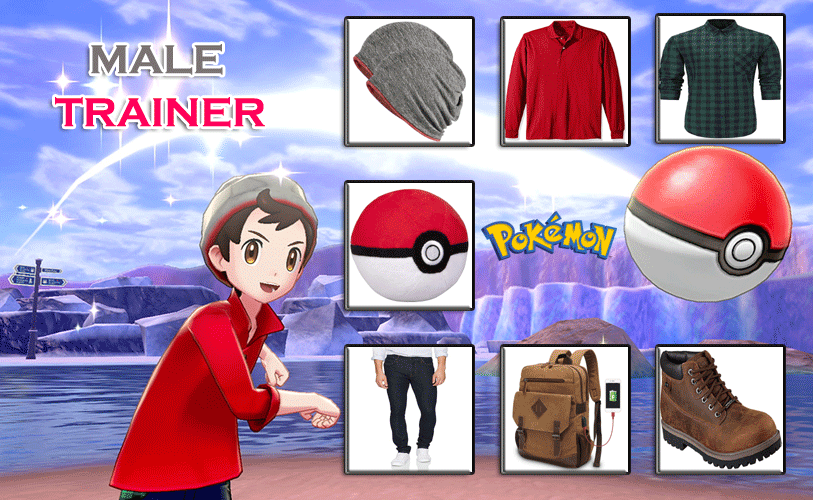 The male trainer in Pokemon Sword and Shield likes his female Scottish counterpart and explores the diverse environments of the Galar region in search of Pokemon like starters Grookey, Scorbunny, and Sobble.
To win Pokemon cards you have to betray the Pokemon trainer in the game. To memed these characters you must need identical dresses for perfection.
02. CALEM COSTUME FROM POKEMON X AND Y:-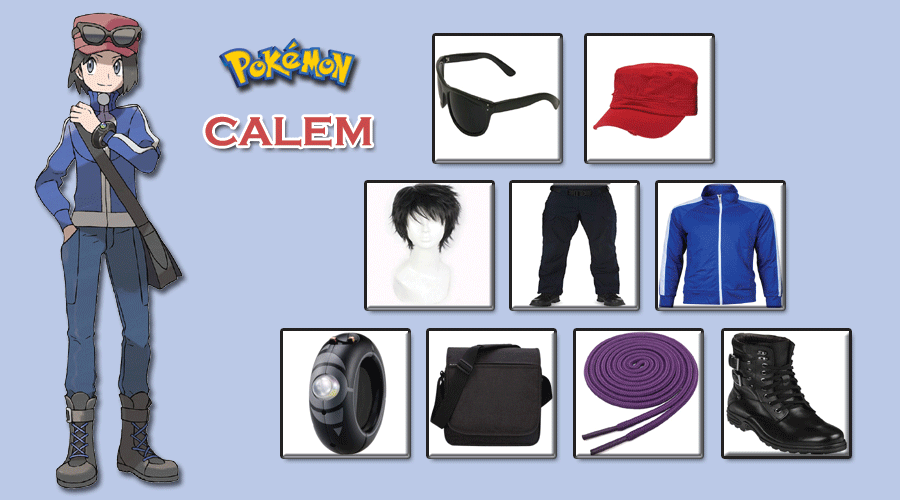 From Pokemon X and Y, Calem is the main protagonist whose female counterpart is Serena. He is a young man who lives in the Vaniville Town.
Calem is naturally tall with grey eyes and wear red hat and sunglasses. Generally, he wear blue track jacket with white stripes, blue slim fit pant and combat boots. You will find mega ring and messenger bag in this guide.
01. POKEMON GO TRAINER COSTUME:-
Pokemon Go trainers are the playable character of the Pokemon Go game. They existence are just to guide the Pokemon Player to complete the mission and accumulate figures in the personal score card.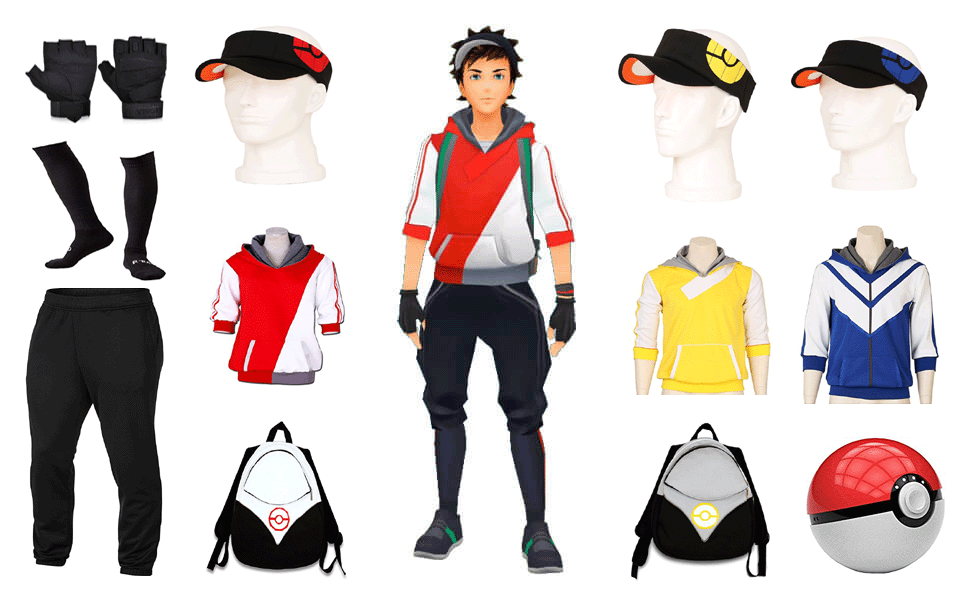 You will find entire accessories for Pokemon Go Trainer cosplay by Click here. We are appreciate your existence here and hope that you will share these collection with your friends and family, moreover Halloween gaming costume are linked here.