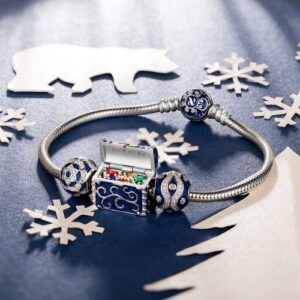 While surfing internet I found unique design made by NinaQueen of Paris who is one of France's most popular designer brands. NinaQueen is especially popular among French men as an ideal gift for daughters, mothers, wives, and lovers. Each charm represents a beautiful dream, and each bracelet tells the story of a beautiful life!
Using the Diamond Standard of technology, a micro-painted enamel makes NinaQueen charms eye catching and rugged. On further research it is found that NinaQueen is a member of a very small number of brands invited to the Amazon's Fine Jewelry category. Only those with brand strength and excellent products are eligible to enter this prestigious level.
NinaQueen is a brand of confidence and attitude. Every gemstone and Swarovski Crystal undergoes rigorous screening. It's charms are ready for each of our customers moments, to surprise you, and to record your wonderful life! We believe that: life is wonderful, you get what you give!