Steven Universe, a young boy who lives with "Crystal Gems' – Garnet, Amethyst and Pearl in Beach City. Steven himself a half-Gem and always help other Gems to protect the world by themselves. Steven Universe episodes become popular due to its art, design, voice acting, and fiction. Later on, this series has been nominated as Emmy and Five Annie Award. Steven Universe has been released further in the form of Steven Universe wiki and Steven Universe games. By considering Steve TV show's popularity among the new generation, fans like to collect Steven Universe merchandise. Findurfuture, pretty much sure that you will also like this guide and it will help you to decide which Steven Universe character you like to cosplay this Halloween. Scroll to have your own collection of the Steven Universe costumes:-
28. STEVEN UNIVERSE COSTUMES:-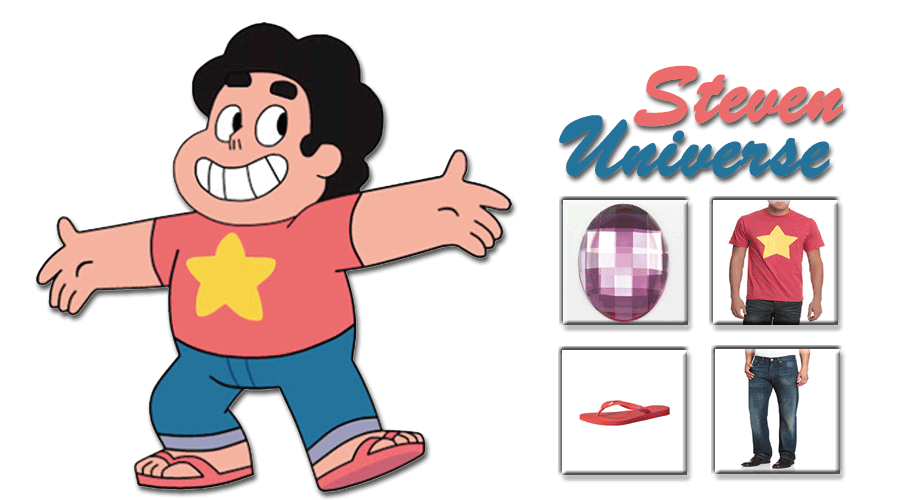 Steven Quartz Universe as a result of his parentage, a Half-Gem and a Half-Blood. Due to which he has immense power to deal with Human and Gems. Steven follows his mother and apart from monumental legacy to devote his life to protect humanity. He is short and thick in size with black-brown hair. He always wears a salmon-pink T-Shirt (Steven Universe Star Shirt) with having sold star symbol in it. He also wears salmon-pink flip flop with blue jeans. He has inherited rose quartz from his mother. Given below is the DIY of the Steven Universe outfits.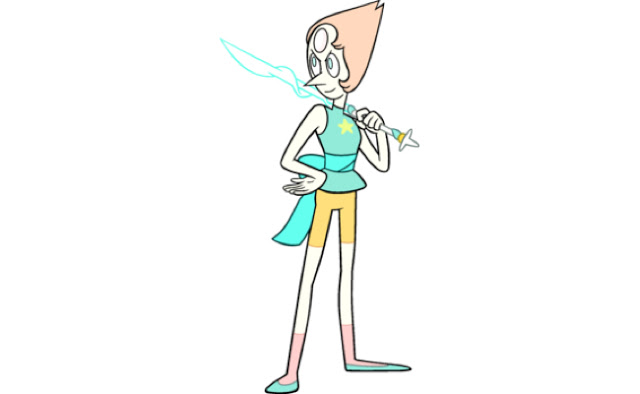 Pearl the closest follower of Rose Quartz and last surviving gem on earth. She is a perfectionist with plenty of knowledge.  She leads a very poor life and having no idea of social convention like jokes, games, etc. She is loyal about the protection of humanity that's why she dedicated her life for human safety and security. She is simple, tall, cream-colored eyes, thin lips, and pointed nose. She is being loved in both Pearl costume and Young Pearl Costume. The number of fans cos-played her since last Halloween.
25. SMOKY QUARTZ COSTUME:-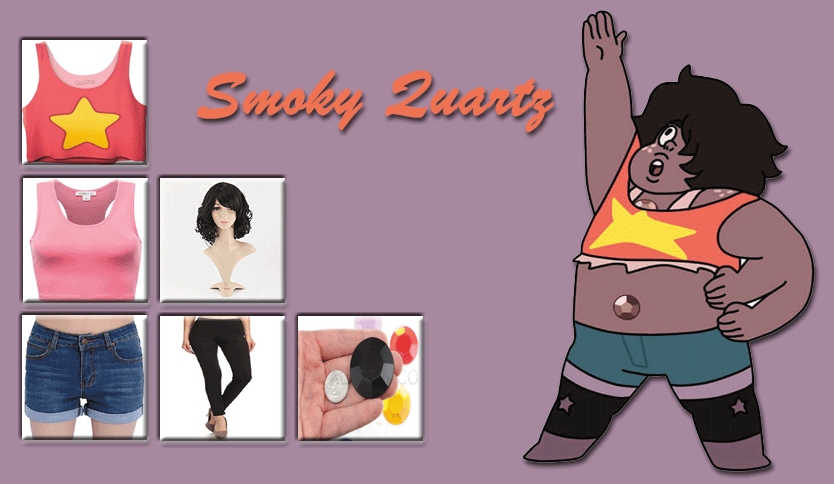 Steven Universe and Amethyst fuse to form Smoky Quartz (Voiced by Natasha Lyonne), that's the reason she has a personality of both of them. By nature, she is a carefree, proud, excited and happy-go-lucky attitude. Being relaxed and humorous personality she has a tendency to make jokes even in the heat of the battle. She described her confidence from Amethyst but losses motivation and get depressed after being witnessing Jasper's Corruption. Many of the cosplayers are desperate to cosplay her at Halloween.
24. PERIDOT COSTUME:-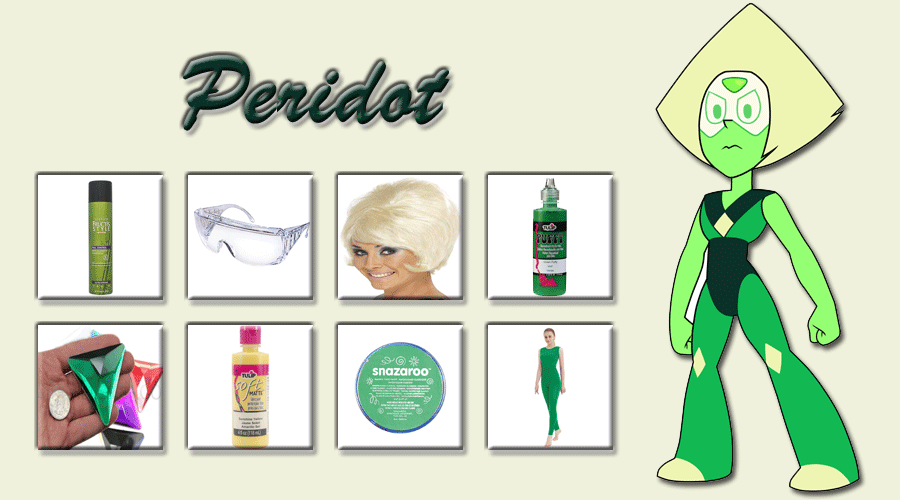 Peridot, a certified Kindergartner and a Homeworld Gem technician. She is currently living at the Barn with Lapiz Lazuli. She is one of the main antagonists in the Steven Universe, she also worked for the Jasper and Yellow Gem. Later she is an anti-hero and no longer referred to as antagonist. According to her skills and character, she becomes more popular among fans and followers.
23. JASPER COSTUME:-
Jasper, a Quartz type gem, created as a soldier with natural abilities on Earth in the Beta Kindergarten. She was initially created for Pink Diamond, later when she died she was reassigned to Yellow Diamond. She is also the one who fought in the Rebellion against the Crystal Gems. She on one side hatred with the Rose and on another side, she respects her leadership and tactics. She once gets the opportunity to destroy the Rose and the remnants of her army.
22. MYSTERY GIRL COSTUME:-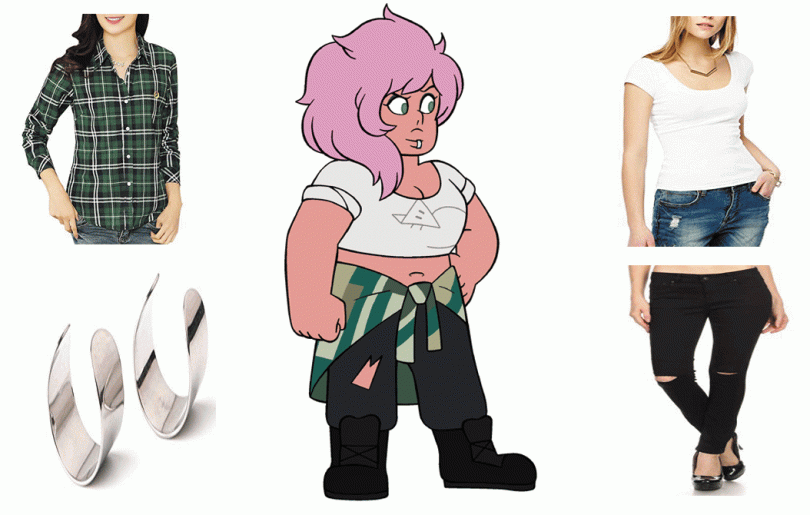 Steven Universe points out that S. (Mystery Girl) has a resemblance with the Rose Quartz. She has dye pink long hair, define lips with a gray ring placed on her lower lips and slightly dark-peach complexion. She is around garnet height, heavy body and taller than the Pearl. Like other co-stars of the Steven Universe series she also gains a lot fan and follower who cosplay her at Halloween.
21. ANDY DEMAYO COSTUME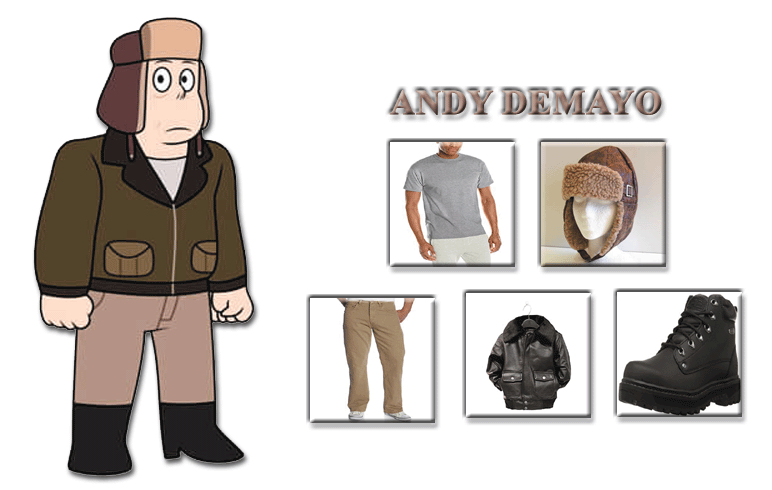 Andy short-tempered, judgmental, stubborn and willing to hold the grudge, he is the cousin of Greg Universe and first cousin of Steven Universe. He is aggressive to the gem but accept them as a family member.
20. TIGER MILLIONAIRE COSTUME:-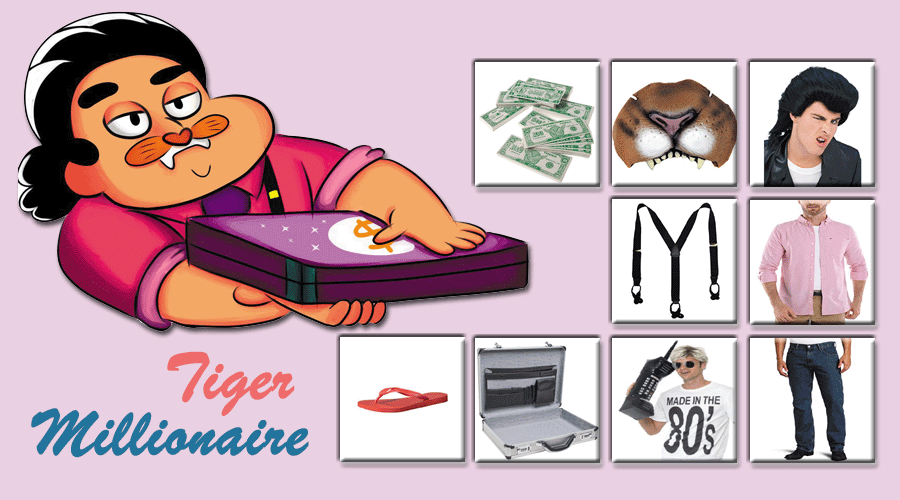 Tiger Millionaire the wrestling alter ego made from Steven Universe. He uses briefcase as his prop with full of money. He also uses an old fashioned cell phone to take out his opponent. Purple Puma wrestles tag team with him. His costumes contain soft button-down long sleeves shirt but sleeves are mostly folded, Y-back suspender, blue jeans, thick necktie, flip flop and Jumbo "$" chain, etc. Tiger costume DIY guide is given below.
19. BLUE PEARL COSTUME:-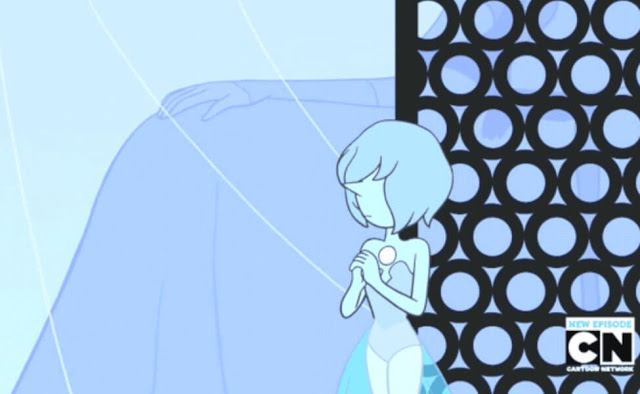 Blue Pearl who have the ability to see the future and she the who appears in "The Answer". She is a silent debut and less speaking gem in Steven Universe. She is also a servant to Blue Diamond. She decided to punished Ruby when she accidentally fuses with Sapphire. Blue Diamond look similar with Crystal Gem Pearl and Yellow Pearl but she is little thin, tall, pixie hair-cut and pointed nose.
18. YELLOW PEARL COSTUME:-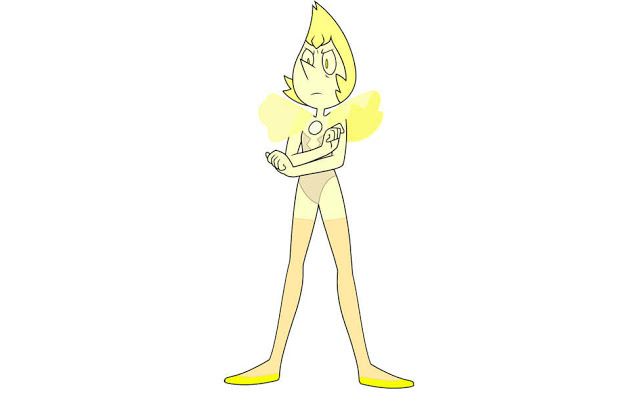 Yellow Pearl a receptionist of Yellow Diamond. She only appears when "message received". Her costume contains pointy yellow hair-cut with pale yellow skin. She has Yellow Gemstone fixed on her chest as identical with Blue Pearl. She is made to find satisfaction in misfortunes of others and having a fearful attitude towards Yellow Diamond who refer as "My Diamond".
17. STEVONNIE COSTUME:-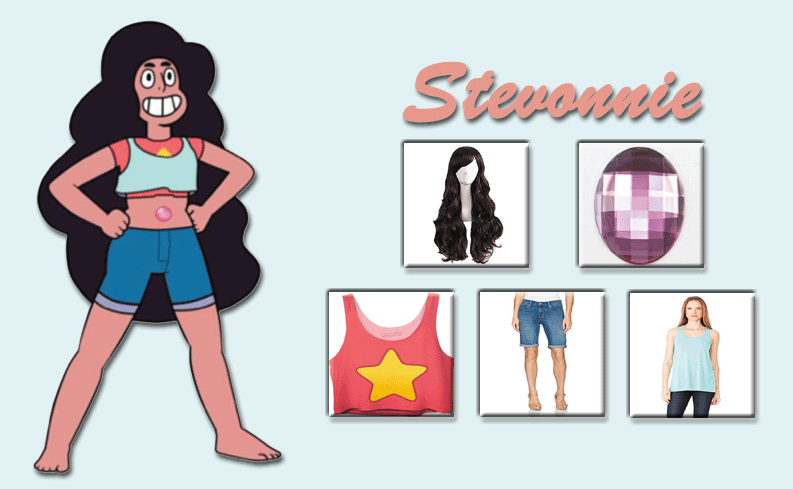 Steven and Connie fusion made Stevonnie, she is a combination of half-Gem and a non-Gem. That is the reason she has a mind and personality belongs to both. As having characteristics of both She has intelligence and anxiousness of Connie while fun-loving and friendliness of Steven. Steven Universe Stevonnie is shown as a very attractive personality as everyone in Beach City love to meet her.  As she is having multiple characteristics of Steven & Connie, her costume also carries similarities of both. Identical T-Shirt as Steven wore in Steven Universe is being also a part of Stevonnie costume. Stevonnie costume guide is described below:-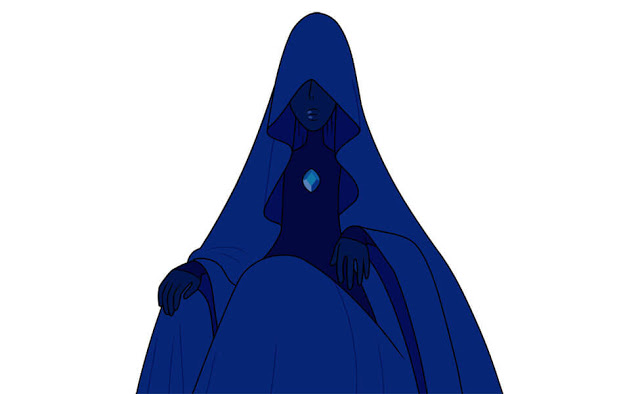 Blue Diamond the supervisor of the colonization of the Earth. She fulfilling her duty to protect Sapphire before that she intended to break ruby. She has dark navy complexion with plump lips and straight nose. She also has Gem on her chest like Blue Pearl and Yellow Pearl. "The Answer" has been seen behind her head, she had royal blue straight hair. Blue Pearl assume to be the servant of Blue Diamond.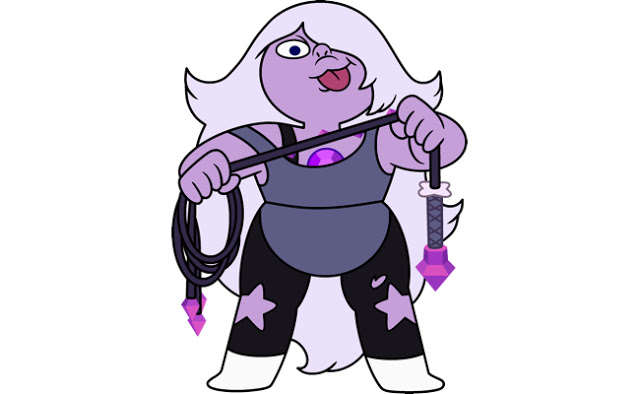 Amethyst shorter Gem in Steven Universe. She is almost the half-height of all the Gem. She is a carefree personality who takes part in his shenanigans. She wrestles with Purple Puma in her spare time. She is the Gem not come from Homeworld. She is small, upturned nose with plump lips, dark indigo eye and having Gem on her chest. Her costume contains ankle white boot. Although she is good-hearted and protective she is bad mannered and untidy too.
14. ROSE QUARTZ COSTUME:-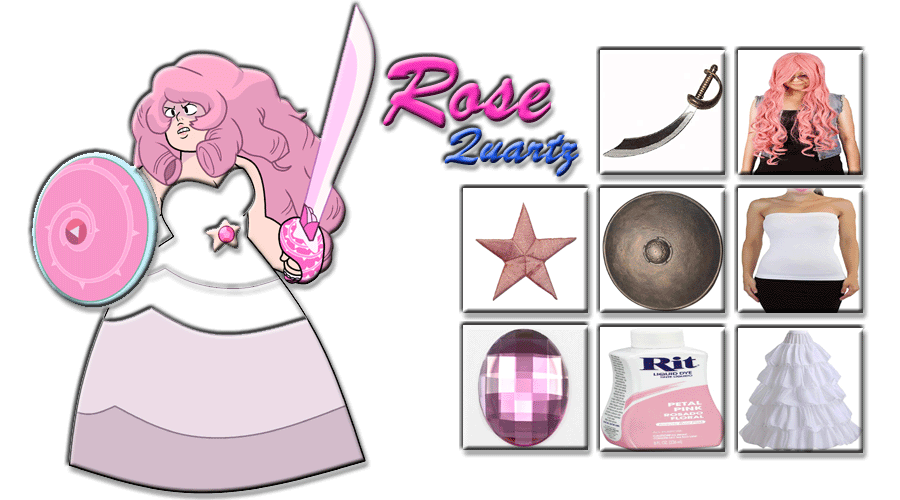 Rose Quartz, the former leader and the founder of the Crystal Gems. She started to love with a human and later on she gave birth to her inherit Gem, Steven. She is known to be Rose just because of rose color hair, dress, Gem and weapon. She is naturally a leader, a caring and a loving personality. Legendary, she was ruthless and an efficient warrior. She forms Rainbow Quartz while fuses with Pearl. She also has healing power in her tear, that she can heal Gems and other general injuries through her tears.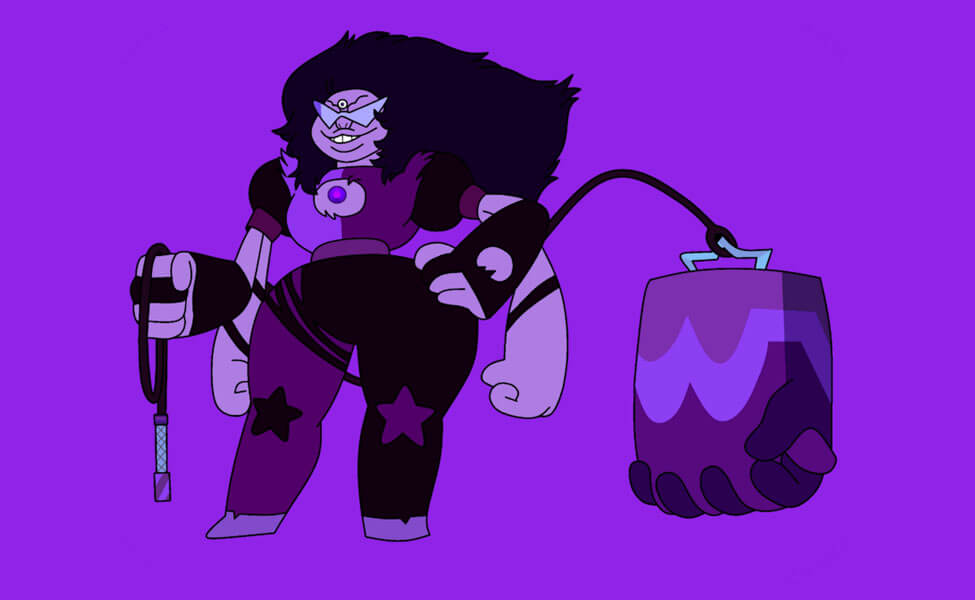 Sugilite, the four arm and four eyes lady, who is the fusion of Amethyst and Garnet. She has sharp teeth, dark purple hairs and skin color as lavender, like Amethyst. She also has Gem on her chest. She can't use power for personal gain as she had difficult to control her pulses. Her personality results the aggressiveness and look dangerous to everyone in the Earth. In spite of these characteristics, she has an attachment with Steven. She uses her two hand as weapon to delivered devastating punch.
12. RUBY COSTUME:-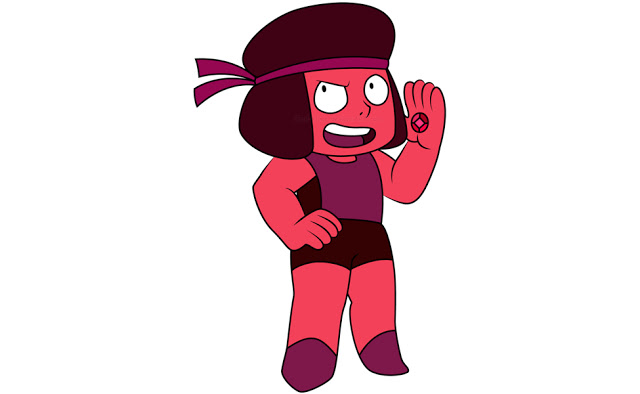 Ruby, who form Garnet while fuses with Sapphire. She is short-tempered and become hot-head when getting angry. She has bright scarlet skin with red eyes which show her angriness. Her Gem is located in her left palm. She has no sense what is going on around her. She has the ability to change shape and refuges her Gem to heal. She is powerful to shake the wall in a punch and little effort to lift Sapphire in Jail Break. She also has the knowledge to use gauntlet like Garnet.
11. CONNIE MAHESWARAN COSTUME:-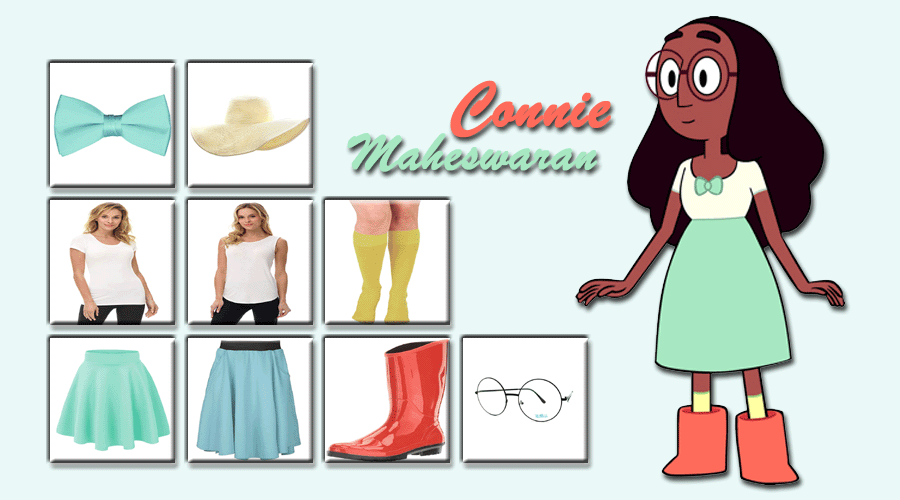 Connie has seen usually in different costumes and outfits. As stated earlier that Steven fuses with her to form Stevonnie. She has dark skin with dark brown hair, thick eyebrows, magenta lens, and a prominent nose. She usually wears light green, blue and white color. She wears glasses along with lens in her eyes. She has no comparison in sword fighter, she uses swift attack and when required uses the powerful attack to her opponent. She is always loyal to her parents.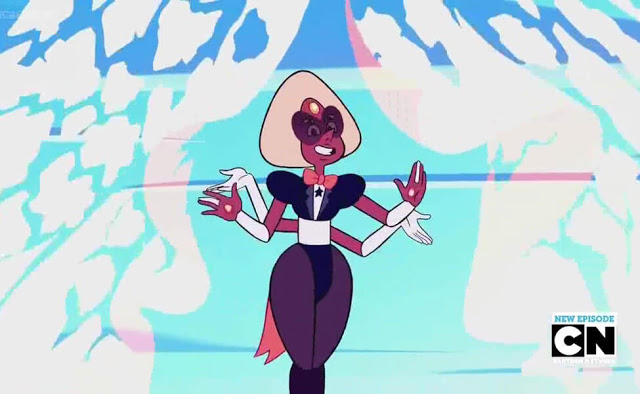 Sardonyx is taller than Steven with tall hands. Pearl & Garnet fuses to form Sardonyx, she has inherited four arms. She also appears with the combination of both Gems. She always laugh on her joke as a comedian. She is positive in nature specially with Steven, she love to meet with "sweet little charmer" (Steven). Sardonyx disliked by Amethyst as she is fused with the similar Gem (Garnet) and this type of behavior is an alarm of danger and violence. She has the ability to transfer her hammer into a drill that could easily be break through the wall.
Amethyst and Pearl being immense powerful while working with Opal. She has bright-periwinkle skin with off-white hair. She has two pair of arms with tonne body. She bold by nature that is why she is ready every time to face her opponent in any battle. She also have ability to jump far and high among other characters of Steven Universe. She can combine Amethyst's whip and Pearl's spear to make primary weapon, an opalescent longbow. The arrows fired from her bow cause extremely large explosion.
08. BUCK DEWEY COSTUME:-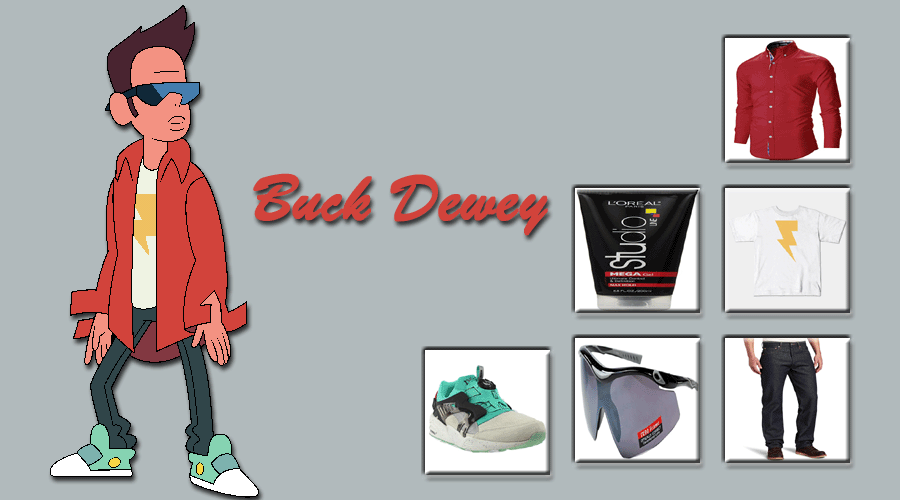 Buck Dewey, a resident of Beach City and known to be a cool kid. He is a relaxed individual who usually hangs out with friends. He appreciates other people's point of view as of being open-minded in nature. As he is Mayor's Son so he takes full advantage of this position. He with a comparison of his voice is a calm personality. Buck is a teenager who has dark brown eyes, hairs & skin. He wears a large button-up shirt with unbuttoning sleeves, dark blue jeans, blue sneakers and a pair of glasses.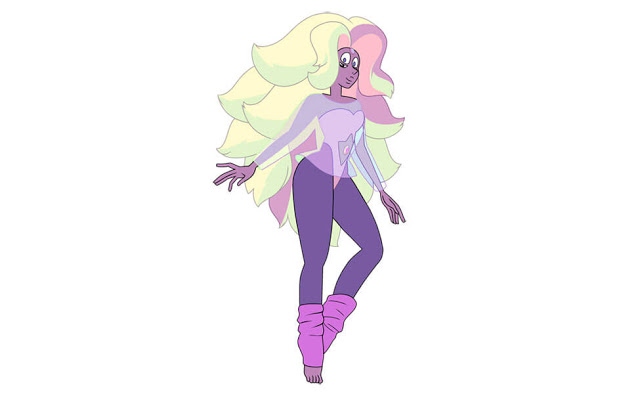 Rainbow Quartz is created when Pearl and Rose Quartz fuses. She appears with the mixture of Rose and Pearl hairs, she also possesses strong characteristics of a warrior while giving mixture of both. Since she has little appearances,  it is unknown if Rainbow Quartz will ever be seen again. She has a single pair of arms but two pair of eyes (upper pair is identical with Pearl & lower pair is identical with Rose Quartz).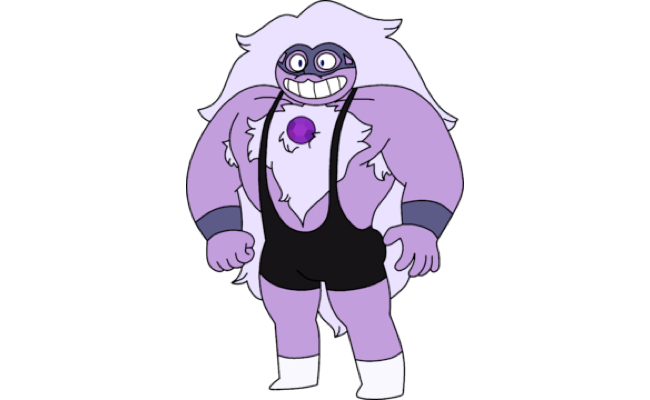 Purple Puma, co-wrestler of Amethyst, having Amethyst's skin color with the large pale of lavender hairs. She also have Gem visible on her chest. She wore a white boot, mauve mask & wrist bands and a simple black leotard. She has ability to shape-shifting, regeneration, superhuman strength, and durability. She also has the ability to summon weapon and fusion to form a new Gem.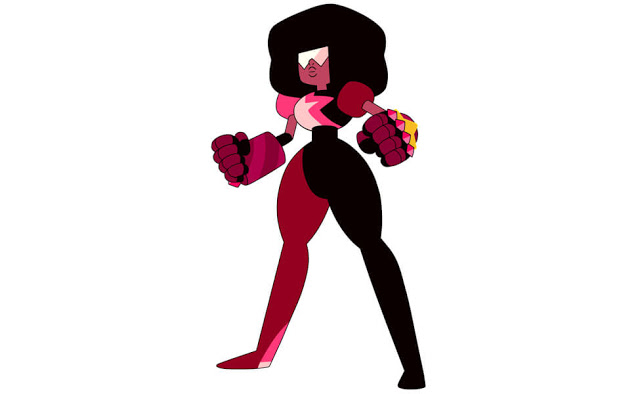 Garnet, is the last surviving Gem on Earth. She took leadership from Rose Quartz after she gave birth to her son Steven. She is a fusion of Ruby and Sapphire and the peacemaker between Pearl and Amethyst. She acts on intuition rather face the situation, she is also straight forward Gem. She is tallest and most muscular Gem among all crystal Gems. Her left eye is medium ruby-red, while the right eye is Sapphire-blue but center eye is reddish-violet. She has a gem in her palm as she is most durable Gem on Steven Universe. She has massive skills of hand to hand fight, by this she can easily shatter the Earth. She also has immense power to see the future from her 3rd eye.
04. DEBUT PEARL COSTUME:-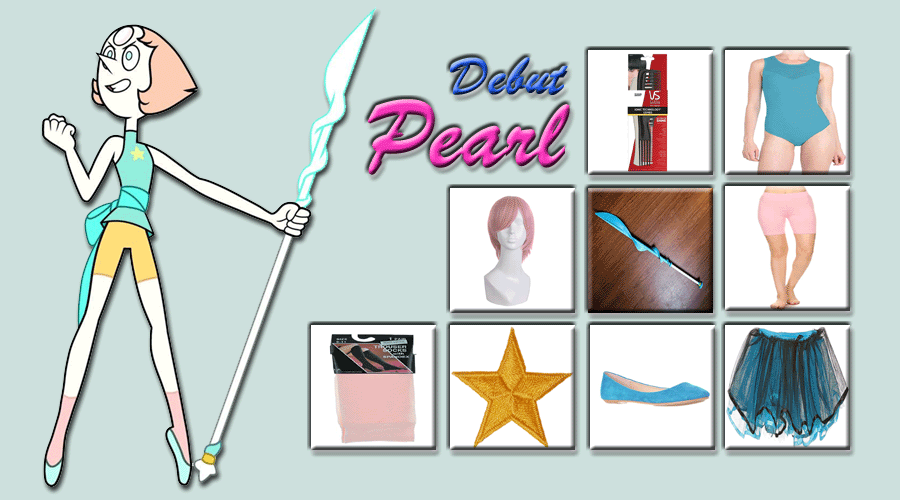 Pearl debuts in a sleeveless sky-blue top and silk ballet flats in Steven Universe, this character is identical but different in personality and costumes. It's not until post-regeneration that she takes the form with the satin sash-ribbon around her upper waist and amber-colored leggings. Her costume guide is given below:-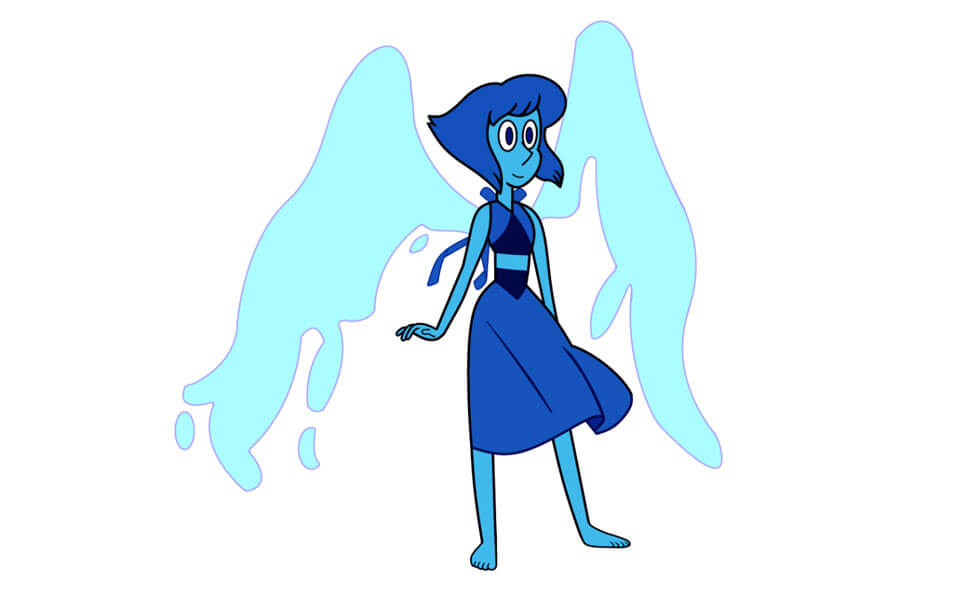 Lapis Lazuli was released by Steven after thousands years of imprisonment within a magical mirror, that's why she is called as "Mirror Gem". She has light blue skin, slim figure and long hair which covered her forehead. She has a blue lapis lazuli gemstone embedded in her back. Her costume contain blue skirt with sash ribbon on the back of her shoulder. Her costume include no footwear like other Gems.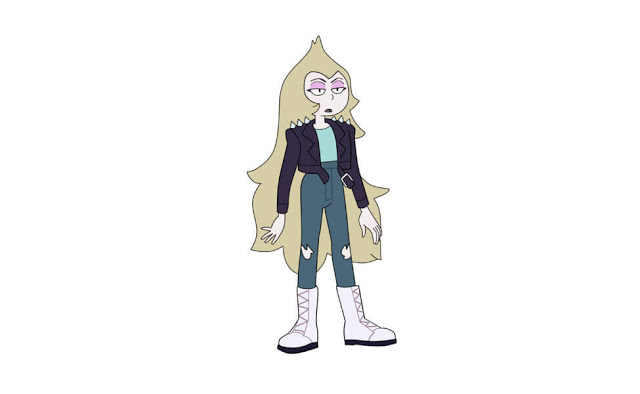 Vidalia has affected about the fight of Garnet and Pearl. She is very supportive in nature. Vidalia had light blonde hair looked around her face, she wore white boot with blue jeans torn on the knee, a dark leather jacket and pale blue shirt.  She claims that in "Onion Friend" she has to be super hot character and most important in flashback she debuted a minor character in "Story for Steven".
01. SAPPHIRE COSTUME:-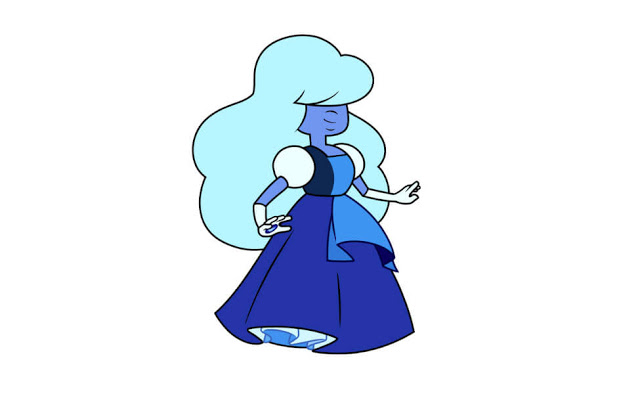 Sapphire fuses with Ruby to form Garnet. She has blue skin with blue wavy hairs. Her facial expressions and lips are identical with Garnet as well as she has an eye on her head but having no nose. She is naturally patience character and very compassionate. She can quickly understand/face the situation and mostly help Steven to get the conclusions of the matter in different situations. She has an ability to adapt gravity of any environment, shape-shift and her gemstone being wounded to heal. She also has the power to see the future to some extent.
(Related Post: Steven Universe Gift Ideas)