Game of Throne seems to be is one the most popular series of HBO. It accumulates fans in very short span of time throughout the world. As per its popularity, fan use to cosplayed its character in casual and also in Halloween. Since 2010 it featured new season almost every year which was appreciated by viewers. In-spite of all its success Game of Throes show face a lot more critics regarding the characters, role and sexuality shows in the series. Game of Thrones book are easily available at Amazon including DVDs/ Blu-Ray. Scroll down to grab the attire you like to cosplay at Halloween from the ultimate guide of Game of Thrones costumes. (Related Post: Game of Thrones Merchandise)
23. MYRCELLA BARATHEON COSTUME:-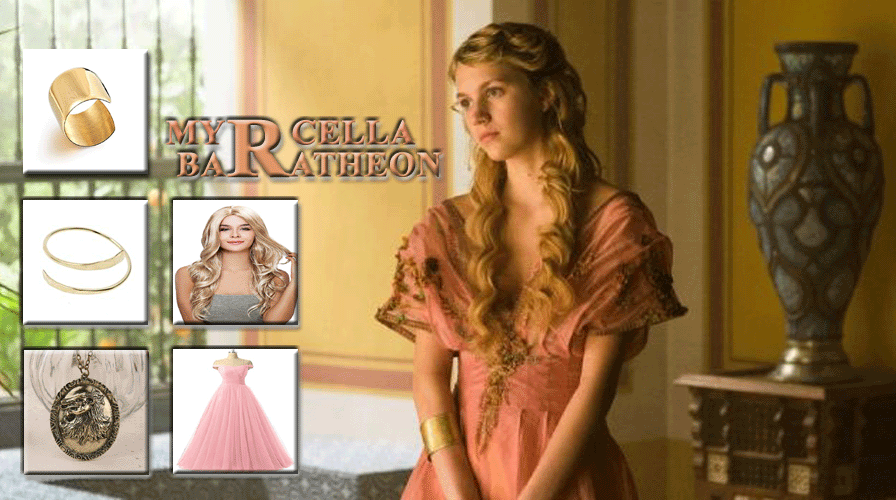 Princess Myrcella Baratheon (Neil Tiger Free) was poisoned by the Ellaria Sand when she was sent to live in Drone with the Martel. Like other children of King Robert Baratheon & Queen Cersei Lannister, she is also born by the Queen's relation with her brother Jaime Lannister.
22. MARGAERY TYRELL COSTUME:-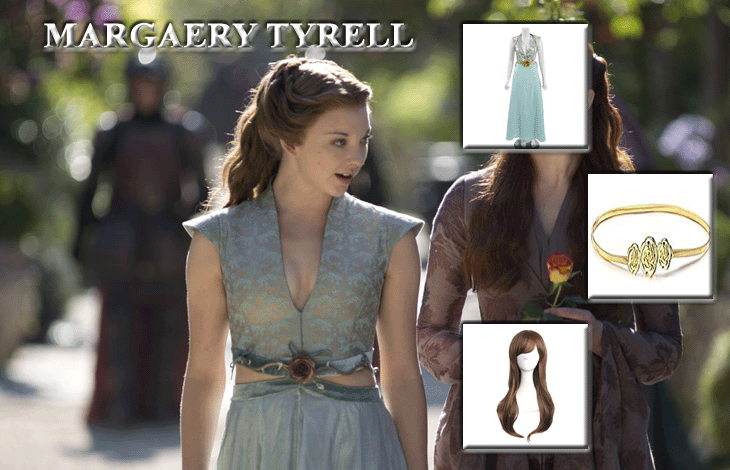 Margaery Tyrell (Natalie Dormer) is only daughter of the Lord of Highgarden in the Reach. She belongs to the most powerful families in Westeros, she married with three men in her life who are vying for the Iron Throne over the course of her life. This beautiful, cunning and Kind lady demise in the Game of Thrones season 6. Being an intelligent beautiful personality she climbs into the social hierarchy to settle herself to become the Queen of the Westeros. From first appearance till season 6 she most often seen wearing shades of the blue decorated with rose and vine motifs.
21. ARYA STARK COSTUME:-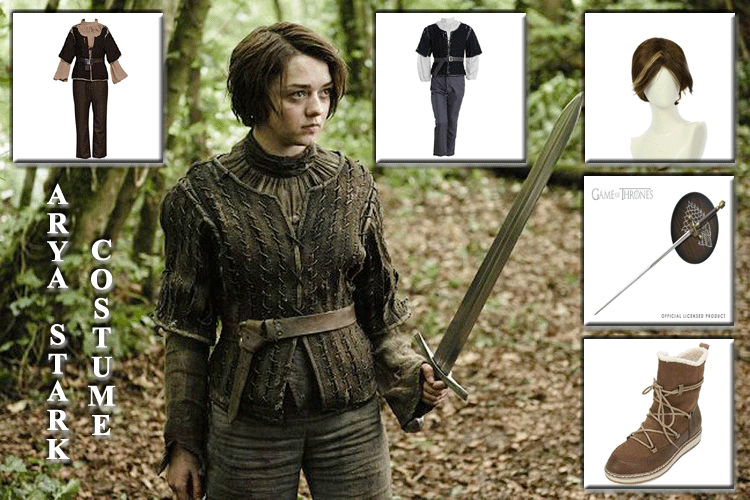 Arya Stark, a major character in all seasons. She is the 2nd daughter and 3rd child of the Lord Eddard Stark. She is an independent child, innocent and not look like a proper lady like her elder sister SANSA STARK. She is full of life and makes the smile to others. She has no interest in sewing, dancing, signing but revels in fighting. She is always encourages by her half-brother JON SNOW to learn fight and use needle.
20. MELISANDRE COSTUME:-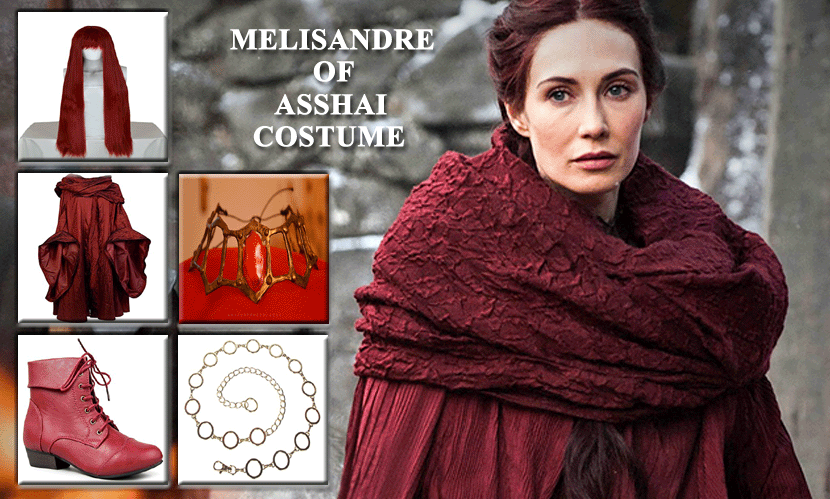 Melisandre of Asshai, usually referred as the RED WOMEN and characterized from the second season. She has magical abilities and power to get partial knowledge from the future. She has a beautiful red eyes, a character in red as sleeping and eating in red. She is a mysterious priestess who becomes the trusted adviser to Stannis Baratheon. When Stannis's younger brother Renly rebels against him, Melisandre births a killer shadow monster baby to take him out.
19. CERSEI LANNISTER COSTUME:-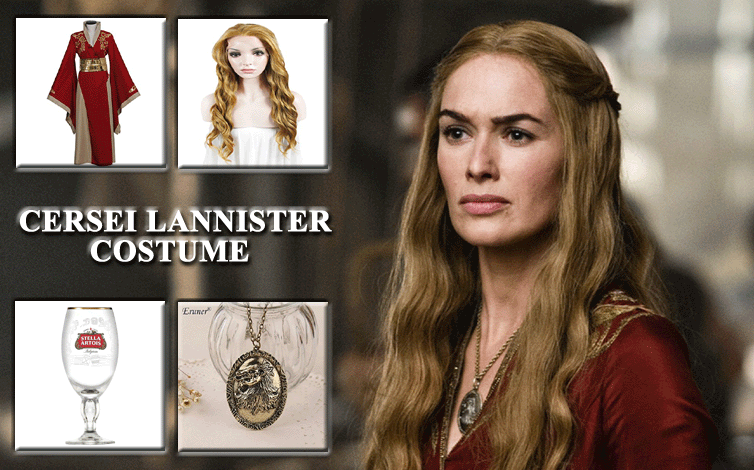 Cersei Lannister, a widow of King Robert Baratheon and a major character in all series. Her mother died when she was at the age of four years, after given birth to her brother. She is cold, willful and do any thing to protect herself. She is also jealous with the freedom of man in the society. As her parents died in early age so she has no idea about parental relation with her own children. She has sexual relation with Jamie therefore all her three sons are not real heirs of King Robert although they have surname Baratheon by the throne. She is the one who get punished by Unella after her arrest from High Sparrow, make her naked walk through the town to feel her shame for what she had done.
18. THE NIGHT KING COSTUME:-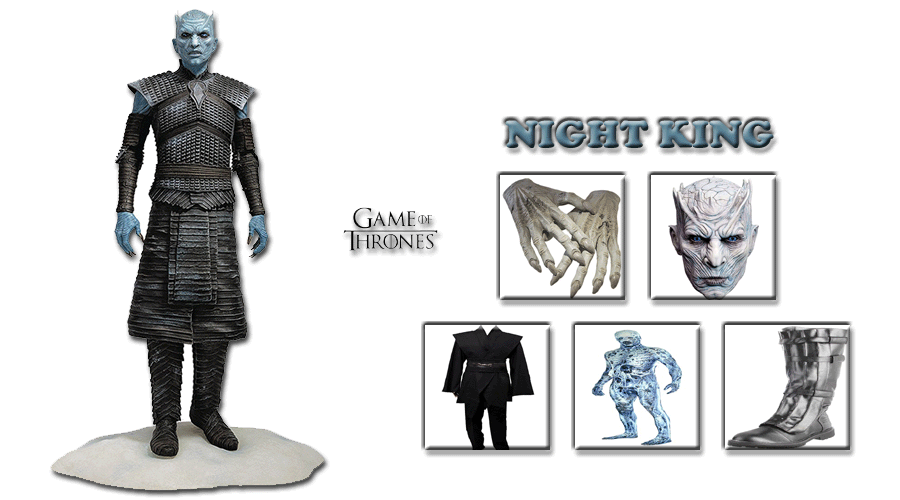 The Night King (Richard Brake / Vladimir Furdik) is the master and the first of the White Walkers, he is the one who exist since the age of the First Men. He appears in Bran Stark's visions and faces off against Jon Snow, who cryptically warns the rest of Westeros that "Winter is coming".
17. FAITH MILITANT COSTUME:-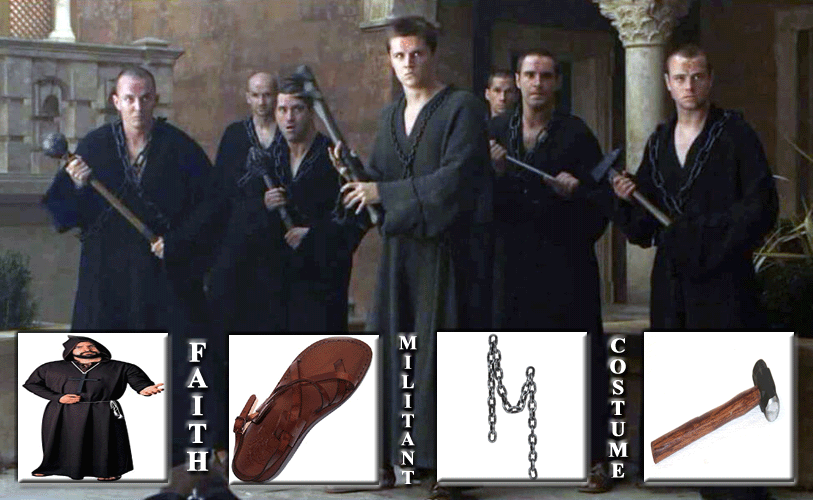 Faith Militant (Sparrows) are the military ranking order of the Faith of Seven Kingdom for their dominant religion. They are composed of the lowest as well as humblest of the Holy Faith. By force of arm they enforced the words of the Seven Pointed Star and served the will of the High Septon who is the leader and known as High Sparrow. High Septon title was suggested instead of High Sparrow by the Queen Cersei Lannister to her son to reinstate the Faith Militant.
16. LYANNA STARK COSTUME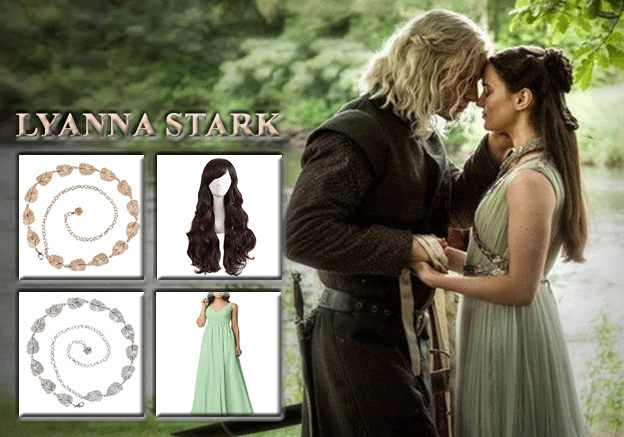 Lyanna Stark (Aisling Franciosi) exposed in the Game of Thrones season 7 that she is not only the sister of Ned Stark but also the mother of the Jon Snow. Her secret relation with the Rhaegar Targaryen begins from Robert's Rebellion and end at the Targaryen Dynasty. She looked very sweat on her wedding day when she wore a gown of sage green, wrapped in vines of gold and silver.
15. GEORGE R. R. MARTIN COSTUME:-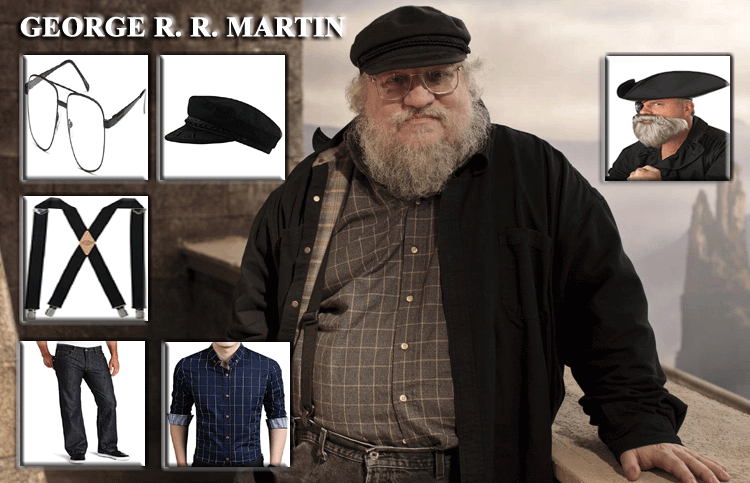 George R. R. Martin, best known for very popular series "Game of Thrones", which was later adapted by HBO. He has been loved by number of fans by fiction in his book while on the other hand, he was criticized and opposed by other group of people. He's the son of a longshoreman and his house sigil is the turtle, the only pet allowed by the housing projects in which he grew up.
14. ELLARIA SAND COSTUME:-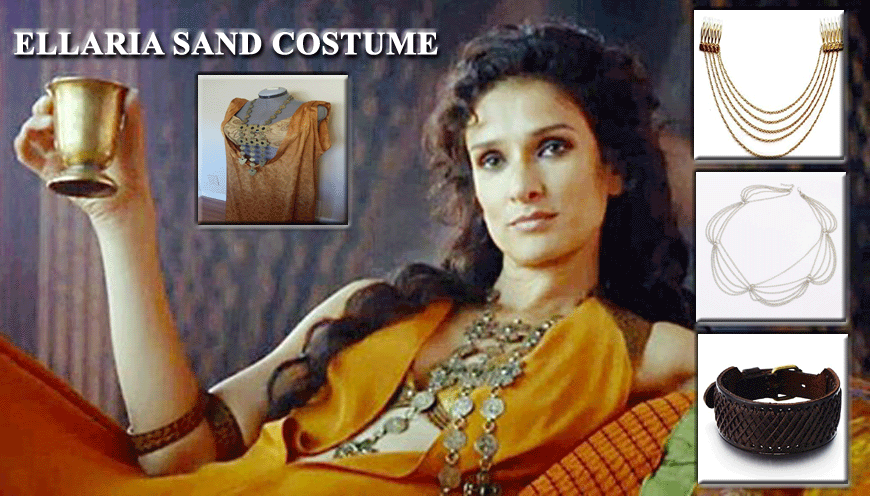 Ellaria Sand, a mother of twelve children (four sons and eight daughters) from her lover Oberyn Martell. She was the strongest opponent of war against Lannister. She is a lascivious temptress and sexually adventurous. Like his boy friend she has no issue to engage in sex with any gender. She also love to find attraction and pleasure from human body.
13. SHAE COSTUME:-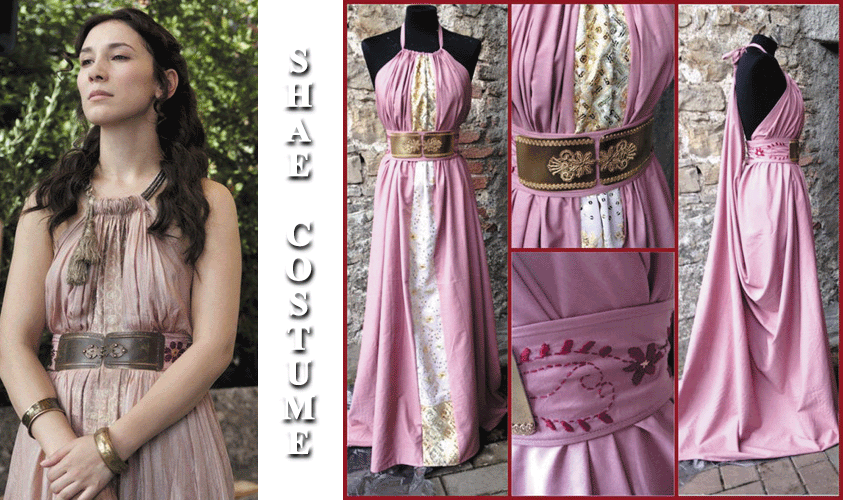 Shae of Lorath, a prostitute who have a relation exclusively with Tyrion Lannister. As considering her relation she wants to kill by Tyrion's father, that's why she has been hidden by him from Tyrion. Her costume contains number of products like maxi, belt etc but you can find all together in one window as given below.
12. UNELLA-THE-SHAME-NUN COSTUMES:-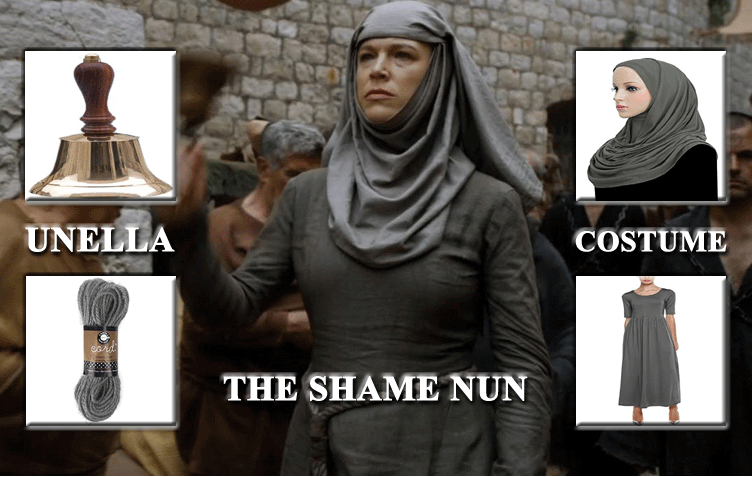 Unella-The-Shame-Nun, a devotee of High Sparrow. She force Cersei to walk naked throughout the town as a punishment for what she did to the High Sparrow. While doing this she followed closely her by speaking Shame, also  earned a nicknamed the "Shame Nun".
11. YGRITTE COSTUME:-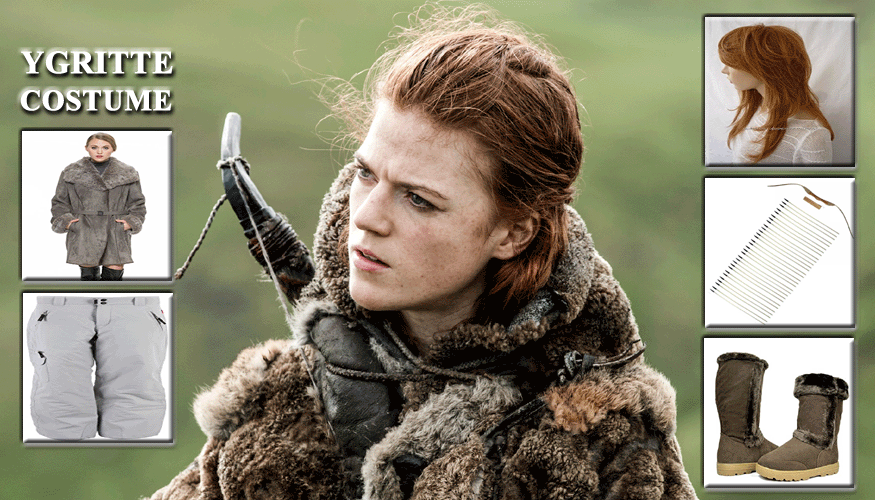 Ygritte (Rose Leslie), a spear wife (a woman who is a warrior), known for her red hairs as a wildling woman. She is fierce and headstrong. She has well in skilled to survive and proud to be a free woman in the society. She is in love with Jon Snow, to whom she has body relation. Her costume contain winter snow heavy fur lining slip, cos-play wig, archery set and cargo pant in light gray color etc.
Oberyn Martell, the lover and pleasure partner of Ellaria Sand. He is well-known in fighting skill, passionate and sexual appetites.  As per his character he only need pleasure no matter from any gender he is doing sex with. He is an intelligent man and has a nicknamed "The Red Viper" by considering a vast knowledge of poisons and his combat style. He has bad impact due to his sexual behavior and a rumor which declare that he has already did sexual relation with more than half of the people of the both side of the narrow sea.
09. KHAL DROGO COSTUME:-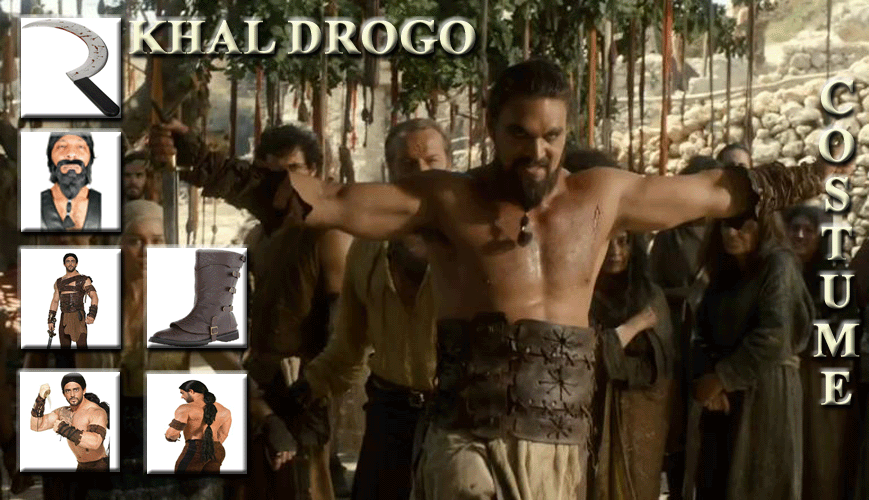 Khal Drogo (Jason Mamoa) was the warlord of the Dothraki, who are skilled in battle, fierce warriors, unrelenting in combat and well-known for savagery towards non-Dothraki. He was a legendary warrior who never got defeated in any battle. He deserve to have the most beautiful woman in the world as his wife (Khaleesi).
08. DAENERYS TARGARYEN COSTUME:-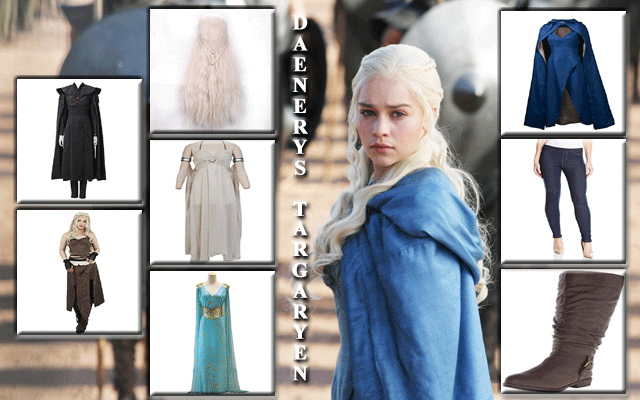 Dany (Emilia Clarke) the most prettiest, beautiful and attractive character of all the season. As being a Queen who born in dark stormy night therefore she was also called "Daenerys Stormborn". She is a young woman in the series who seems to be dependent on her elder brother. She entered in sexual relation with Drogo not as slave but as a lover who later be deceased in the series. By using following costume you will be look great and honorable like Dany.
07. JON SNOW COSTUME:-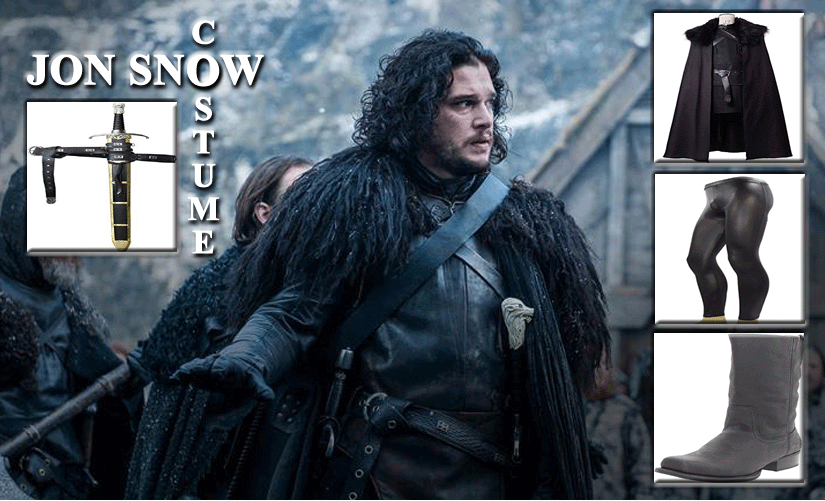 Jon Snow, the bastard son of Eddard Stark. He is the one who gave needle to her half-sister (Arya) to learn fight and concentrate in it. He learned to be independent, wise, compassionate and natural leader. He is having growing love with Ygritte and both enjoyed their love, attraction and relation with each other specially in cave.
06. SANSA STARK COSTUME:-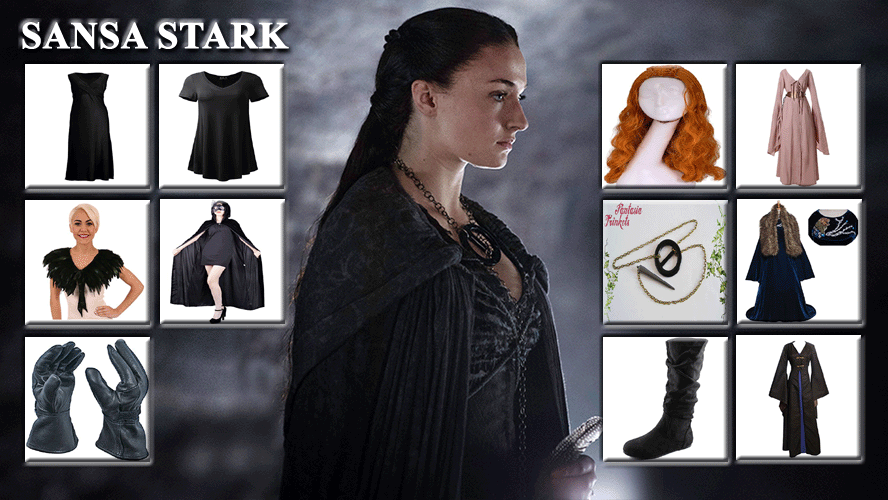 Sansa Stark (Sophie turner), a half-siblings to Jon Snow and an elder sister of Arya Stark. She look like a complete lady as per her outfit, she also knows sewing, singing and dancing etc. She is very beautiful and praised herself to be look better than other women. By this she was desired to raped by Joffery when she wedded to Tyrion. She also faces so many unfortunate by having gang-raped in different events.
05. MISSANDEI COSTUME:-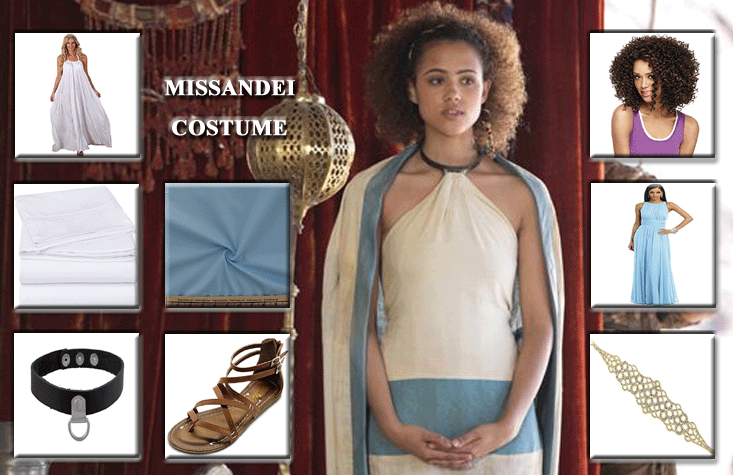 Missandei, a young slave and skilled to translate 19 different languages. She is freed by Daenerys Targaryen and later serves as her trusted handmaiden. She also been introduced with Grey Worm to have healthy, respectable and loving relationship. However, in bathing scene of her in oasis she instead of hiding her body rose out of water and have romance with Gray Worm.
04. CATELYN STARK COSTUME:-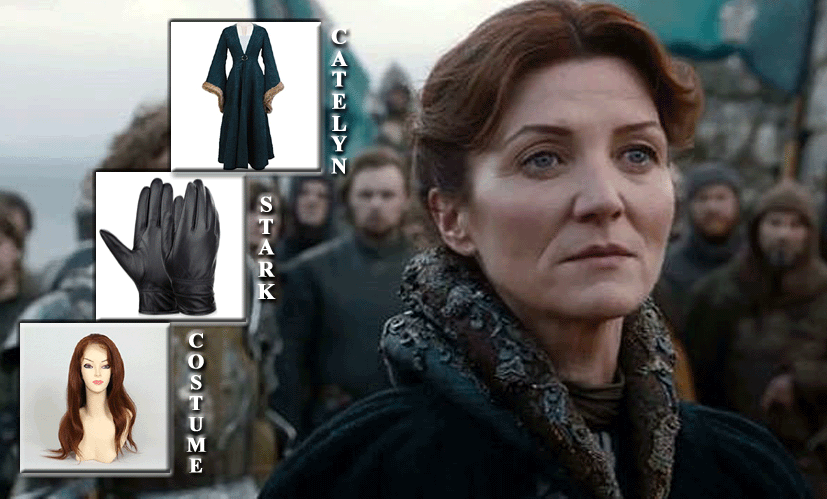 Catelyn Stark, is a devoted mother and fiercely protective towards her children. She had strong wedding and loving relationship with Eddard. They both have five children from this lovely relation. She has former ward of her father, independent political influences. She looks very beautiful with lue eye, auburn hairs and long fingers. She is strong, proud, kind and generous lady.
03. ROBB STARK COSTUME:-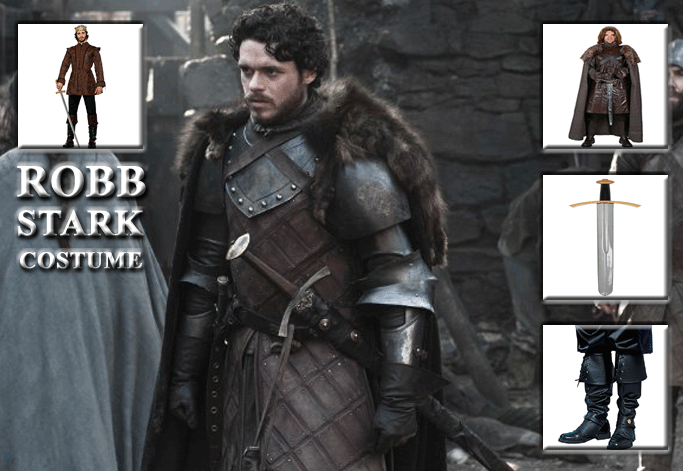 King Robb Stark an eldest son of the Lord Eddard Stark. At the occasion of wedding of his uncle Edmure Tully to Fery's daughter Roslin, Robb was betrayed and murdered by Lord Roose Bolton. He won all military conquest against the Lannisters.
02. NED STARK COSTUME:-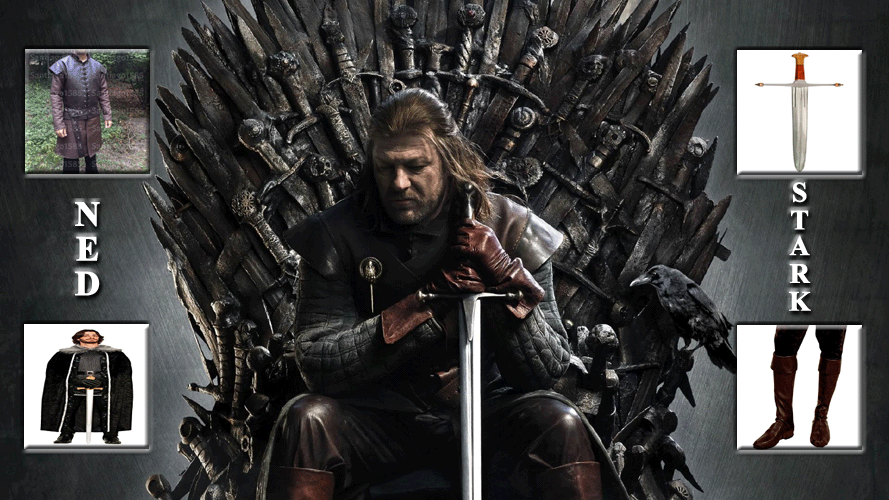 Lord Eddard Stark (Ned Stark) a major character in first season of Game of Throne. He is the husband of Catelyn and  father of five children. He is a close friend and trusted counselor of King Robert Baratheon. He is a principled man who never wants corruption in any manner in the country.
01. JAIME LANNISTER COSTUME:-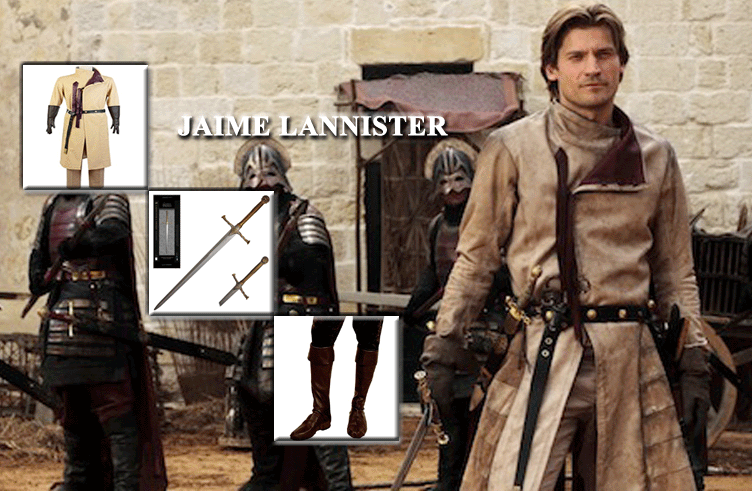 Jaime Lannister always show his true motivation towards king while giving him precise description of whole day activities. He killed his father and save lives of thousands of people but get instant punishment ward by Ned Stark without giving him single chance to explain. He is very well skilled in sword that only seven men in the continent who can beat him.
GAME OF THRONES INDOOR GAMES
Including all above costumes the most interesting thing is that some of the GOT manufacturer introduced indoor games and cards for the Kids, Teenager and also for the adult.
UNIQUE COLLECTIBLES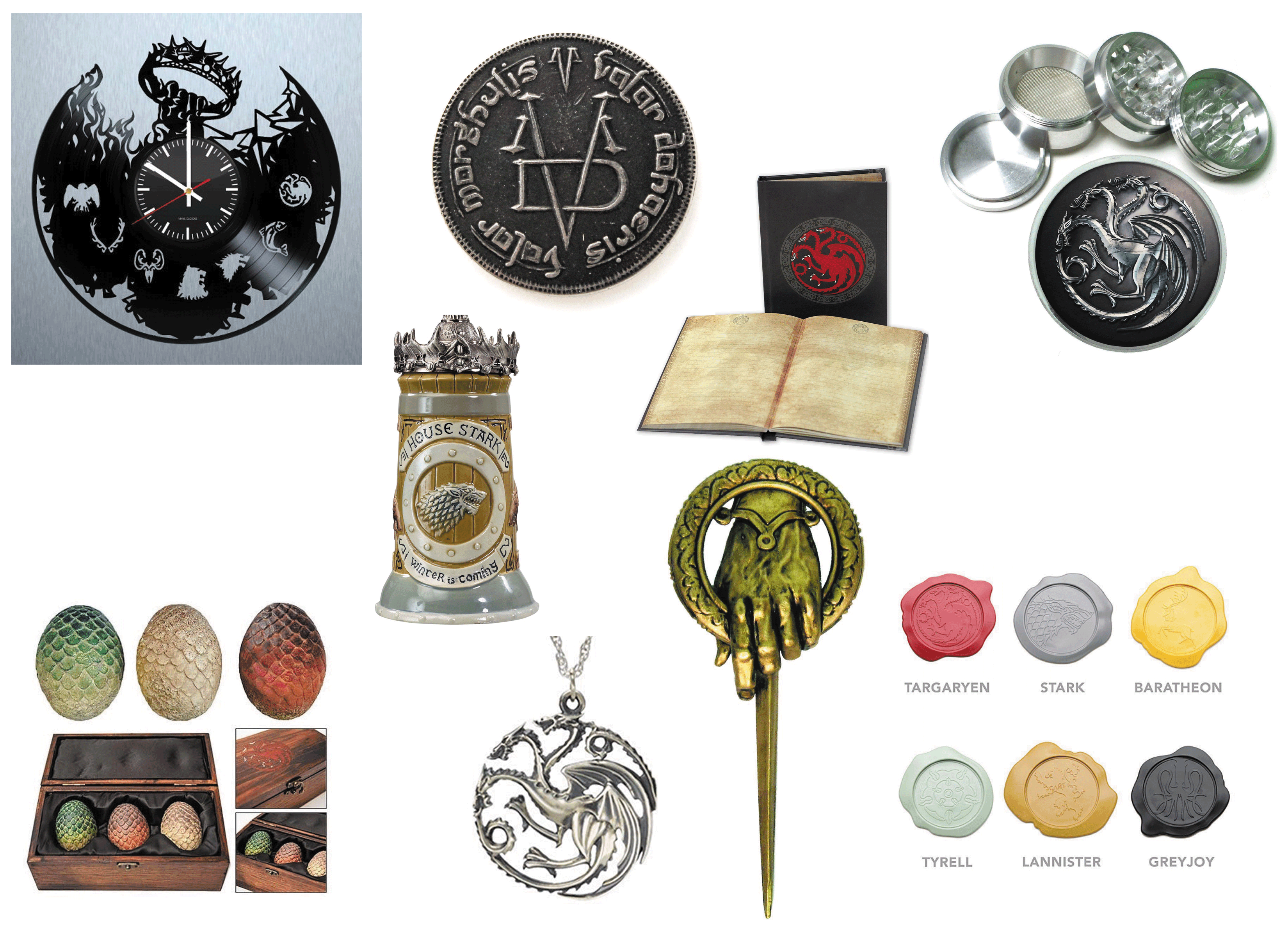 Game of Thrones merchandise are unique and best for gift to others. This collection will give you inspiration, proud and energy to live simple and independent life.
All these product are for everyone but if you want some thing extra like Bikini, under wear, swim suit and legging etc belongs to the GOT series then visit the link as displayed. We are pretty much sure that these items are very lovely and attractive and it will also make you feel proud to be a part of Game of Throne. In short Game of Thrones is not just a series with defeat or victory its a family drama that shows love towards relationship and Throne. However this series visualize several sexual scenes along with porn stars but it never effect the popularity of the show. Anyway, we appreciate your presence and hope you like it and also share this article with your friends and family as well.