Street Fighter (SF) is a fighting video game franchise by Capcom. The game is designed for one on one fighting genre. These fighters are selected from different countries of the world who are unique skills and styles of fighting. We all know that Capcom had significant success in this series right from the beginning of its first episode in the year 1987 till to date with Street Fighter 5. Scroll down to visit the entire street fighter costumes for Halloween and cosplay.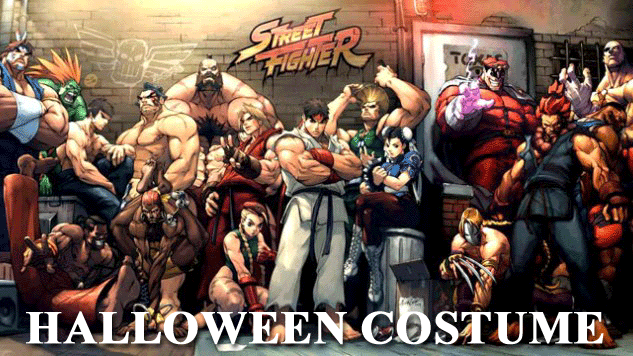 With deep research, findurfuture found that this game receives identical popularity as compared to Mortal Combat. Fans and followers have true devotion toward the character they are playing and later start searching for the costume guide of their lovely character. Like the 23 Halloween costumes of Steven Universe and 8 Costumes from Guardians of the Galaxy 2, we are trying to provide you maximum costume guide of the Street Fighter Character.
Street Fighter Ryu is the leading character with his best friend Ken at the time appeared in the first series of the game. Later the series showed his concern about more training to become stronger than he can. It is pertinent to mention here that his power attracts several criminals who used him for their motive. In some series, he is characterized as Evil Ryu and featured in anime and manga.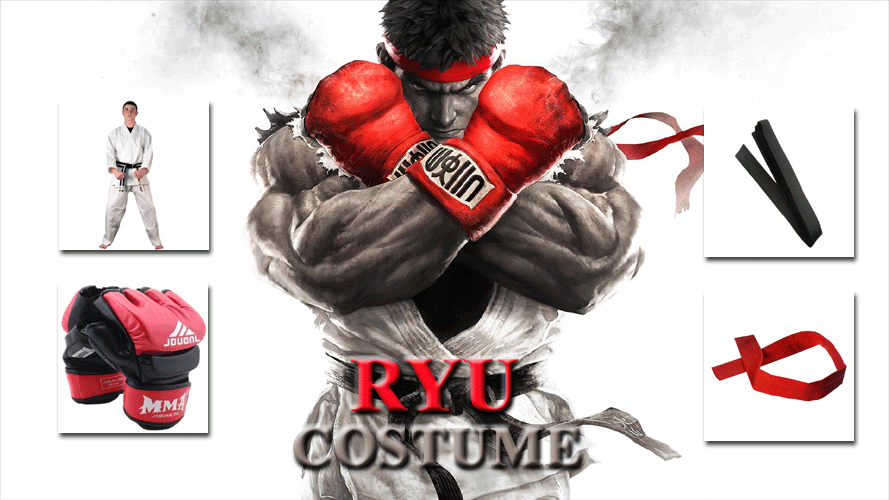 16. CAMMY COSTUME:-
Like Ryu Street Fighter, Cammy White got very popular since her first appearance in Super Street Fighter II: The New Challengers. She is the second female character of the series after Chun Li. Initially, she was a secret character later she became the playable character who has a backstory with the evil M. Bison's deadliest assassins. Being a beautiful and attractive character her commentator noting her sex appeal. Following is the costume guide of the Cammy Street Fighter.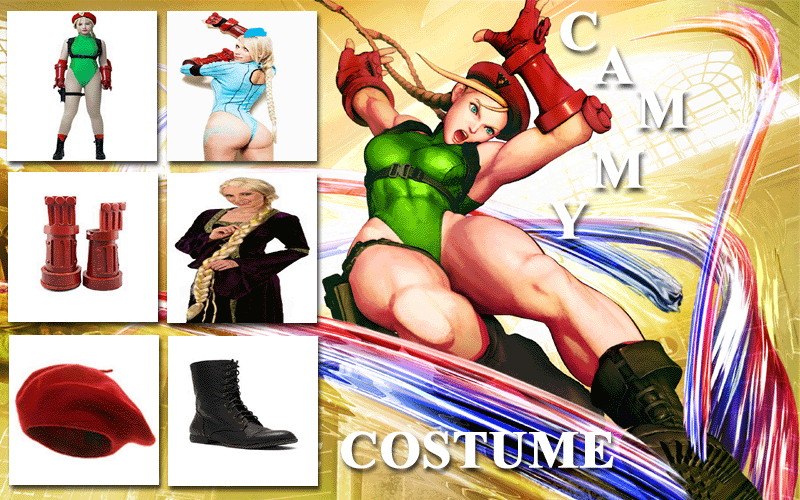 15. GUILE COSTUME:-
Street Fighter Guile a major in the United States Air Force who is seeking to take revenge for the death of Air Force Pal Charlie to M. Bison. He is one of the most wanted characters in Street Fighter Alpha 3 and Street Fighter IV. The music "Guile Theme" usually to give the sense of victory has been used multiple times. Guile is noted with two signature move one is the Sonic Boom and the other is the Flash Kick. Following is the costume guide of Guile Street Fighter.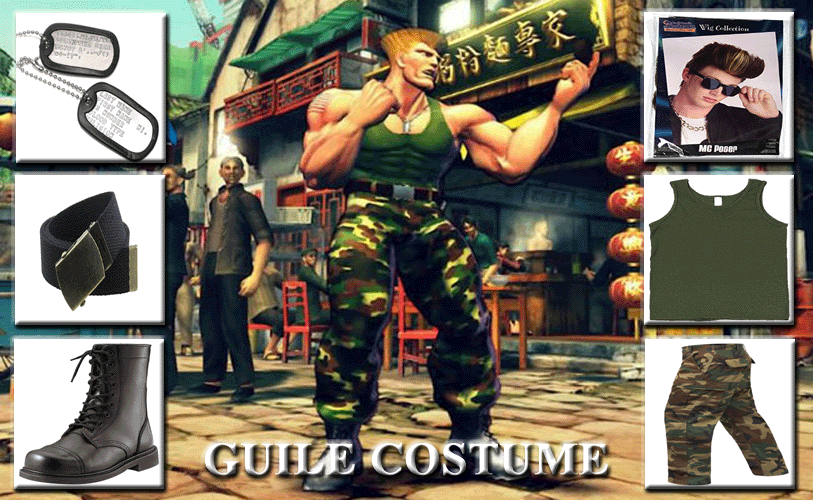 Street Fighter Chun Li is the first female character of the Street Fighter games. She is martial art expert and an Interpol officer who want to take avenge of the death of her brother from M. Bison. She first appears in Street Fighter 2, where she receives a positive response from the followers and becomes a playable character of Street Fighting games.
13. BLANKA COSTUME:-
Blanka is one of the eight playable characters of the Street Fighter 2 turbo style. He is originally designed as a human character by Akira " Akimna" Yasuda who later finalized as a feral savage with green skin and orange hair. Blanka initially was a human but after a plane crash in Brazil, he becomes mutated who is in green color and generates electricity. Many of the cosplayers are interested in this character like Hulk. Following is the costume guide of Blanka Street Fighter.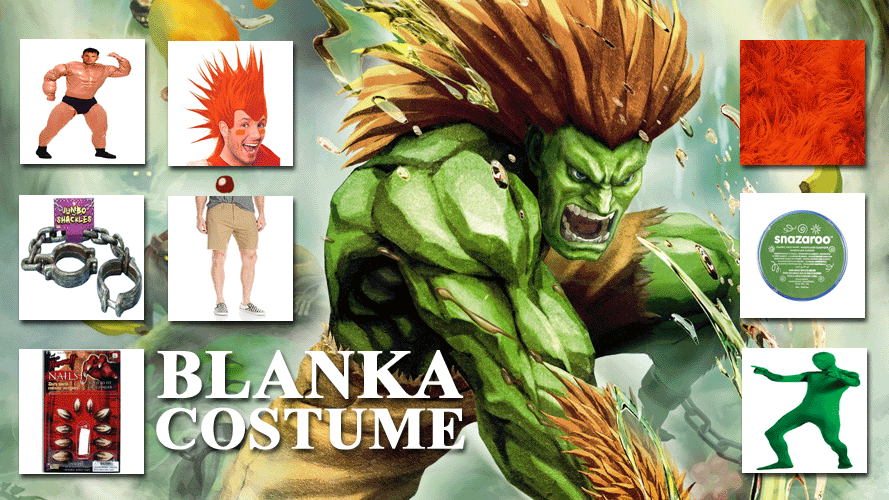 12. KEN COSTUME:-
Kenneth "Ken" Masters is the best friend, rival and like Ryu. Being identical with Ryu his goal is to test his power against his competitor and strives to become stronger. Ken is also one of the best fighter in the game, he also got trained with the Ryu trainer that is why he has identical move and skills like Ryu. Time to time the feature of Ken revised by the Capcom. Following are the costume guide of Master Ken Street Fighter to cosplay at Halloween.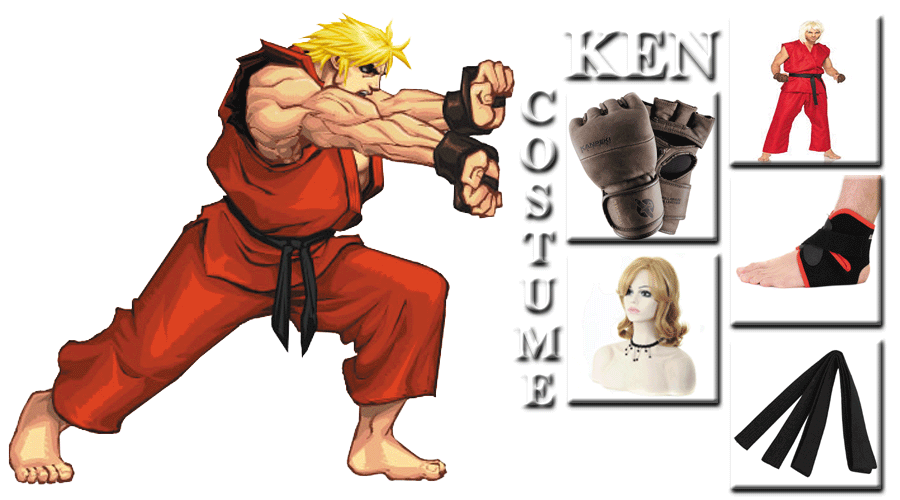 11. MASTER KEN STREET FIGHTER V COSTUME:
Ken Masters costume changed to give new appearance which was undergone first time in the history of game players. The costume contain black V neck T-shirt with several lining in it, sports gloves and Skinny pant.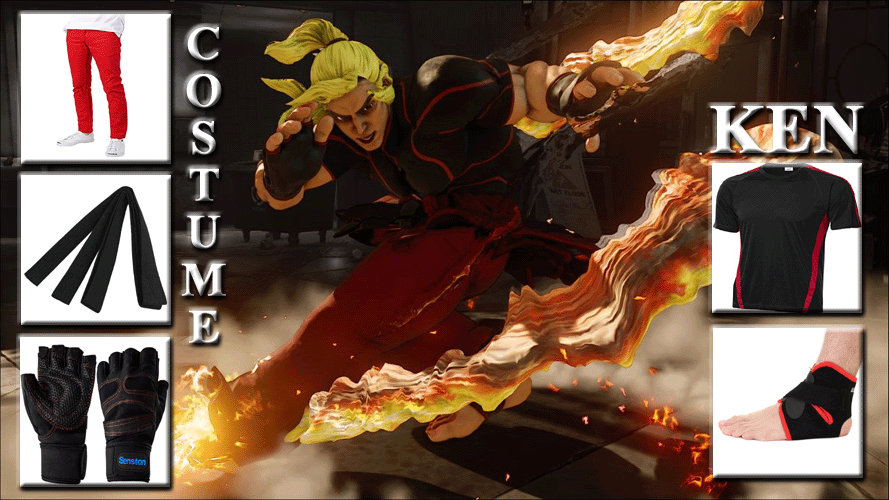 10. M. BISON COSTUME:-
Bison the dictator, first appeared in the Street Fighter II as the recurring character and villain in the Streetfighter. Though his crime syndicate his aim is to control all the government of the World to rule them. Many Street Fighters have their personal dispute with him. As being the host of the fighting games he is the last opponent of the game. Given below are the costume accessories of M. Bison Street Fighter.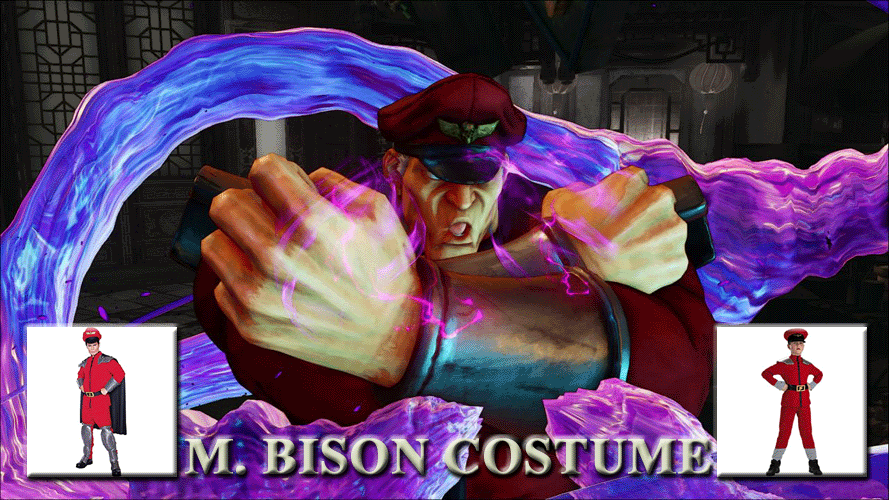 Poison first appear in the Final Fight for very limited period of time. She was conceived as a transgender female (thug) who developed reaction for the North America about her stunt in fighting. She is a playable character that's the reason cosplayer are crazy about the character to become hot, stunning and attractive among other Street Fighter Characters. (see costume)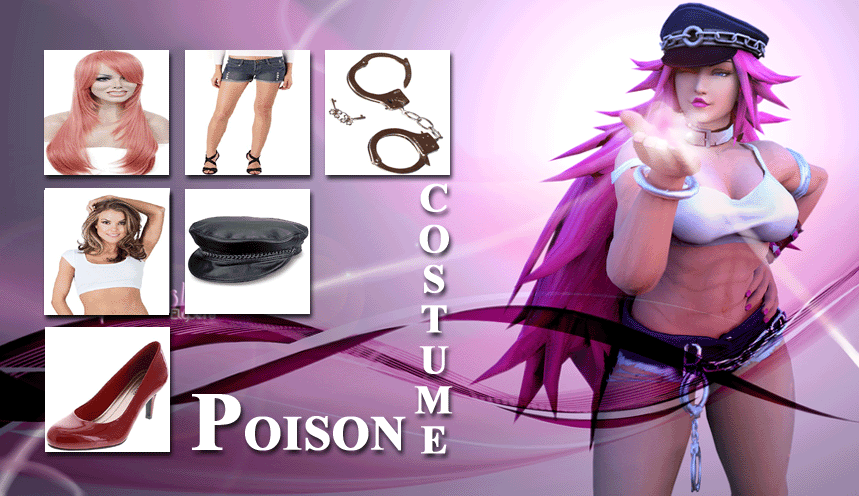 08. SAGAT COSTUME:-
Sagat Street Fighter was unplayable boss of the Ryu and Ken who later become the playable character. He is well-renowned muay thai expert known for his unbelievable power. He is also known as the "Emperor of Muay Thai" especially in his country. After defeating seven player of the game, fighter is taken to the Thailand to fight with this strongest Street Fighter of the world. Given below of the costume guide of Sagat for fan and followers.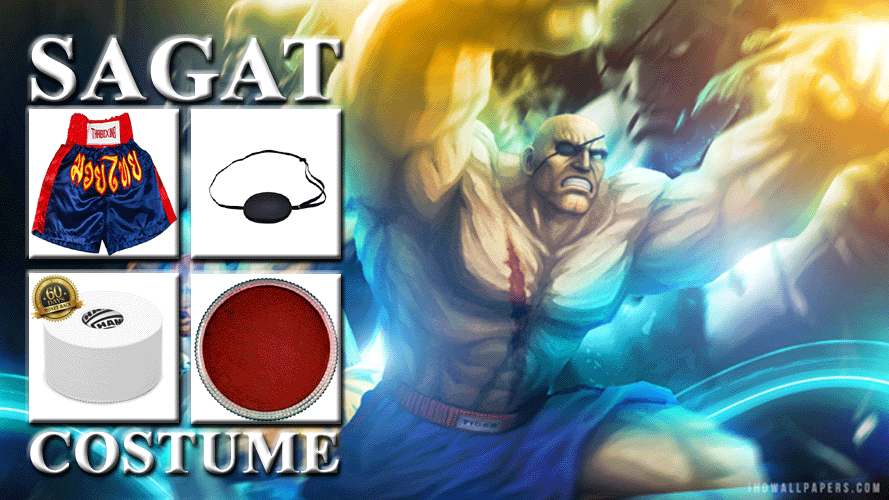 Edmond Honda (E. Honda) is a professional sumo wrestler and sento proprietor. Like Ryu he is also representing Japan and one the eight playable character of game. By name "Honda" meant he has average strength along with average speed. He is created just to increase the fans and followers from the Japan but he gather the attention of the entire world with his hundred hand slap. (see costume)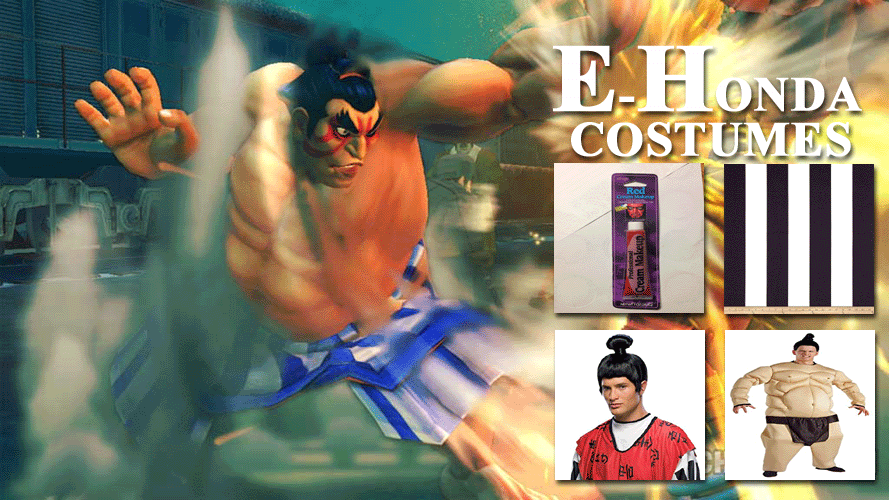 06. SAKURA COSTUME:-
Street Fighter Sakura Kasugano is the fourth female fighter in Street Fighter series who gave her first appearance in the Street Fighter Alpha 2. She is young Japanese girl whose idol is Ryu who trained her to fight. Due her fighting skill she quickly become famous in Japan and other countries of the World. Her costume be easily complete by taking few steps as given below.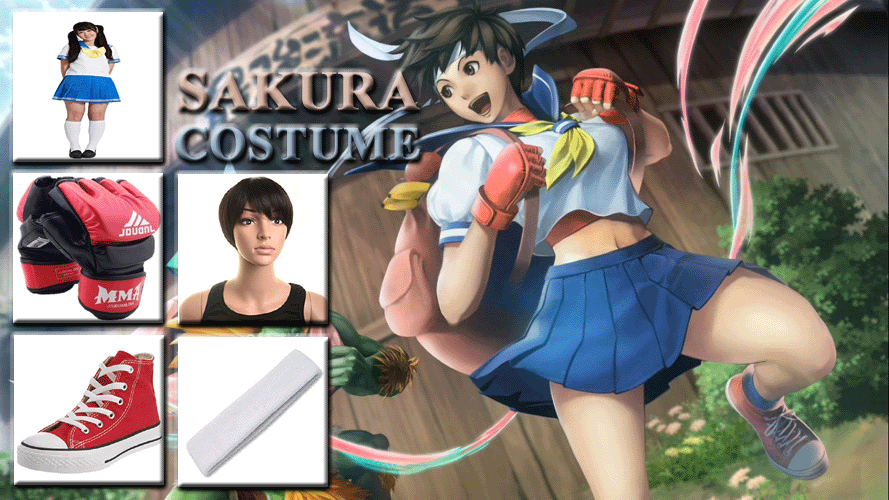 05. AKUMA COSTUME:-
Street Fighter Akuma alias Gouki is the younger brother of Gouken, Ken Master and Ryu. He was also enhanced as Shin Akuma or Shin Gouki in other games in Japanese. After appearing this character receives several positive response from the fans and followers who not only love to play with this character but also love collectiing accessories belongs to him. His costume accessories are shown below.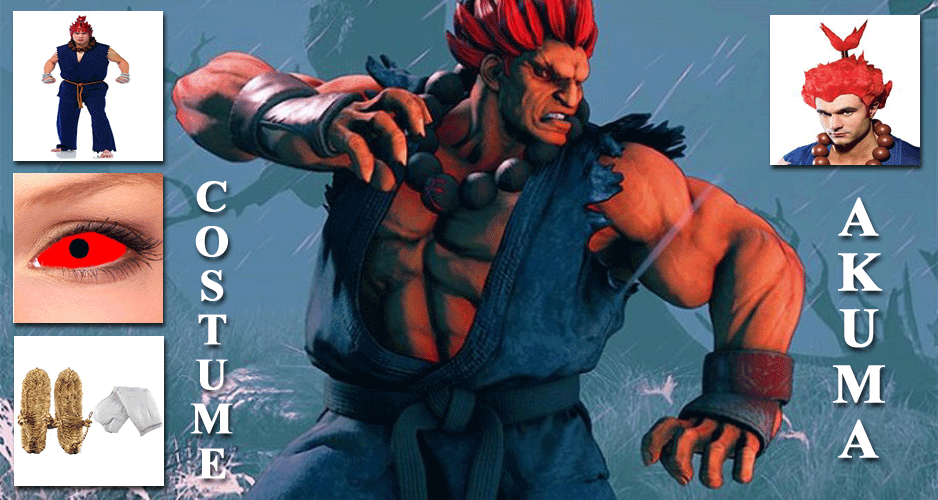 04. VEGA COSTUME:-
Vega (Claw) is a mask wearing and claw wielding fighter who was selected from Spain. He has his personal fighting style from American Zipota, French Savate, Spanish Bullfighting and Japanese Ninjutsu. Throu the link Below you will have complete Vega costume that contains long sleeves shirt, pant, stocking, arm/wrist band, sash, claw, wig and mask.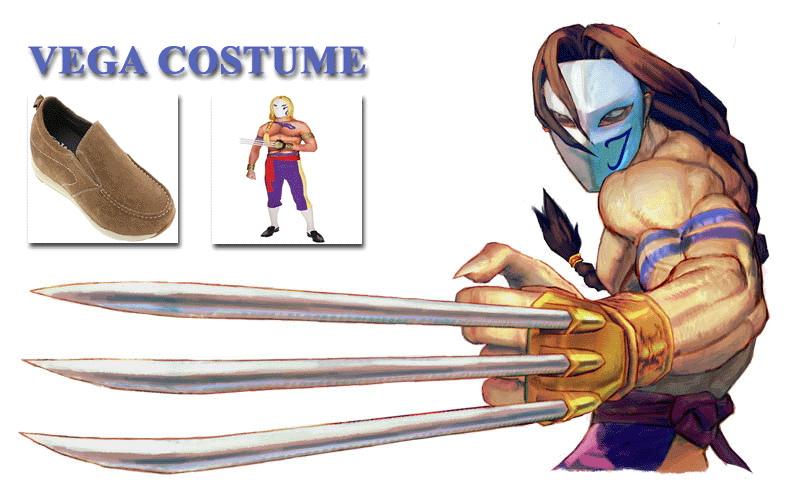 03. JURI COSTUME:-
Juri Han, made her first appearance in Super Street Fighter IV. She was introduced as a female South Korean taekwondo fighter who was employed by S.I.N. She is also the first Korean and taekwondo practitioner in the series. Taekwondo make her unique in the series as well as described as "sultry", "provocative" and "sex-crazed". Check the entire costume at the product page that contain shirt, pant, fingerless gloves, Belt and wig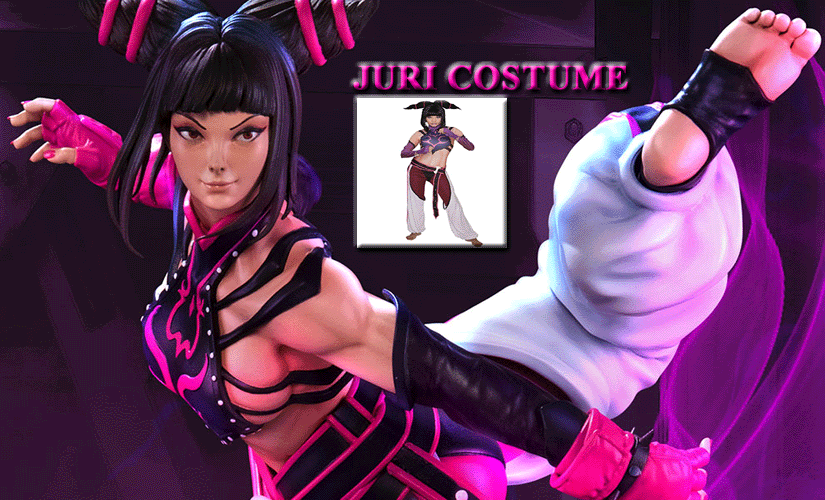 Morrigan Aensland is the Japanese character who did her first appearance in the Darkstalkers: The Night Warrior and later appears in many games introduced by the Capcom. She appeared as a successful Street Fighter in Marvel Vs. Capcom along with suggested move of Ken and Ryu. She became the powerful Prince and later the Queen of the Demon Realm Makai. In the video gaming history this ionic female character touches the height of popularity among other most wanted Super Stars from the Game community. (see costume)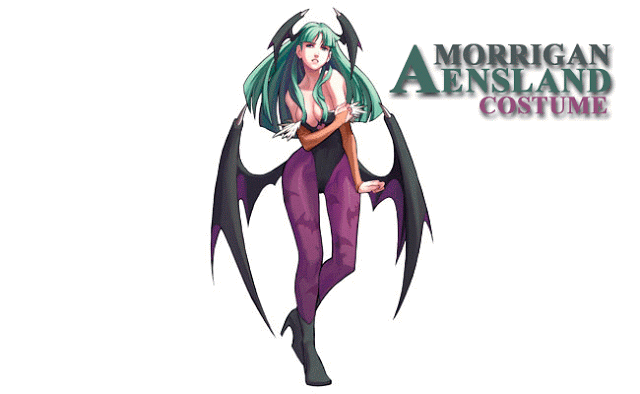 Saburo Nishikoyama was the Classic employee of a large corporation who led an anonymous life. His employer was unhappy with him that's why his career as a salesman did not shine. For a party, he decide to a wore a skeleton costume but something went wrong that make him decide that he became a superhero who can fight with the evil after wearing this costume. He has his own several moves, but it seems that instead of having identity of super human he got the identity of Demon. (see costume)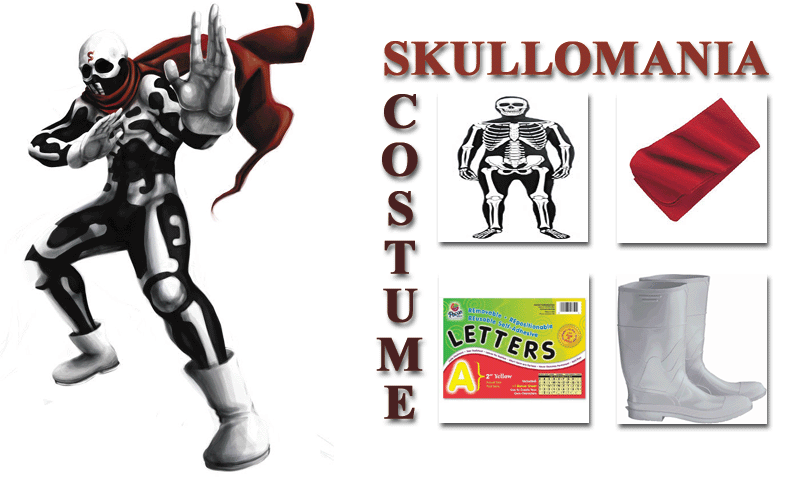 This costume guide will never end, still we are collecting the entire version and characters of the Street Fighter games. If you are interested to cos-play one of these character, care for your health and make sure to be fit to perform the character from deep inside your body. To check costume guide of other gaming characters click here.